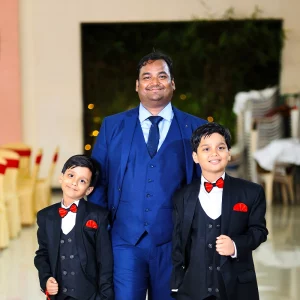 Our mind is often considered the powerhouse of our innovative perspective and creative ventures. We flow according to the conscience of our mind and act based on our rationale. Realism is defined by the fact that our mind is both the logical and emotional master of our life. It is the pivotal factor behind our smiles and tears.
Today, Business Outreach Magazine is eager to share the success story of an individual, who considers that the ultimate power to dictate your life according to your wishes is all within yourself. The responsibility that lies upon us is to embrace the adventures that come along the way and experience that salvation, when you say that 'Yes, I had the chance to live the moment and I did it like a true gentleman'. This is who Sharath Chandra Maroju is.
Sharath Chandra Maroju : A Brief Background
Sharath Chandra Maroju is from Hanamkonda, Warangal. He pursued a Diploma in Automobile Engineering from Sri Sangameshwara Government Polytechnic in Zaheerabad. The following years included his educational experience with a Bachelor's in Mechanical Engineering from BITS, Lakepally in the year 2008.
Sharath has always been a curious mind, when it came to engines and understanding the mechanism behind. It seems to us that as if he considered engines and machines to be conversational living beings. Although he got a placement at SV Infotech during his final year at BITS, he chose further knowledge and went for a Masters in Thermal Engineering from JNTU in Hyderabad.
Struggles and Success Story :
Sharath's manuscript of educational qualifications does not end here. He was fascinated about the industry of business management and how effectively it works under expert supervision. With this amount of motivation in mind, Sharath went to study Masters in International Business from London School of Business and Commerce in the United Kingdom. During this period Sharath got himself acquainted with global integrity and experienced a vast amount of network. Since every country has their own legal policies, Sharath also gained a professional course in LLB from Kakatiya University.
Sharath Chandra Maroju is a person of honor, integrity and values the true purpose of education. His expertise have allowed him to serve several prestigious MNCs that includes Design, Meade Industries in London as an Assistant Manager, Flexible Mobility in Singapore and Malaysia as a Business Development Manager and Senior Business Development Manager, respectively, Thermax Ltd. in Pune and Hyderabad as a Regional Manager and Kirloskar Oil Engines Ltd. in Bangalore as an AGM/Zonal Head. 
Sharath has also been an instrumental member of the board for several professional institutions like Hyderabad Management Association, Life Member in Institution of Engineers in Kolkata and many others. Sharath founded Syndic Consulting Engineers and Technologies Pvt. Ltd. with just 2 employees and currently has a team of 25 top-level chartered engineers, BOE and experts.
Key Takeaways :
The company specializes in EPC TURNKEY consulting in Thermal Engineering and Process Engineering applications. Syndic can be termed as authorized business associates, who excels in boiler and process manufacturing, valve, pumps, pollution control equipment, auxiliary parts and chemical manufacturing and has built a solid reputation in the industry. In spite of witnessing periods like demonetization, scarcity of skilled labors, volatile market of steel/raw material and the pandemic, Syndic was able to surpass each and every dark times.
Life threw every possible hurdle at Sharath, but his patience and faith helped him to surpass his dark times and he was able to create Syndic with the objective to address pain points and deliver solutions for the clients. He lives by the quote, "Being willing is not enough, we must actually do it". Sharath has taken a priority to further scale Syndic Engineers to scale up to PAN India and the international market. With this amount of resilience, we are sure that greater success is more to come.