In recent news, Narayana Murthy has garnered attention for advocating a 70-hour work week as a means to bolster the productivity of the younger generation. In this article you will know about Narayana Murthy's Inspirational Path.
Setting aside the ongoing debate surrounding this suggestion, let us take this opportunity to delve into the life of Narayana Murthy—a visionary leader and the esteemed founder of Infosys, a name synonymous with the ever-evolving realms of technology and business.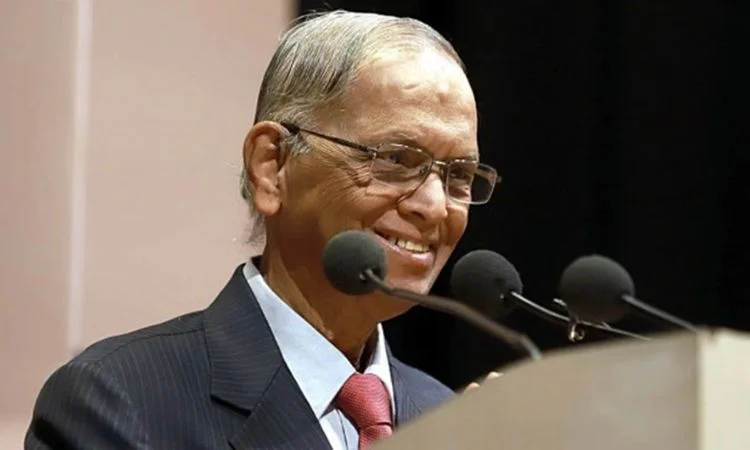 Narayana Murthy's life narrative serves as a compelling testament to the formidable forces of determination and entrepreneurship, highlighting the profound impact that an individual's aspirations can exert on an entire industry. 
This exploration delves into the inspiring trajectory of Murthy's journey, meticulously examining his pivotal role in catalyzing the IT revolution and the significant contributions he has made to society. These multifaceted dimensions collectively underscore his stature as an iconic figure, revered in both the realms of business and philanthropy.
Narayana Murthy :Early Life 
Born in Sidlaghatta, a town in the Mysore region of Karnataka, Mr. Narayana Murthy originates from a modest Kannada family entrenched in middle-class values. Embarking on his educational journey, he commenced his formal education in the realm of academia. Following the completion of his early education, he made a deliberate choice to pursue his undergraduate studies at the esteemed National Institute of Engineering, specializing in Electrical Engineering and culminating his graduation in the year 1967.
Driven by an unwavering aspiration for deeper expertise, Mr. Murthy's relentless pursuit of knowledge propelled him to further heights in academia. In 1969, he gained admission to the prestigious Indian Institute of Technology (IIT) Kanpur, where he immersed himself in an intensive exploration of his chosen field of study.
This dedicated endeavor resulted in the attainment of a Master's degree in 1969, underscoring his steadfast commitment to the continual advancement of his knowledge and proficiency in the domain of electrical engineering.
Narayana Murthy : Education 
Following the completion of his education, Narayana Murthy commenced his professional journey as a Research Associate at IIM Ahmedabad. Progressing steadily through the ranks, he ascended to the role of Chief Systems Programmer at IIM. During this pivotal phase of his career, he played a key role in a pioneering project dedicated to the creation of India's inaugural time-sharing computer system.
In addition to his primary responsibilities, he concurrently engaged in a significant side project with his colleague, Prof. Rama Rao, wherein they collaboratively developed a BASIC interpreter for the Electronics Corporation of India Ltd.
Nevertheless, harboring an innate aspiration for entrepreneurial pursuits, he embarked on the establishment of his own enterprise, Softronics. Regrettably, Softronics did not attain the envisioned success, prompting its closure within a span of a year and a half.
Undeterred by this setback, Murthy's resilience came to the forefront. In 1977, he assumed the role of General Manager at Patni Computers in Pune. It was during this tenure that he meticulously formulated a strategic vision for a substantial venture.
In the year 1981, a group of accomplished software professionals, including Nandan M Nilekani, S Gopalakrishnan, S D Shibulal, K Dinesh, NS Raghavan, and Ashok Arora, collaborated to establish Infosys under the leadership of Mr. Murthy. Notably, Mr. Murthy secured an initial financial boost of ₹10,000 from his wife, Sudha Murthy, to initiate the venture. Presently, Infosys stands as a prominent and widely recognized entity in the technology sector, with Mrs. Sudha Murthy playing a pivotal role as the Chairperson of the Infosys Foundation, contributing significantly to the organization's philanthropic endeavors.
Narayana Murthy : Founder of Infosys
In its formative years, Infosys encountered formidable challenges and setbacks, notably the dissolution of its joint venture with Kurt Salmon Associates in 1989. However, under the astute leadership of Narayana Murthy during the early 1990s, the company underwent a remarkable transformation amidst India's embrace of economic liberalization.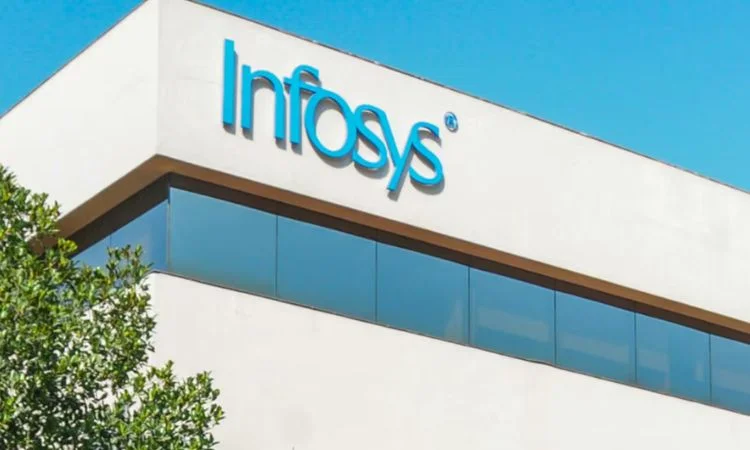 Under Murthy's strategic guidance, Infosys not only navigated through adversities but also achieved significant expansion on a global scale. The company diversified its offerings, extending consulting, software development, and engineering services to international enterprises. In a historic milestone in 1999, Infosys secured its position as the first Indian company to be listed on the prestigious American stock exchange NASDAQ.
In 2004, Infosys demonstrated exceptional resilience amidst a challenging global IT industry downturn by achieving a remarkable 33% surge in annual revenues, reaching a substantial $1.06 billion. Despite facing criticism in the United States concerning potential job losses attributed to offshoring practices, the company adeptly navigated these concerns, and the ensuing controversy had minimal impact on Infosys's overall business operations.
In 2006, Narayana Murthy, a key figure in Infosys's success, retired from active services within the company upon reaching the age of 60. Subsequently, he assumed the role of Additional Director. By the year 2010, Infosys had surpassed the significant milestone of $5 billion in annual revenue. Mr. Murthy formally retired from his position at Infosys in 2011, earning the distinguished title of Chairman Emeritus.
In a testament to his continued relevance and leadership acumen, the Board of Infosys reappointed Mr. Murthy as the Executive Chairman in 2013, underscoring his enduring impact on the company's strategic direction and governance.
Over the following years, Infosys experienced substantial growth, garnering numerous accolades. Notably, in 2019, the company achieved the remarkable position of number 3 in the prestigious Forbes World's Best Regarded Companies list.
Building on this success, in 2023, Infosys earned consecutive recognition as one of the world's most ethical companies for the third consecutive year, as bestowed by Ethisphere. This commendation reflects Infosys' unwavering commitment to ethical business practices and reinforces its standing as a global leader in corporate responsibility.
Narayana Murthy : Biography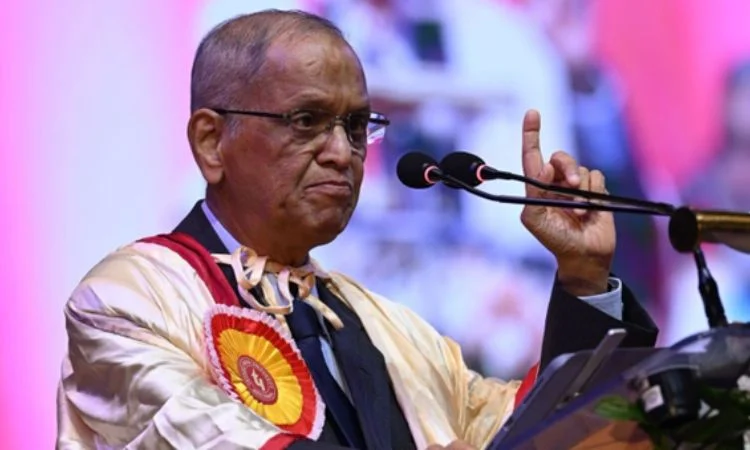 Narayana Murthy, an eminent figure in the realm of business and technology, is joined in matrimony with Sudha Murthy, a distinguished educator, author, and philanthropist, who concurrently serves as the chairperson of the Infosys Foundation. Together, they share a familial bond with two children: Rohan Murty, a junior fellow at the esteemed Harvard Society of Fellows, and Akshata Murty.
Rohan Murty, demonstrating his intellectual prowess and entrepreneurial spirit, serves as the founder of the Murty Classical Library of India. Additionally, he assumes the role of founder and Chief Technical Officer at Soroco, a digital transformation company at the forefront of technological innovation.
In 2009, Akshata entered matrimony with the esteemed British politician, Rishi Sunak, a figure of notable prominence. Mr. Sunak, having initially served as a Member of Parliament, ascended to the esteemed position of the Prime Minister of the United Kingdom.
Narayana Murthy, an avid reader, holds the conviction that the realm of politics presents a powerful avenue for effecting substantial societal impact.
Narayana Murthy: Philanthropy
Narayana Murthy is deeply committed to philanthropy, embodying the sentiment that "the real power of money is in giving it away." His dedication to leveraging technology for the betterment of humanity has earned him the prestigious James C. Morgan Global Humanitarian Award. This accolade specifically celebrates individuals who utilize technology to enhance the lives of others.
In addition to this honor, Murthy actively contributes to several esteemed organizations. He holds positions on the boards of the Ford Foundation, the UN Foundation, and the Indo-British Partnership. As a trustee, he plays a pivotal role in overseeing the Infosys prize and the Rhodes Trust. Furthermore, Murthy assumes a leadership role as the head of the governing board of the Public Health Foundation of India.
Recognizing his enduring impact on the Asian continent, TIME magazine has distinguished Narayana Murthy as an Asian hero. This acknowledgment extends to his remarkable contributions spanning six decades. Murthy's philanthropic endeavors underscore his commitment to making a meaningful and lasting difference in the world.
Growth And Expansion Of Infosys
Under the visionary leadership of Narayana Murthy, Infosys experienced substantial growth and successfully transitioned into a publicly traded entity in 1993. Demonstrating a strategic approach to international business, the company swiftly expanded its footprint across the globe by establishing offices in key regions, including the United States, Europe, and Asia.
A trailblazer in the realm of offshore outsourcing, Infosys pioneered a model that enabled the delivery of top-notch software services at a remarkably competitive cost, positioning itself as an industry leader. Today, Infosys stands as a preeminent global provider of consulting, technology, and outsourcing services, earning acclaim as one of India's foremost and accomplished technology enterprises.
Narayana Murthy has received numerous prestigious awards and recognitions throughout his illustrious career.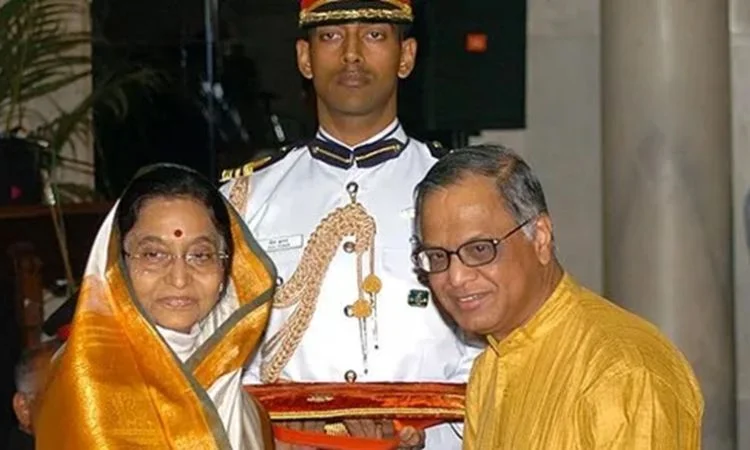 Among them are:
The Business Week honored him as one of the "Stars of Asia" for three consecutive years (1998–2000).
Fortune magazine recognized his exceptional contributions by naming him the Asian Businessman of the Year in 2003.
In 2001, Narayana Murthy was bestowed with the Max Schmidheiny Freedom Prize by the University of St. Gallen and the Wharton Dean's Medal by the University of Pennsylvania.
His managerial acumen was acknowledged with the Ernst Weber Managerial Leadership Award in 2007.
The Indian government recognized his outstanding achievements
by conferring upon him the prestigious Padma Vibhushan in 2008.
In 2009, he was honored with the Woodrow Wilson Award for Corporate Citizenship.
The year 2012 witnessed Narayana Murthy being awarded the Hoover Medal in recognition of his exceptional contributions.
He continued to garner accolades with The Thomas Jefferson Foundation Medal in 2017 and The Founder's Medal in 2018, further solidifying his reputation as a trailblazer in the corporate world.