An Indian writer, philanthropist, author, social worker, and chairman of the Infosys Foundation, Sudha murthy is the definition of versatile and an inspiration to many.
"If you try to please everyone, you will please no one. It is impossible to lead your life for others' happiness."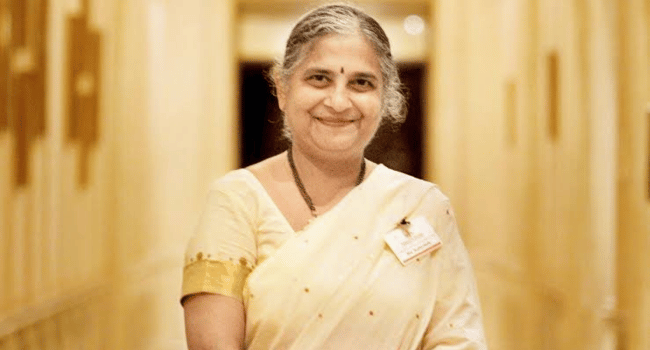 A girl born to a surgeon and a school teacher on 19 August 1950, in Karnataka, would in her later years fight gender bias and set an extraordinary example for women in the country. Sudha Murthy has become a household name in India and beyond, here let's take a look at her life and achievements.
Sudha Murthy is an Indian philanthropist and author known for her work improving the lives of the socially and economically disadvantaged. She has written many books that focus on social issues, political events, and traditional values. She is best known as the Chairperson of the Infosys Foundation, which focuses on providing support to those in need in India and abroad. Additionally, she has served as a member of numerous committees such as the Central Advisory Board of Education (CABE) and the National Commission for Women (NCW).
Sudha Murthy's efforts have been recognized with several national awards including Padma Shri and Padma Bhushan. Through her writing, she has also strived to raise awareness about pressing social issues such as gender inequality, poverty, health care reform, education reform, rural development programs and more.
Early life and Education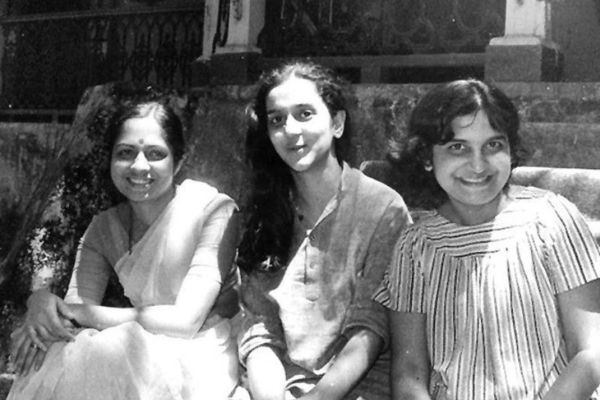 Sudha Murthy's early years were enhanced by her family's intellectual milieu, which fostered in her a desire to succeed from an early age. Her mother Vimala Kulkarni worked as a teacher, and her father Sudha Kulkarni Murthy was a surgeon who also taught at a nearby university. Her parents and maternal grandparents reared Sudha Murthy and her three siblings. Famous astronomer Srinivas Kulkarni, Sudha Murthy's brother, received the Dan David Prize in 2017.
A 1974 M.Eng. in Computer Science from the prestigious Indian Institute of Science followed Sudha Murthy's B.Eng. in Electrical and Electronics Engineering from the B.V.B. College of Engineering & Technology (now known as KLE Technological University). She excelled academically and won first place in both her Bachelor's and Master's programs. She won first place in her class and was presented with a gold medal by Sri Devaraj Urs, the then-chief minister of Karnataka.
She pursued an M.E. in Computer Science at the Indian Institute of Science after finishing her studies. She won the gold award for first place from the Indian Institute of Engineers.
Fighting Gender bias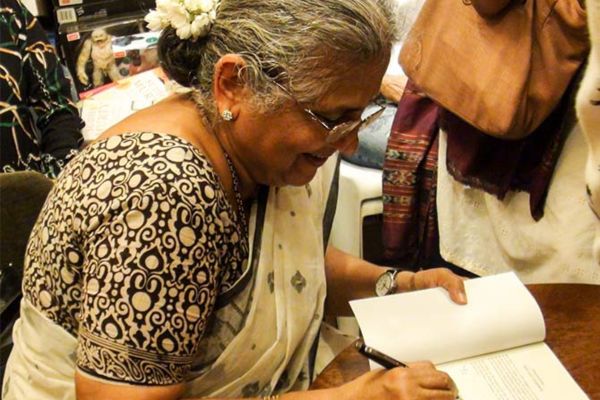 She has worked tirelessly to fight gender bias in India, leading the way for other women to come forward and speak out against such social injustice. Throughout her career, she has been a strong voice in educating people on the need to overcome gender inequality in all aspects of life. Sudha Murthy's work is an inspiration for all who strive to achieve gender parity and combat sexism.
Sudha Murthy was the sole female student at the BVB College of Engineering & Technology throughout her time there, which is remarkable to note. Sudha Murthy was accepted to the college by the principal with the three utterly illogical requirements of always wearing a saree there, never eating in the canteen, and never engaging in conversation with male students. Yes, this sexist, biased viewpoint did not come from a mediaeval Indian intellectual, but rather from India in the late 1960s.
When researching Sudha Murthy, one learns that the biggest automaker in India, TATA Engineering and Locomotive Company (TELCO), hired her as the country's first female engineer. She began working for the corporation as a development engineer. It was difficult for her to start her engineering profession in India during those strongly patriarchal times.
That occurred in 1974. Sudha Murthy obtained a scholarship to study in the US while still attending the Indian Institute of Science. When she saw a TELCO job posting stating that only men may apply for the position, she was getting ready to leave when she saw it. Yes, 27 years have passed since India gained its freedom.
She was incensed by the unfairness, so she addressed a letter to JRD Tata, the then-Chairman of TELCO, pointing out the egregious injustice in the hiring procedure and pleading with him to make amends. TELCO changed their policy in response to her letter, allowing female engineers to apply for engineering positions.
She was then given a special interview in response to that and employed by TELCO as a Development Engineer. This event should be included in any reputable Sudha Murthy biography since it adequately demonstrates her strength of conviction and her keen sense of fairness.
Later, she was employed by the Walchand Group of Industries in Pune as a senior system analyst. From 1974 to 1981, Sudha Murthy lived in Pune before relocating to Mumbai. In helping to create Infosys, Sudha Murthy gave the business her 10,000 in savings.
Infosys- The dream come true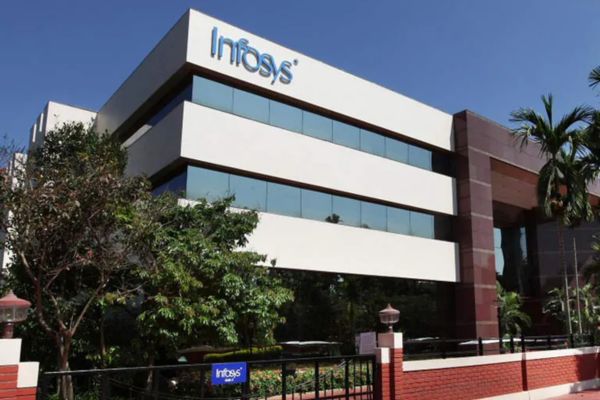 Infosys is a leading global technology services and consulting company headquartered in Bangalore, India. Pune was the location of her first TELCO job, while she subsequently also worked there as well as at Jamshedpur and Mumbai. Sudha Murthy married NR Narayana Murthy when she was working as an engineer at TELCO in Pune. The power couple has a son and a daughter. After leaving TELCO, she worked in Pune as a Senior Systems Analyst with the Walchand Group of Industries.
Sudha Murthy had a significant role in the founding of Infosys, a worldwide recognized IT firm that her husband, Narayana Murthy, one of the company's seven Co-founders, led to its pinnacle of success. She made a first capital investment of 10,000 rupees in Infosys.
Founded in 1981 by Narayan Murthy and his wife Sudha Murthy, the company has grown to become one of the most successful IT services companies in the world. Sudha Murthy, wife of Narayana Murthy, is a philanthropist and author who has made significant contributions to Infosys. Her work includes providing financial aid to rural schools and establishing several charitable trusts, such as The Infosys Foundation. She has also served on the Board of Directors at Infosys since June 2015.
Sudha Murthy's involvement with Infosys has been invaluable for its success over the years. Her efforts have helped shape the company into what it is today – one of the most respected IT companies in India and around the world. Sudha's philanthropic endeavors demonstrate her commitment to giving back to society, which makes her an exemplary role model for aspiring entrepreneurs.
Sudha Murthy supported her husband's plans for the Bengaluru-based Infosys while also becoming well-known as a writer and philanthropist at a time when information technology was still a relatively new concept in India.15 years after Infosys was established, Sudha established the Infosys Foundation with a cash commitment of Rs. 32 lakh from the business.
Helping hand
Founded in 1996, Infosys Foundation is the philanthropic arm of the leading IT company, Infosys. Established with the aim to provide education and healthcare facilities to underprivileged sections of society, Infosys Foundation has taken various initiatives over the years. At the heart of its success is a woman called Sudha Murthy, who has been its Chairperson since 1996. With her passion and commitment for social service, she has enabled many lives by providing them access to education and other basic necessities.
Sudha Murthy is the chairperson of the Infosys Foundation and she has been instrumental in transforming the lives of millions of people through her philanthropic activities. She has set up schools, libraries and hospitals to provide basic amenities to underprivileged communities in India. She also runs various programs to empower women and promote girl-child education. in India.In her book, "Women@Work," Sudha Murthy discusses the challenges that women face in the workplace and how they can rise to the occasion by taking charge of their careers and learning to manage their time. .
Sudha Murthy founded a number of orphanages and took part in rural development projects. She is also a member of the Gates Foundation's public healthcare programs.
In India, Sudha Murthy has contributed to the construction of more than 16,000 restrooms, 7000 libraries, and new schools. The renowned benefactor further sponsored the initiative to give all government schools in Karnataka access to computers and libraries. She also founded the Rohan Murty Murty Classical Library of India at Harvard University, whose founder she is.
Sudha Murthy has demonstrated a great sense of empathy for India's impoverished via her relentless generosity. She stated to MoneyControl.com the previous year that "our country will not progress unless the children of our country get two sets of clothes, three meals a day, good drinking water, and toilet facilities, learn up to class 12, with good communication, and have vocational skills."
Writing her legacy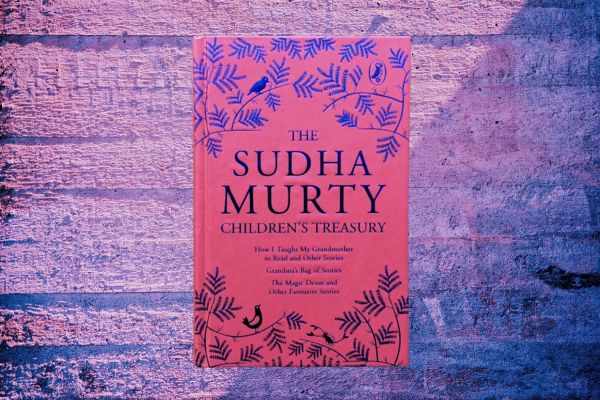 She has also been a successful and prolific writer. Sudha Murthy's writing shows a wide range of perspectives. She has written novels, short tales, memoirs, travel essays, and technical publications. Numerous Indian languages have seen her novels translated.She is one of the most renowned and celebrated authors in India, having written over a dozen books including novels, children's literature, technical books, and biographies. Her writing style is simple yet powerful and her stories are often inspired by real-life events. She has been awarded numerous awards for her work in literature as well as for her charity work. Sudha Murthy's writing has inspired many people to lead a life of service and compassion.
The Mother I Never Knew, How I Taught My Grandmother to Read and Other Stories, Three Thousand Stitches, The Man from the Egg, Dollar Bahu, Wise and Otherwise, and others are only a few of Sudha Murthy's well-known publications.
She first wrote Dollar Bahu in Kannada, which was eventually translated into English as Dollar Bahu. The book's success led to its adaptation into a television series, which debuted in 2001 on Zed TV. An aspiring Indian mother-in-law's natural passion for the wealthy life in the US is brilliantly shown in the novel, along with how money controls family structure and morals. However, this book does not tell the tale of just one family; rather, it accurately captures the trend across other aspiring Indian middle-class families.
Her second book, Three Thousand Stitches, is incredibly motivational. It is made up of 11 short stories that are based on Sudha Murthy's personal experiences as well as her experiences as the chairman of the Infosys Foundation.
Each of these stories contains a message that was injected by Sudha Murthy. The author's goal to make the temple sex workers, or devadasis, self-sustaining and free them from the stigma associated with them is seen in the book's main narrative, which is focused on their lives.
Awards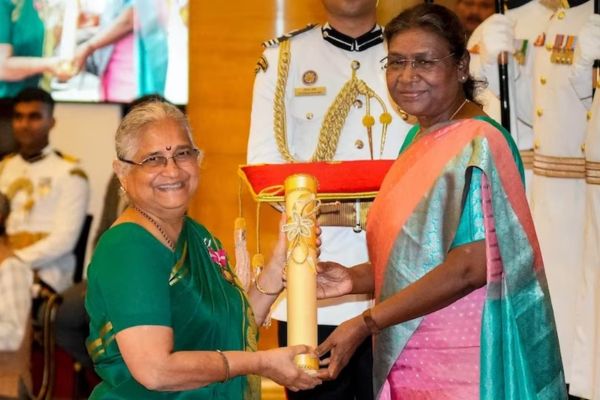 Sudha Murthy has learned a great deal over the course of her career. Now let us take a look at each one of them one by one:
India's fourth-highest civilian honour Padma Shri in 2006
Gold medal from Indian Institute of Engineers, India
Cash award for securing highest marks in SSLC
Gold medal from Chief Minister of Karnataka Sri Devaraj Urs, for securing the highest marks in B.E in the state
CS Desai Prize for standing first in University of Karnataka
Best Teacher Award in 1995 by Rotary Club of Karnataka
'Ojaswini' award for excellent social work for the year 2000
'Millenium Mahila Shiromani' award
R.K. Narayan's Award of Literature
Honorary LLD for her contribution to promoting formal legal education and scholarship in India
Life Time Achievement Award at the Crossword-Raymond Book Awards
"Hemmeya-Kannadiga" award from television
IIT Kanpur awarded her Honorary degree of Doctor of Science
FAQs
What is an interesting fact about Sudha Murthy?
One of Sudha Murthy's fascinating facts is that she made her acting debut in the Marathi film Pitruroon, which is based on her Kannada novel Rhun, which served as the basis for the Marathi film.
Who is the husband of Sudha Murthy?
Infosys Chairman N R Narayana Murthy is the husband of Sudha Murthy.He is the Co-founder of Infosys, and served the company as Chairman, CEO, President, and Chief Mentor and also as Chairman Emeritus.
What was Sudha's profession?
She began her career as an engineer before she became a businesswoman, author and a philanthropist