Cinema has been one of the most famous forms of entertainment for years. It is estimated every year approx 1000 films are released. Indian cinema is a 102-year-old institution that every going day is delivering world-class movies and films. Starting with silent films Indian films now have a huge global fan following. Indian cinematic business is among one of the biggest showbiz businesses all over the world. But in the last 2-3 years things changed as covid emerged. Cinema and Films were affected badly due to the uprising cases of covid.
In the last two to three years, the COVID epidemic has wiped out the majority of enterprises. Theaters and cineplexes were also among the worst hit, suffering enormous losses regardless of the nation or geographic location in almost all regions of the world. Due to the harsh lockdown and strict regulations, gatherings and public assemblages were prohibited, and everyone was confined to their homes. But, finally, after a long human struggle, we were able to defeat COVID, and at present, things have started to come back to normal. The same goes for theaters and cinema screens too. Things have now started to come back to normal.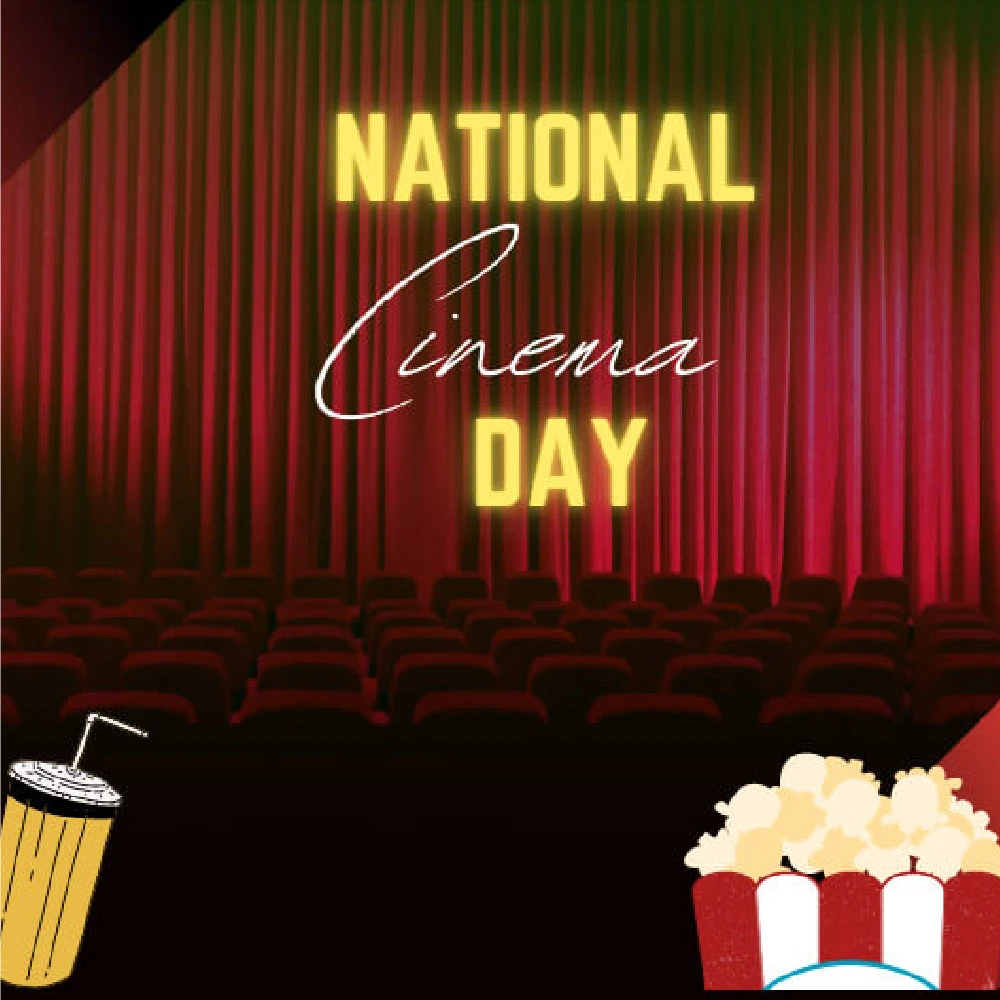 History of National Cinema Day
United States of America (USA) observed National Cinema Day on September 3. The tickets for all the movies were just priced at $3 for the day. In India, just a day after, it was declared by the Multiplex Association Of India(MAI), that in India National Cinema Day will be celebrated on September 23. The audience will just have to pay Rs. 75 to watch any movie over any screen. Yes! You heard it right, you can watch a movie for just Rs. 75 on September 23. Be it Brahmastra, Avatar or Chup. Be ready to hit the day with lots of popcorn and fun!
Need for National Cinema Day
In recent years due to Covid -19 pandemic as well, it was seen that streaming apps and platforms grabbed much more popularity than the regular screen and theaters. These platforms were easy to access and were available instantly anywhere and whenever you want. Irrespective of the fact, since the moment Theaters and multiplexes were opened a considerable amount of people started to visit these multiplexes. In lieu to pay gratitude to the audience Multiplex Association of India decided to celebrate 23 September as National Cinema Day. The theaters and multiples are also trying to win the attention of a larger amount of people by introducing them to the pleasure of watching. To make this occasion more special, the ticket prices of every movie are priced at just Rs. 75 for that day.
"National Cinema Day will bring together audiences of all ages to enjoy a day at the movies. National Cinema Day celebrates the successful reopening of cinemas and is a 'thank you' to the moviegoers who made this happen," the statement by MAI read.
If this initiative will work well this year, National Cinema Day might become a day that will be annually celebrated every year.
Why was the date changed for National Cinema day from 16 to 23 September?
Asconfirmed by Film business experts and leading businessmen in the showbiz industry. He posted on his Twitter that due to various pleas and requests from different stakeholders they have decided to move the date from 16 to 23 September.
Perks for Moviegoers
This day will bring the biggest discount for all movie lovers. The tickets for every movie will be priced at just Rs. 75. For a movie for which we regularly pay Rs. 200-400 in general, All of those movies will be just priced at Rs. 75. If you are booking your tickets by any online third-party apps, or some other platform additional taxes will be levied on you.
For example, if you book your show from Book My Show, additional taxes have to be paid by you. If you are all determined to save every penny and then watch the movie you have to simply go to the multiplexes and theaters and stand in a queue to watch out for your favorite movie.
Companies participating in National Cinema Day
Companies like PVR, INOX, Cinepolis, Marvel, Citypride, Asia, Mukta A2, Movie Time, Wave, M2K, and Delite are all some of the biggest names participating in the National Cinema Day celebration.
National cinema day saw a big mass of people visiting theaters again and watching their favorite movies. In the US around 8.1 million people watched movies in theaters on their cinema day. The somewhat same and bigger figure is expected with the India cinema day. Are you going to watch your most awaited movie or not?