Humanity is surrounded by naysayers and this is what we are used to. It has to be when considering that success comes with rewards disguised as failures. But what's the beauty of a rose if not for the thorns. We tend to cut ourselves, maybe cry a bit, but destined to rub those tears and walk if not run towards victory.
Today, we are more than thrilled to have come across a vibrant personality who sits on the cover page, not just for the breadth of his belief, but for the efforts of his actions. Business Outreach Magazine wants to draw the curtains for Yugdeep Shokeen, Founder of The Shokeen Brewing Co.
A Brief History:
Yugdeep is a person who wants to be held responsible for his personal choices and freedom to navigate his life. Not many people tend to rely on oneself and decide destiny to be the authors of their success. But Yugdeep has had an upbringing, where he had the opportunity to tailor his life and growth based on his will.
He recently graduated from The George Washington University in Washington D.C. with a Bachelor's degree in Business Administration in the field of International Business and Organizational Sciences. Yugdeep Shokeen did his schooling from Welham Boys School in Dehradun.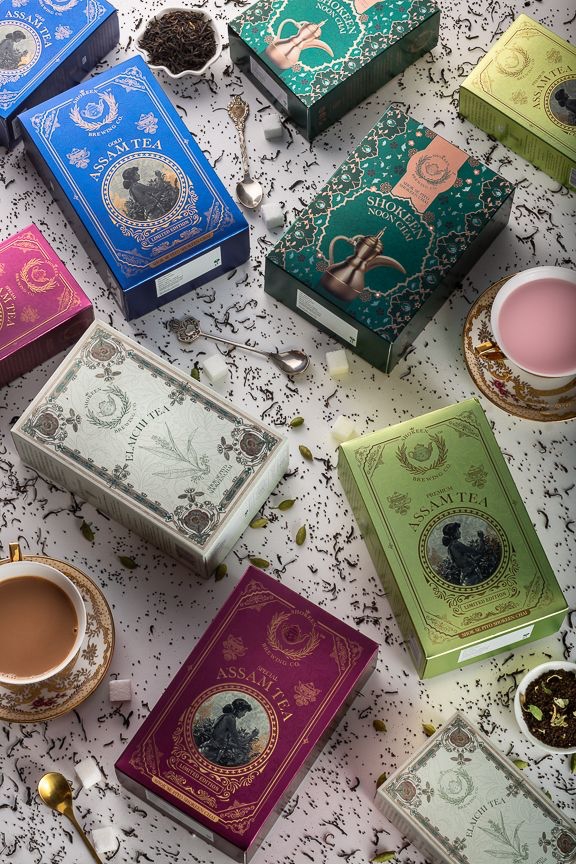 With the resources of education, Yugdeep has always been a top performer in his school and higher studies. He says to us that he was a swimmer at his school. Apart from championing in the events at school, there was a time when he dived into competing nationally in swimming. Yugdeep dedicated his moments of practice disregarding hours of the day and topped the national event with a gold medal. You see, when you are acquainted with achieving, the objective has to be as great as the pursuer.
Going back to the time when Yugdeep was studying in the UK in 2019, he witnessed an undying passion for tea in the Brits. Surprisingly, this tea was sourced from the gardens of Assam and Darjeeling. It got him thinking that he can provide such premium quality tea at a much inexpensive rate and create a legacy for himself.
Trust us when we say that in spite of Yugdeep coming from an affluent family, he found tremendous roadblocks while pitching his idea of creating a startup in the FMCG sector. His family were already thriving in the real estate and hospitality industry and getting up in the morning with the idea to create a company in an utmost competitive sector like the tea industry was not taken as a rational choice.
But what are we if not for our passion to create something challenging? Yugdeep knows that providing premium quality tea at a reasonable price will help him attract Indian consumers at a large scale. From a market perspective, Yugdeep discussed his idea with friends and relatives. But the general vibe he received was not positive and he totally understood that. Tea industry is almost if not a monopoly market, where companies have already dominated a large part of the market share. But Yugdeep was certain he could provide more at a much reasonable rate to the customers.
The most tricky parts of starting something from scratch are the unforeseen second thoughts that sway the mind of a visionary. It can make or break you while you aim to walk towards your objective. But Yugdeep, being brought up in a boarding school made him learn and pursue decisions by himself.
Path to Success:
Yugdeep turned the roadblocks into a metric to grow exponentially and he knows that success achieved from the fruit of challenges is more enjoyable than anything else. He steers his achievements from his days in his boarding school, when he earned so many gold medals from the competitive surroundings.
Now, The Shokeen Brewing Co. is 10 months old and he along with his team has sold tea worth Rs. 2 crore. Ain't that spectacular in just one year of inception? Yugdeep Shokeen is a person who has always been open to learning. He places himself with his team, where there are associates who are much older than him. And Yugdeep realizes that in order to gain wisdom he needs to spend time with them and learn from their experiences.
There will always be a time of choices when you have to decide for yourself on how to see yourself in the next couple of years. Yugdeep has been very instrumental in starting his own startup from an early age. In 2018, when he was in college, he used to work up his mind in building several business ideas. Out of those, his mind asked him to approach the FMCG sector where he felt that he had the potential to evolve people's lives. And to bring about this uplifting is something very powerful for Yugdeep.
Yugdeep Shokeen has created The Shokeen Brewing Co. to establish a positive impact towards the life of people. He wants his consumers to enjoy every sip and the aroma of the premium tea leaves, while reading their morning news and chatting with their near and dear ones. All his countless hours and resilient business model comes to this simple conclusion to make his consumer feel content and fulfilled.
We all know that change is the only constant and Yugdeep considers himself to be a blank slate always willing to learn from his team members. He wants to be that leader who appreciates a good idea from everyone from his team and puts that to good use for the scalability of The Shokeen Brewing Co.
The company sources tea responsibly from tea gardens on fair terms. From the purchase of any product of the Shokeen Brewing Co., one percent goes to the Shokeen Charitable Trust. The Shokeen Charitable Trust provides food for the poor, supports women and widows by helping them seek employment, and prevents the exploitation of tea pluckers at the plantations.
The team is committed to creating a tea brand that offers the finest tea blends at the best price while creating value for the farmers and the plantation workers who source the raw material for us by following sustainable and ethical practices.
Today when Yugdeep looked back at the inception of his company, though his family had their doubts initially, but since he decided to go forward with the idea, his family has been very supportive and they have guided him through and through with whatever challenges he has had and Yugdeep is so thankful for that.
Some Key Takeaways:
The valuable decade of Yugdeep's existence at his school allowed him to take part in several co-curricular activities and he took all the lessons that he learned from those and incorporated them into his entrepreneurial dream. It is not easy to set up a company when you are young and new to an industry. Apart from the overwhelming thought of succeeding in his venture, there is always the demand to get parallel with the personal benchmarks.
An enormous interesting event that Yugdeep pursued was his trek to the Mount Everest Base camp. He got exposed to the limitations of basic amenities, which he couldn't have recognised in the urban lifestyle. Yugdeep lives on the words of Shakespeare in Macbeth, where he says "All the world's a stage, And all the men and women are merely players". Yugdeep looks at himself to have taken the role of providing the best tea to tea lovers across the globe on this stage.
Yugdeep is very vocal about his motto to inspire people to live up to their own goals and grow. If we encounter failure, it will be the consequence of our own actions and we can strive to succeed in the next step forward. He recollects the poem, The Road Not Taken by Robert Frost that he learned long ago. In this poem, he resonates with the advice that is given to pursue your passion and live every moment of that, even if your path in life is not the commonly chosen one.
The Shokeen Brewing Co. 's work ethics are designed to create a positive impact in two areas: the empowerment of women and farmers in the tea industry; and the environmental sustainability of tea. Their work is to improve incomes and empower women to be more independent, as well as help the sector to become more resilient to the impact of climate change. Yugdeep has formed his perspective in such brick and mortar principles.
Yugdeep Shokeen lives by his saying, "True love is based on choice not need, and I did not need to get into the business that I'm in, I chose to get into the tea business and that is what's going to make all the difference".