Mahendra Singh Dhoni, widely known as MS Dhoni, is a distinguished retired Indian cricketer who held the prestigious position of captain for the Indian national cricket team. Beyond his illustrious cricketing career, he is celebrated for his passion for motorcycles, boasting a remarkable and diverse collection of high-performance bikes. In this article will let you know about Dhoni's bike collections.
According to various media sources, Dhoni is an avid motorcycling enthusiast and possesses a striking assortment of top-tier motorcycles, encompassing various models from the renowned sports bike manufacturer, Harley-Davidson. Furthermore, his collection extends to include offerings from other distinguished bike brands, such as Ducati and Confederate.
In addition to his array of sports bikes, Dhoni's automotive interests span across a spectrum of vehicles, encompassing cars and SUVs. It is evident that the former Indian cricket captain has a profound inclination for swift and potent vehicles. Within his collection, one can discover an extensive variety of luxury and high-performance automobiles.
The proclivity of celebrities and prominent personalities towards opulent and high-end vehicles is a well-acknowledged phenomenon, and MS Dhoni is certainly no exception. His remarkable bike collection serves as a testament to his affection for rapid and robust two-wheelers, reflecting his desire to experience life in the fast lane.
It is worth noting that MS Dhoni's motorcycle collection mirrors the fiery and dynamic persona he exhibited on the cricket field, characterized by his ability to deliver powerful and impactful shots, much like the powerful machines in his garage.
Kawasaki Ninja H2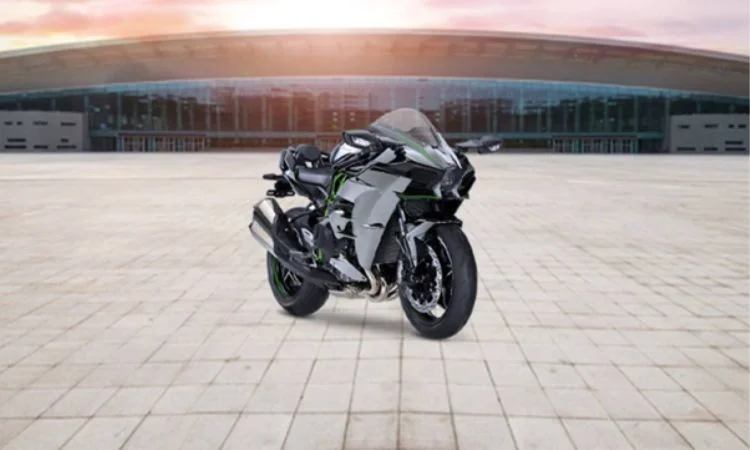 In 2015, Mr. Mahendra Singh Dhoni achieved the distinction of becoming the inaugural Indian owner of the esteemed Kawasaki Ninja H2. Although this exceptional two-wheeled marvel has yet to grace the Indian market, its imminent arrival is eagerly anticipated. Noteworthy for its performance, the model is equipped with a potent 998 cc liquid-cooled engine, generating a remarkable 310 PS of maximum power and a formidable maximum torque of 165 Nm.
These motorcycles are distinguished by their robust 998cc inline four-cylinder engine, cutting-edge electronics, and the most advanced Brembo brakes, culminating in an unparalleled manifestation of on-road performance.
Key features include:
998cc Four-Cylinder Supercharged Engine: Propelling these motorcycles is a potent 998cc inline four-cylinder engine, supercharged to deliver exhilarating power and torque, ensuring an unforgettable riding experience.
Lightweight Trellis Frame: A lightweight trellis frame design contributes to the overall agility and handling prowess of these motorcycles, enhancing their responsiveness and maneuverability. Fully Adjustable High-Performance Racing Suspension: Equipped with fully adjustable high-performance racing suspension, the Ninja H2 and Ninja H2 Carbon offer an exceptional level of control, enabling riders to fine-tune their riding experience to suit their preferences and riding conditions.
State-of-the-Art Electronics: Cutting-edge electronic systems are integrated into these motorcycles to provide riders with a comprehensive suite of advanced features, enhancing safety, and performance. These systems include traction control, ride modes, and more.
In summary, the Ninja H2 and Ninja H2 Carbon represent a pinnacle of engineering, bringing together formidable engine capability, precision engineering, and advanced electronics to deliver an unmatched supercharged hyper sport experience on the road.
Confederate Hellcat X132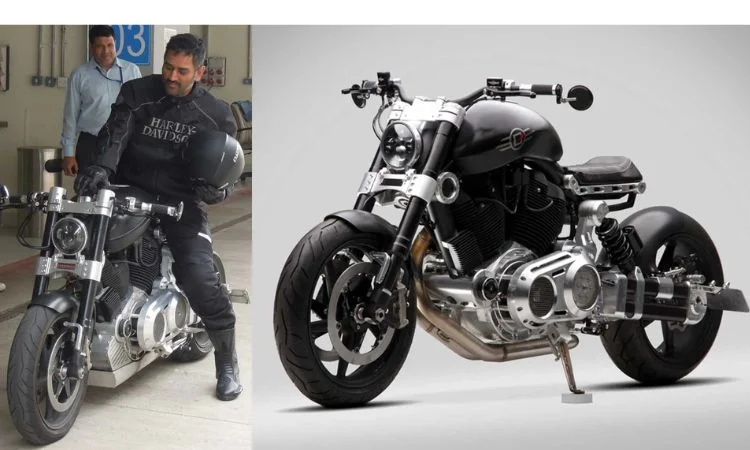 The Confederate Hellcat X132 stands as an exceptionally exclusive and elusive acquisition due to its limited edition status and the fact that it was tailor-made for the esteemed individual, MS Dhoni. This bespoke motorcycle was meticulously crafted with only 150 units produced, all of which have been swiftly claimed by fortunate enthusiasts. Exemplifying cutting-edge engineering and avant-garde design, the X132 Hellcat is a testament to automotive craftsmanship, with its chassis crafted from two blocks of billet 6061 aircraft-grade aluminum. Underneath its exquisite exterior lies a potent 2.2-liter V-Twin engine, capable of delivering an impressive 132 bhp of power and 200 Nm of torque.
Suzuki Hayabusa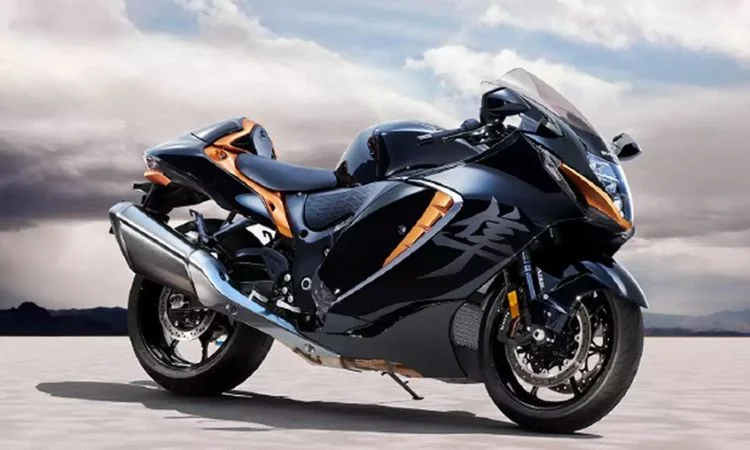 The Suzuki Hayabusa stands as a globally renowned motorcycle, firmly establishing its presence within the esteemed MS Dhoni's bike collections. This two-wheeled marvel boasts a robust 1340 cc BS6-compliant engine, delivering a formidable peak power output of 187.3 bhp, coupled with a substantial peak torque of 150 Nm. To ensure rider safety, this model is equipped with both front and rear disc brakes, and it incorporates the essential anti-lock braking system (ABS) technology.
The Suzuki Hayabusa has firmly solidified its reputation as the epitome of high-performance motorcycling. The 2023 iteration of Suzuki's flagship sport bike boasts a potent and refined inline four-cylinder engine encased within a proven and meticulously updated chassis, complemented by an unparalleled array of electronic rider assistance features. This formidable package is encased in strikingly aerodynamic bodywork that distinctly bears the Hayabusa signature.
Enthusiasts who have had the privilege of owning or harboring aspirations for a Hayabusa will immediately identify the iconic, aerodynamic silhouette that has undergone meticulous refinement through rigorous wind tunnel testing. This process has given rise to vent shapes, air diffusers, and reimagined logos, all of which contribute to a remarkably sophisticated and visually appealing design.
The implementation of a state-of-the-art LED lighting system not only enhances the bike's aesthetics but also serves as the pinnacle of both style and functionality.
The result is a Hayabusa that accelerates with unparalleled speed and smoothness, all while adhering to stringent global emissions standards. The Hayabusa rider benefits from an unmatched degree of control, thanks to the Suzuki Intelligent Ride System (S.I.R.S.).
This comprehensive system allows riders to finely tune the engine's power delivery, engage traction control, utilize cruise control, harness launch control, and make use of quick shift capabilities, as well as the Motion Track ABS and Combined Brake systems, providing riders with a wealth of options to tailor their riding experience.
This latest generation of the Hayabusa incorporates a remarkable 550 new or redesigned components, each meticulously engineered to deliver the ultimate and harmonious sportbike experience.
The Suzuki Hayabusa stands as a testament to Suzuki's century-long dedication to the art of crafting superior performing products that are second to none in terms of quality, reliability, and value. Like its namesake, the peregrine falcon, the Hayabusa once again soars above all, reaffirming its position as a true icon in the world of high-performance motorcycles.
Harley-Davidson Fat Boy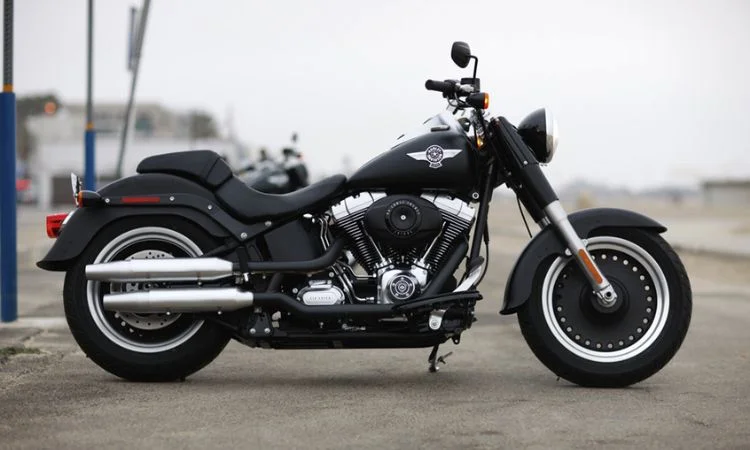 Considering Mr. Dhoni's predilection for premium, high-performance motorcycles, it was all but inevitable to encounter a Harley-Davidson motorcycle within his esteemed collection. Specifically, the Fat Boy model is noteworthy, equipped with an 1868 cc V-Twin air-cooled engine, capable of yielding a robust 93.8 brake horsepower and 155 Newton-meters of peak torque.
The Fat Boy motorcycle boasts a distinctive heritage, with its frame drawing inspiration from the 1984 "Softail." This frame, seemingly resembling a rigid hardtail chassis, incorporates a concealed spring swinging arm. The original design of this innovative frame can be attributed to the creative mind of mechanical engineer Bill Davis, who conceptualized it in a Missouri garage during the 1970s. Notably, this ingenious design was patented in 1976, demonstrating the forward-thinking vision of its creator.
It is worth noting that the initial reception of Bill Davis' softail concept was met with some skepticism by Willie G, the grandson of Harley-Davidson's co-founder, William A. Davidson. However, Harley-Davidson ultimately recognized the potential of the softail frame, acquiring the rights and subsequently developing its own in-house iteration.
Over the years, the Fat Boy has undergone a series of significant improvements:
In 1994, the exhaust underwent modifications, resulting in a seamless design.
1996 saw revisions to the master cylinder and switch gear, enhancing the overall performance.
In 1999, a notable upgrade occurred with the introduction of a new 1,450 cc (88 cu in) Twin Cam engine for the 2000 model year. This change necessitated adjustments to the engine variant and frame.
2002 brought several additions to the model, including bullet-style indicators, an alarm, and an immobilizer.
In 2005, a special "15th Anniversary" version was introduced, featuring a "Screamin' Eagle" engine, custom paint, and unique custom wheels.
2007 marked an increase in engine displacement to 1,584 cc (96.7 cu in) and a transition to a six-speed transmission.
The 2010 "Fat Boy Lo" (FLSTFB) boasted the lowest seat height in Harley's lineup at that time.
In 2012, the Fat Boy received the new 1,690 cc (103 cu in) Twin Cam engine, aligning it with the rest of the softail range.
In 2018, the Fat Boy underwent a significant transformation with a redesigned softail frame. This update incorporated Showa front and rear suspension systems, paired with new twin-counterbalanced Milwaukee-Eight engines. The two primary variants in 2018 were:
The FLFB, featuring a 1,746 cc (107 cu in) engine with 109 lb⋅ft (148 N⋅m) of torque.
The FLFBS, equipped with a 1,868 cc (114 cu in) engine, delivering 119 lb⋅ft (161 N⋅m) of torque.
One of the most notable changes was the replacement of the traditional twin shocks with a Showa rear monoshock suspension, discreetly mounted beneath the seat. This adjustment significantly enhanced ride comfort and control, leading to improved handling. The front forks now integrate Showa's "Dual Bending Valve" (SDBV), a cartridge simulator employing two valves to regulate compression and rebound damping.
This innovation results in a linear damping response aligned with the fork stroke speed.
Harley-Davidson asserts that the 2018 chassis is both stiffer and lighter compared to earlier Softail and Dyna platforms, representing a substantial advancement in the motorcycle's overall design. Additional upgrades include an LED headlight and 18-inch "Lakester" rims, coupled with wider 160mm front and 240mm rear tires.
These enhancements collectively underscore the commitment to innovation and excellence that defines the Harley-Davidson Fat Boy.
Ducati 1098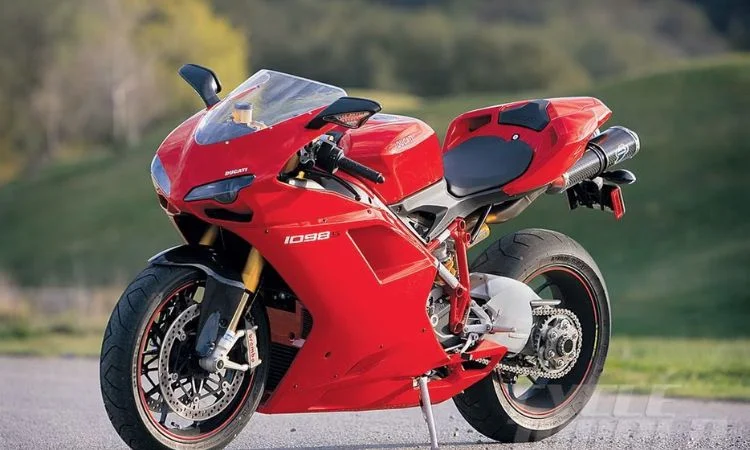 The Ducati 1098 was available in international markets from 2007 to 2008, at which point it was acquired by the former Indian cricket captain, Mr. Mahendra Singh Dhoni. This particular motorcycle holds a special place in Mr. Dhoni's preferences. The Ducati 1098 is equipped with a robust 1099 cc engine capable of generating 160 brake horsepower. It's worth noting that the Ducati 1098 has been succeeded by the Ducati 1198 in the company's product lineup.
TVS Apache RR310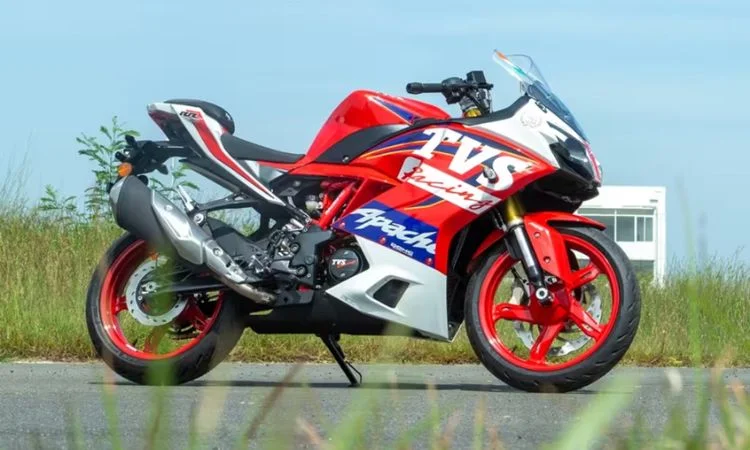 This TVS sports bike boasts an array of noteworthy features that cater to the discerning enthusiast. Its key highlights encompass a vibrant Bluetooth-enabled TFT display, comprehensive full-LED lighting system, and a cutting-edge race muffler. Propelling this machine is a formidable 312.2 cc BS6 engine, capable of delivering peak power and torque outputs of 33.5 bhp and 27.3 Nm, respectively. The vehicle's chassis incorporates fully-adjustable KYM front forks and rear mono-shock absorbers, ensuring optimal suspension performance.
When it comes to braking capabilities, the motorcycle is equipped with front and rear disc brakes, complemented by a dual-channel ABS system for enhanced safety and control.