Introduction:
The food market in the UK has undergone a significant and fascinating transformation recently. Known for its substantial pub grub and timeless comfort cuisine, the UK has become a global centre of culinary innovation and variety. The quality and variety of restaurants throughout the nation have increased in tandem with the rise in demand for extraordinary dining experiences. This piece takes readers on a delicious tour of the UK, highlighting the top 15 eateries that have revolutionised British cuisine. These places, each with its own distinct charm, ambiance, and culinary expertise, guarantee exceptional experiences ranging from molecular gastronomy to farm-to-table perfection. In this article you will know the top 15 best restaurants in UK.
Table of Contents:
Top 15 Restaurants in UK
The Fat Duck
Restaurant Gordon Ramsy
The Ledbury
L'Enclume
The Waterside Inn
Alain Ducasse at the dorchester
Sketch
Restaurant Sat Bains
The Clove Club
Restaurant Andrew Fairlie
Dinner by Heston Bluementhal
The Hand and Flowers
The Sportsman
Core by Clare Smyth
Moor Hall
Conclusion
Top 15 Restaurants in UK
1. The Fat Duck: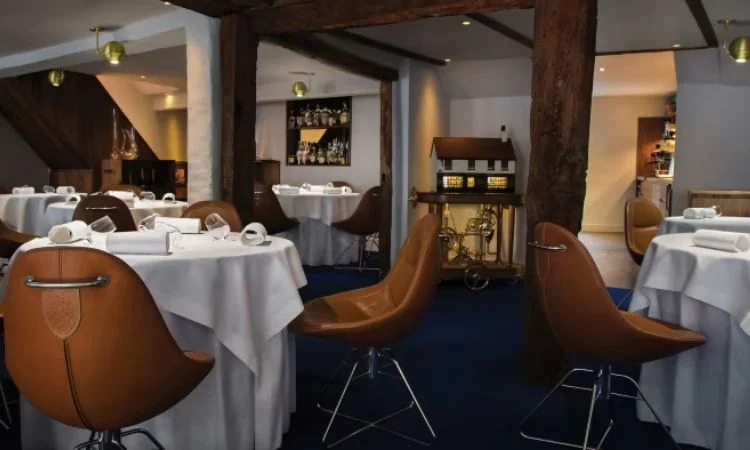 This culinary enchantment exists in the charming English hamlet of Bray. The Fat Duck is a place that has become known for its outstanding food. Within the realm of fine dining, this restaurant has carved itself a unique niche under the innovative direction of famous chef Heston Blumenthal. The Fat Duck is unique because of its unrelenting dedication to offering a multimodal culinary encounter rather than just a meal.
A culinary gem:
The Fat Duck is a culinary innovator that is tucked away in the quaint English hamlet of Bray. Situated on the banks of the River Thames, this charming hamlet has developed into an improbable hub for culinary enthusiasts. Travellers from all over the world go there since it is home to many restaurants with Michelin stars. The charming houses and winding alleyways of the town create a dreamlike setting for The Fat Duck's culinary adventure.
A multisensory experience:
Dining at The Fat Duck is a multi-sensory experience rather than just a taste test. By appealing to the senses—sight, smell, and sound included—the restaurant has completely reimagined what it means to eat. Each dish is created to convey a certain feeling or memory, and diners are treated to a meticulously crafted culinary experience. Everything about the dinner is thought to offer a multimodal experience, from the captivating presentation to the captivating scents.
More than just a dining establishment, The Fat Duck in Bray, England, offers an immersive experience delving into the realm of molecular gastronomy and culinary expertise. It has received praise from all around the world for its inventive cuisine and immersive dining experiences, thanks to Heston Blumenthal's leadership. You are immediately thrust into a world where food is both a form of artistic expression and nutrition as you walk through its doors. A lunch at The Fat Duck is an unforgettable experience that appeals to all of your senses.
2. Restaurant Gordon Ramsy: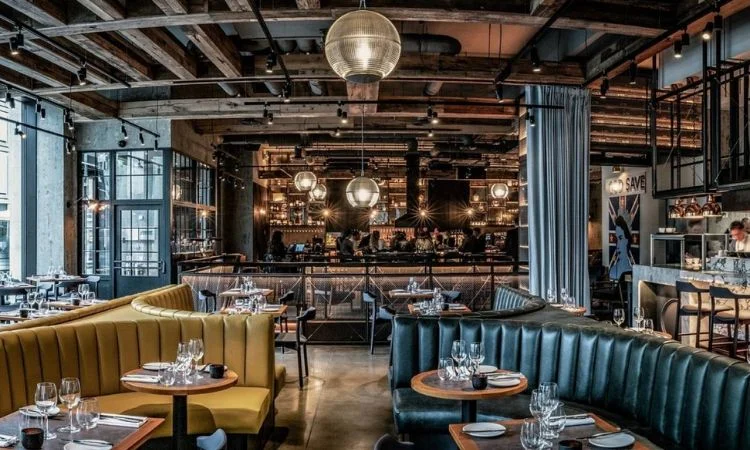 Gordon Ramsay is the name of a fine dining establishment that is located in the centre of London. A shining example of culinary brilliance, Restaurant Gordon Ramsay bears the esteemed distinction of three Michelin stars. This piece takes you on a tour to discover the delights of this legendary eatery known for its superb French fare. Restaurant Gordon Ramsay guarantees an amazing dining experience with its intimate and elegant atmosphere and cuisine, which includes traditional dishes like Beef Wellington and delicious tarte tatin.
The legacy of Gordon Ramsy:
The master himself, Gordon Ramsay, is in charge of this outstanding eatery. Renowned for his culinary expertise, Ramsay has received praise from all around the world for his contributions to the field of gastronomy. Known for his keen culinary abilities, uncompromising standards, and enthusiastic attitude to food, he has cemented his position as one of the culinary icons. Gordon Ramsay's restaurant is the epitome of his culinary vision and a testament to his dedication to quality.
Three Michelin Stars:
One of the few prestigious restaurants in the world that have been awarded the coveted three Michelin stars is Gordon Ramsay's. This prestigious award denotes a degree of culinary proficiency that is uncommon. A really remarkable culinary experience results from the careful examination and refinement of every dish, flavour, and aspect of the eating experience.
Few restaurants can match the high standards set by London's Restaurant Gordon Ramsay, which epitomises the culinary wizardry of Gordon Ramsay. With three Michelin stars, it is a celebration of French cuisine and a tribute to culinary excellence. The restaurant is a must-visit for anybody looking for an amazing gastronomic adventure because of its intimate and sophisticated environment, which enriches the whole experience. A dinner at Restaurant Gordon Ramsay is a culinary journey that will not soon be forgotten, whether you're enjoying the famous Beef Wellington or relishing the Tarte Tatin.
3. The Ledbury: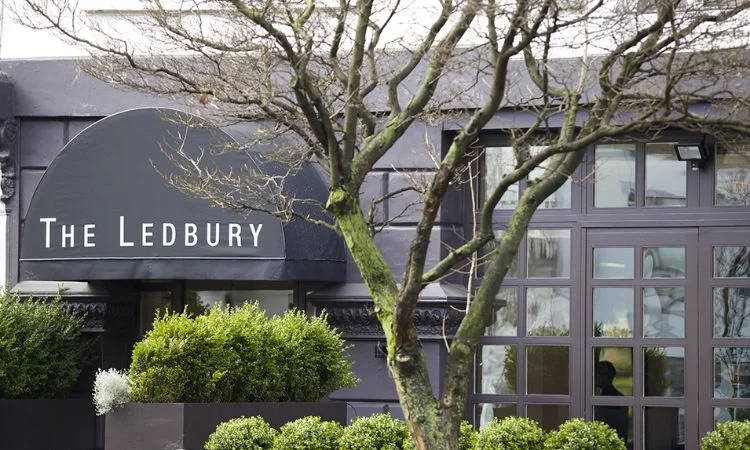 Tucked away amid London's dynamic food scene, The Ledbury is a shining example of culinary brilliance. With two coveted stars, this Michelin-starred restaurant invites guests to experience contemporary European food. We encourage you to discover the delights of The Ledbury in this article, since the cuisine is a showcase for culinary creativity. From the famous dessert "The Fourme d'Ambert" to the succulent Herdwick lamb, The Ledbury provides a fine dining experience that seamlessly blends innovation and tradition.
London's Culinary Gem:
Situated in a city known for its vibrant and varied food scene, Ledbury is an undiscovered gem. This restaurant, which is in the centre of Notting Hill, has proven to be one of London's most exclusive venues. Its modest exterior hides a world of gastronomic pleasures that entice gourmets and sophisticated eaters alike.
Allure of Herdwick Lamb:
Ledbury's hallmark dish, the Herdwick lamb, is one that draws diners in. This meal is proof of the restaurant's commitment to using only the best ingredients. The succulence and richness of flavour of Herdwick lamb are enhanced by deft preparation and presentation. It is a gastronomic masterwork that perfectly captures the spirit of contemporary European cooking.
London's Ledbury is a monument to contemporary European culinary artistry. The restaurant has won the hearts of foodies and connoisseurs worldwide thanks to its two Michelin stars. Dishes like "The Fourme d'Ambert" and Herdwick lamb are the epitome of gastronomic perfection, thus it's impossible to resist their appeal. The Ledbury provides a sophisticated, understatedly elegant setting for an amazing voyage through contemporary European flavours. For those looking for a unique eating experience that honours both history and modernity, it is a must-visit.
4. L'Enclume: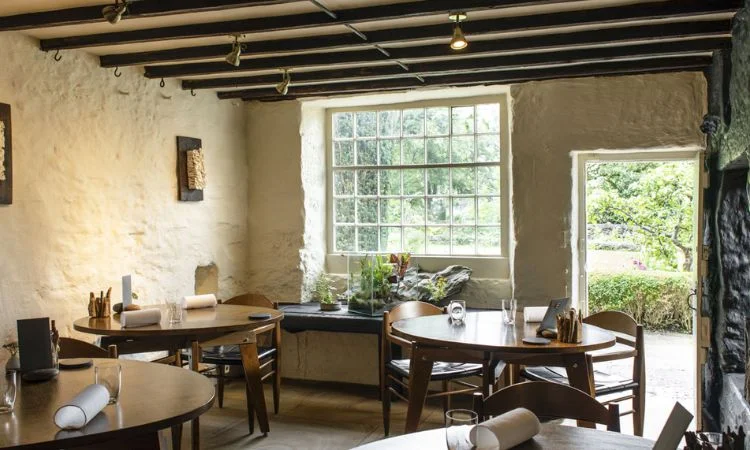 L'Enclume is an exquisite experience that is more than simply a restaurant, nestled amid the tranquil serenity of the Lake District in England. Chef Simon Rogan created this Michelin-starred restaurant, which is tucked away in the charming town of Cartmel. At L'Enclume, Rogan's dedication to a farm-to-table concept is manifested in a symphony of dishes that highlight the best local ingredients. Explore the enchantment of L'Enclume in this article, where "Cured Lobster with Carrots and Lovage" is only one taste of the gastronomic wonders that lie ahead.
Chef Simon Rogan's culinary philosophy:
Chef Simon Rogan, the brains of L'Enclume, is renowned for his unwavering devotion to using sustainable, local, and seasonal foods. Every meal he makes reflects his farm-to-table attitude. Rogan's philosophy is to let the food do the talking, and his kitchen serves as a canvas on which he creatively and captivatingly renders the flavours of the Lake District.
Cured lobster with carrots and lovage:
A highlight of the menu at L'Enclume is the "Cured Lobster with Carrots and Lovage." This meal epitomises Rogan's philosophy of using locally sourced ingredients and elevating them to a very exceptional degree of refinement. The earthy tones of carrots and the fragrant hint of lovage play up the natural sweetness of the lobster, creating a visually arresting and flavor-exploding dish.
More than simply cuisine is served at Cartmel, England's L'Enclume restaurant—it's a gourmet excursion into the heart of the Lake District. L'Enclume is a must-visit for food fans due to Chef Simon Rogan's inventive use of local products and his unshakable devotion to the farm-to-table philosophy. With an ambiance that skillfully combines elegance and serenity, it offers the ideal backdrop for enjoying the local flavours. Those looking for an exceptional dining experience amidst breathtaking scenery can visit L'Enclume, where dishes like "Cured Lobster with Carrots and Lovage" are just one example of the culinary genius that awaits.
5. The Waterside Inn: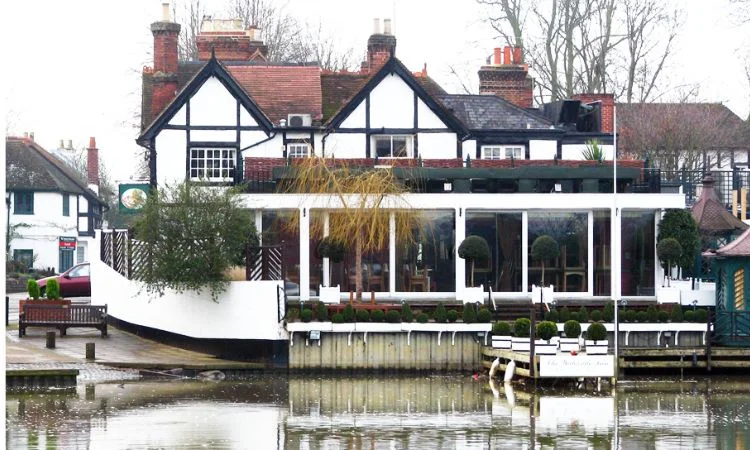 The Waterside Inn is a culinary jewel that captures the spirit of traditional French cuisine. It is tucked away on the banks of the serene River Thames in the charming hamlet of Bray. This three-star restaurant is a monument to culinary quality and is recognised by Michelin. We cordially encourage you to read this article and take a culinary tour of The Waterside Inn, where delectable soufflés and succulent seafood are only a taste of the culinary delights that await in this picturesque riverfront location.
Three Michelin Stars:
The Waterside Inn has achieved the distinction of being one of the world's most prestigious eating destinations, with three Michelin stars. This esteemed award is evidence of the restaurant's continuous dedication to serving up the best possible food. A really remarkable culinary experience is created by carefully planning each dish, selecting each component, and attending to every last detail during the dining experience.
Riverside charms of Bray:
The Waterside Inn is located in the renowned gastronomic destination of Bray Village. This picturesque hamlet is a welcoming setting for a gastronomic experience with its flowing river and quaint houses. With its elegant location along the riverfront, the Waterside Inn provides guests with more than simply a meal—it offers an experience that combines the culinary arts with the splendour of the natural world.
More than merely a dining establishment, the Waterside Inn in Bray, England, transports guests to the heart of traditional French cuisine in a picturesque riverbank setting. Its three Michelin stars serve as a tribute to the lasting allure of French cuisine and as a beacon of culinary excellence. Savoury seafood and delectable soufflés are only a taste of what culinary gems this charming restaurant has to offer. The Waterside Inn provides a memorable dining experience that honours history and elegance in the most attractive of settings, all against the calm background of the River Thames.
6. Alain Ducasse at the Dorchester: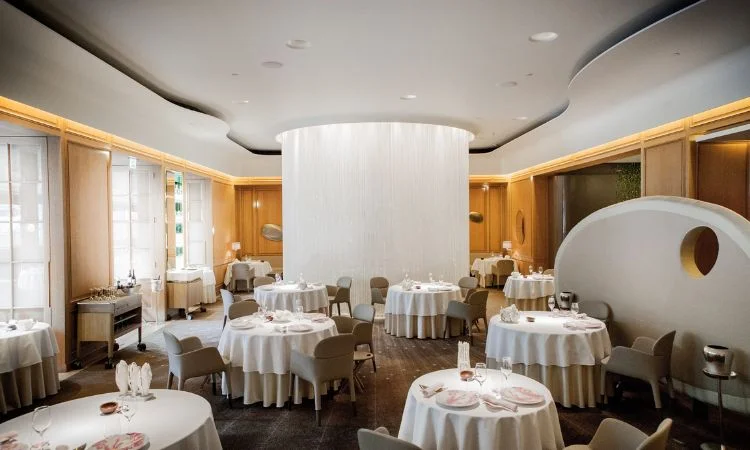 Alain Ducasse at The Dorchester, a gastronomic sanctuary within the magnificent walls of The Dorchester hotel, is located in the centre of London. Under the creative direction of Alain Ducasse, this three-star restaurant is the pinnacle of opulent dining. Its elegant and sophisticated French menu takes guests away to a world of gourmet dining. This article takes us on a gastronomic adventure into the opulent world of Alain Ducasse at The Dorchester, where delicacies like "Duck Foie Gras" and "Black Truffle" are just a couple of the must-try items.
Alain Ducasse:
The creator behind this culinary jewel is none other than Alain Ducasse, a name synonymous with culinary brilliance. Renowned for his culinary genius, Ducasse has amassed many Michelin stars over the course of several decades in the industry. From the food to the service, every element of the restaurant reflects his knowledge and love of French cooking.
Three Michelin Stars:
The restaurant's steadfast dedication to culinary perfection is demonstrated by its three Michelin stars. To receive such an honour is to demonstrate a very high degree of accuracy and creativity. Every meal that is served at Alain Ducasse at The Dorchester is made with the highest attention to detail and care.
7. Sketch: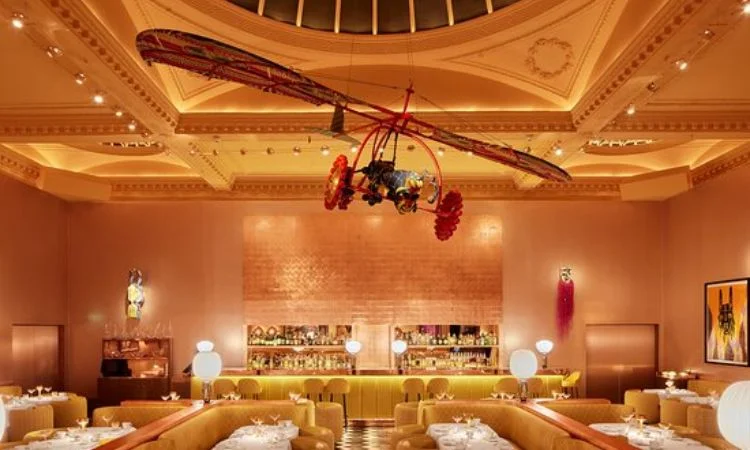 Sketch is a restaurant in London, England, that does more than just follow the rules. It's a location where immersive experiences and culinary art come together to create a dining journey that will never be forgotten. Sketch is a symphony of imagination, with an interior separated into many eating spaces, each radiating its own distinct decor and food. This piece encourages you to go into the unique world of Sketch, where inventive afternoon tea offerings and the evocative "The Glade" immerse customers in a world where art and cuisine converge.
Dining Rooms as Art Galleries:
The interior design of Sketch reveals its distinct idea, with each dining area functioning as a separate art exhibition. The restaurant is separated into a number of unique areas, each with its own unique design and atmosphere. Every space offers a dining experience that is a feast for the senses, from the futuristic and avant-garde gallery to the wacky and magical lecture space and library.
Afternoon tea with a creative twist:
Sketch's creative afternoon tea service is a standout feature. Diners are treated to a fanciful and decadent tea experience in an environment that is akin to a theatrical presentation. A trip into the realm of creative and culinary innovation is offered by Sketch's afternoon tea, which includes delicious pastries and skillfully chosen teas.
Not merely a restaurant, Sketch in London, England, is a doorway to an immersive artistic experience where culinary innovation has no boundaries. With eating areas that also double as art galleries, a menu that masterfully blends creativity and taste, creative afternoon tea services, and the cocoon-like "The Glade," Sketch is a place that makes an impact. It is an example of how innovative cooking and creative expression can coexist, combining gastronomy and design to provide a dining experience that will never be forgotten.
8. Restaurant Sat Bains: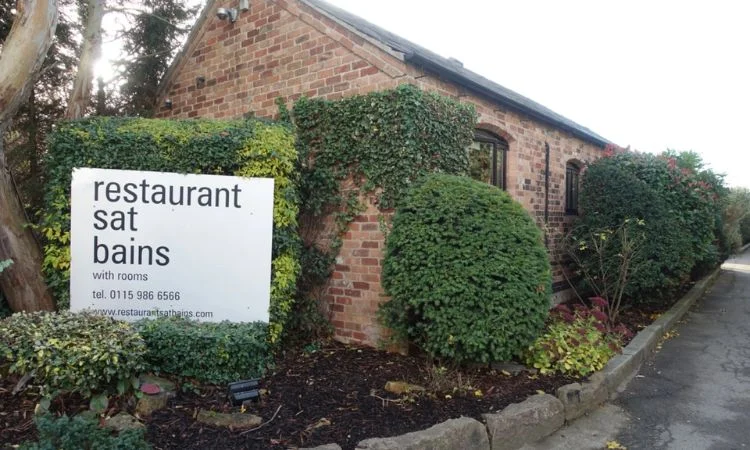 A renowned hotspot of inventive cuisine, Restaurant Sat Bains is a culinary marvel right in the middle of Nottingham. This restaurant, which is well-known for its constantly changing tasting menu, is the embodiment of Chef Sat Bains' culinary vision. By fusing modern methods with his background in traditional cuisine, Bains produces dishes that surpass expectations and excite the senses. In this piece, we set out to investigate the enthralling charms of Restaurant Sat Bains, where dishes like "Pressed Game Terrine" and "Baked in Hay" are only a taste of the delectable treats that lie ahead.
A culinary jewel:
Nottingham, which is well-known for its extensive historical and cultural legacy, is also home to Restaurant Sat Bains, a gastronomic gem. This Michelin-starred restaurant has won praise from all around the world for its outstanding dining experiences and creative food. Due to its central position, it attracts both residents and tourists who are interested in food.
The ever evolving menu:
The eatery is renowned for its constantly changing tasting menu, which showcases Chef Bains' dedication to pushing the limits of flavour and presentation. As the tasting menu changes to reflect the freshest seasonal ingredients and the chef's most recent inspirations, every visit to Restaurant Sat Bains offers a unique culinary experience.
Nottingham, England's Restaurant Sat Bains is a tribute to the creative spirit of contemporary cooking. Thanks to Chef Sat Bains' inventiveness, the menu is always changing, providing for a wonderful and stimulating eating experience. Meals like "Pressed Game Terrine" and "Baked in Hay" are just two examples of the delectable treats that are in store. A fascinating voyage into the world of culinary creativity and flair awaits you at Restaurant Sat Bains, whether you are a tourist seeking for great cuisine or a local expert.
9. The Clove Club: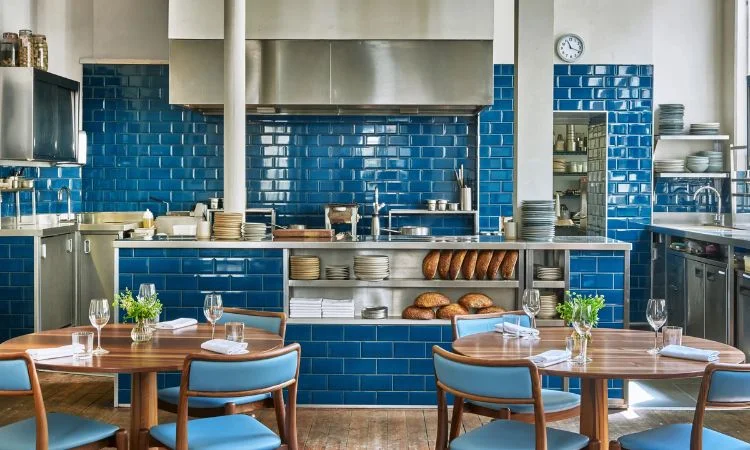 The Clove Club is a gastronomic jewel situated in the centre of bustling London, where modernism and tradition blend together. This restaurant, which is housed inside the magnificent Shoreditch Town Hall, serves contemporary British cuisine that honours its historic surroundings. This article offers you a chance to delve into the fascinating world of The Clove Club, where recipes like "Haggis Doughnuts" and "Buttermilk Fried Chicken" demonstrate how innovation and tradition can coexist together.
Buttermilk fried chicken and Haggis donuts:
The Clove Club's contemporary British menu is the main draw. The eatery presents a modern take on British food, showcasing the country's diverse culinary landscape. The cuisine is an inventive and traditional narrative told via a tapestry of flavours. The Clove Club's "Haggis Doughnuts" are a fun surprise that highlight the chef's creative creativity. This meal creates a pleasing harmony of flavours and textures that pleases the palette by fusing the richness of haggis with the whimsicality of a doughnut.
Culinary experience with style:
The Clove Club is about the overall dining experience, not just the cuisine. The careful and unobtrusive service makes sure that the gastronomic adventure is the primary attraction. The décor of the restaurant has a sophisticated yet laid-back vibe that is ideal for enjoying conversation and the food.
The present revival of British food is shown by London, England's Clove Club. Located inside the iconic Shoreditch Town Hall, it provides a distinctive and enthralling eating experience. "Haggis Doughnuts" and "Buttermilk Fried Chicken" are two dishes that exemplify the restaurant's inventive cooking. The Clove Club promises a contemporary culinary soirée that highlights the rich tapestry of British flavours, whether you are a guest or a native looking for an inventive dining experience in historical elegance.
10. Restaurant Andrew Fairlie: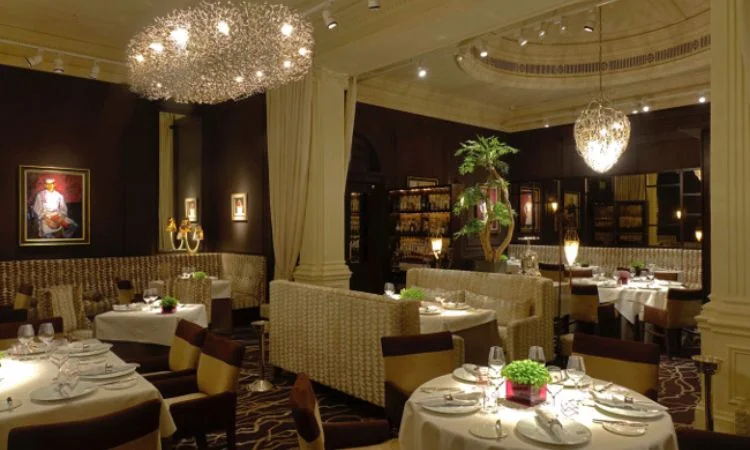 A bright light in the Scottish culinary landscape, Restaurant Andrew Fairlie is tucked away within the luxurious Gleneagles Hotel. It is the only two-star restaurant in Scotland, which speaks much about the quality of the food culture in the country. The restaurant takes great satisfaction in using high-quality Scottish ingredients to create meals such as the opulent "Ballotine of foie gras." We would like to welcome you to discover the world of Restaurant Andrew Fairlie in this article, where every dish is a masterpiece of Scottish cuisine.
Ballotine of Foie Grass:
A highlight dish that perfectly captures the restaurant's culinary talent is the "ballotine of foie gras." The chef's talent is evident in this meal, which turns foie gras into a tasty and elegant masterpiece. Every mouthful transports you to a new and deeper level of Scottish cuisine.
A culinary gem in Scotland:
Not only is Restaurant Andrew Fairlie a real gastronomic treasure for the hotel, but for the whole country of Scotland as well. Its passion to the art of cuisine and its commitment to culinary perfection are attested to by the two Michelin stars that accompany its name. Its doors are frequently visited by both residents and tourists who are looking for a dining experience that honours Scotland's culinary history.
Scotland's culinary prowess is well demonstrated by the restaurant Andrew Fairlie in Gleneagles, Scotland. It is the only two-star restaurant in the country and a gastronomic haven for Scottish heritage. The "Ballotine of Foie Gras" and other meals perfectly capture the creative spirit that characterises the eatery. Restaurant Andrew Fairlie offers a unique trip into the heart of Scottish greatness, whether you are a local looking for an amazing dining experience or a guest looking to sample the finest of Scotland.
11. Dinner by Heston Bluementhal: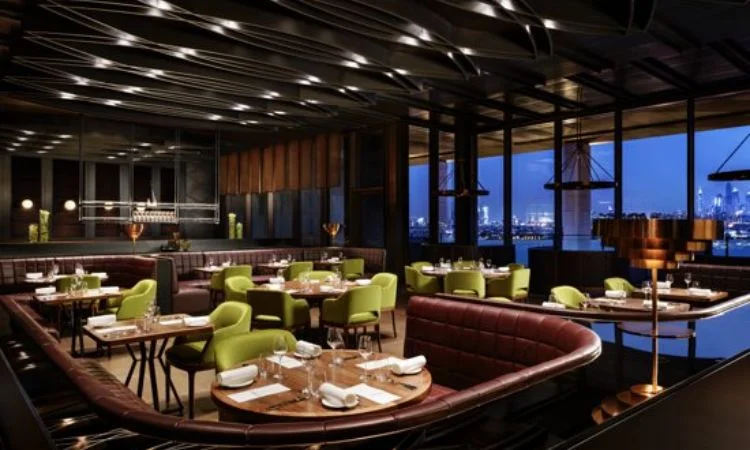 Heston Blumenthal, the culinary alchemist, offers Dinner by Heston Blumenthal, his second entry on our list, right in the heart of London. This restaurant offers a unique eating experience that transports patrons through time. Dinner pays homage to traditional British cuisine with items like "meat fruit" and "tipsy cake." This article explores the world of Dinner by Heston Blumenthal, where every dish serves as a window into Britain's rich culinary past.
"Meat fruit" and tipsy cake:
"Meat Fruit" is one of the most noteworthy dishes at dinner. This invention, which is a pork terrine fashioned like a mandarin, was inspired by mediaeval Britain. This meal captures the appreciation throughout history for sophisticated flavours and beautiful presentation. A delightful and decadent confection, "Tipsy Cake" takes you on a tour through British culinary history. This delicacy, which is based on 19th-century recipes, combines a delicious combination of flavours and textures with a brioche soaked in brandy and topped with spit-roasted pineapple.
A culinary adventure:
Dinner by Heston Blumenthal is more than just a restaurant; it's a gastronomic journey, situated right in the centre of London. The restaurant invites visitors to delve into the rich heritage of British cuisine because of its convenient position in the Mandarin Oriental Hyde Park. Every meal is expertly prepared and researched to encapsulate a certain period and location in British history. Through contemporary culinary interpretations, the restaurant lets patrons experience the past.
Heston Blumenthal's London restaurant Dinner is a culinary time machine that takes patrons through the extensive and varied history of British food. For those looking for a distinctive dining experience, Blumenthal is a destination because of its creative approach and dedication to historical authenticity. Dinner offers a gastronomic adventure that is best experienced with dishes like "Meat Fruit," "Tipsy Cake," and others. Dinner by Heston Blumenthal provides a unique examination of British culinary past, perfect for history buffs or anybody looking for a special dining experience.
12. The Hand and Flowers: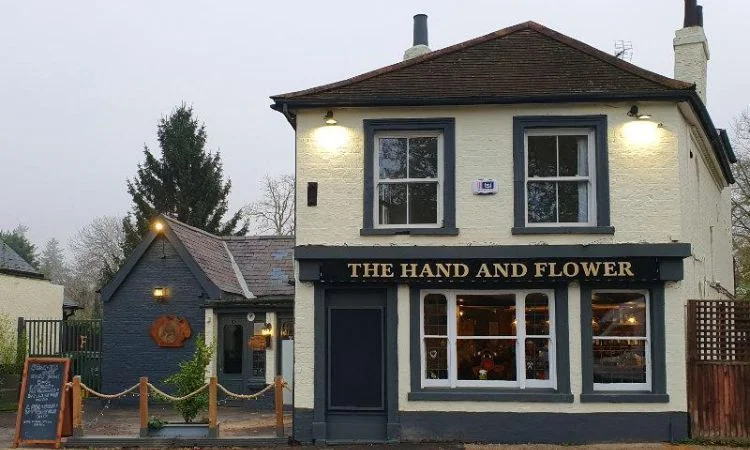 The Hand and Flowers, operated by chef extraordinaire Tom Kerridge, is a monument to the tasteful marriage of classic British hospitality and fine dining in the quaint English town of Marlow. With two Michelin stars, this remarkable restaurant offers more than just a typical dining experience. Duck Liver Parfait and Lamb and Sweetbreads are only a couple of the gourmet meals served there, along with the cosy atmosphere of a classic British pub. Explore the world of The Hand and Flowers in this article, where Michelin stars sparkle at the epicentre of British hospitality.
Two Michelin Stars:
The Hand and Flowers is such a testament to its dedication to culinary excellence that it has been awarded two Michelin stars. Achieving this kind of distinction is a privilege bestowed upon a select few, and the restaurant's path to success is evidence of its commitment to the best culinary practises.
Traditional British Pub Ambiance:
The Hand and Flowers has a distinctive atmosphere reminiscent of a classic British tavern. Cosy nooks and wooden beams throughout the warm and inviting design create a pleasant ambiance. Diners may indulge in exquisite food in the cosy atmosphere of a pub.
In Marlow, England, The Hand and Flowers is more than just a restaurant—it's an ode to the charm of Britain and two Michelin stars. It provides a warm and remarkable eating experience with its gourmet menu that include delicacies like "Duck Liver Parfait" and "Lamb and Sweetbreads," all served in a classic British pub setting. The Hand and Flowers offers an exquisite dining experience that seamlessly blends tradition with culinary skill, making it an ideal choice for both locals searching for their favourite place to eat and tourists wanting a taste of the best British hospitality.
13. The Sportsman: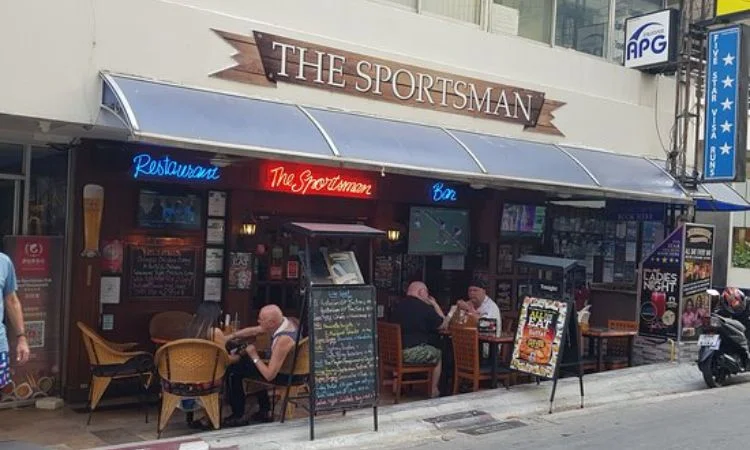 The Sportsman is a hidden culinary gem that epitomises the beauty of simplicity and the enchantment of locally sourced foods. It is nestled along the lovely English coast in Seasalter. It has established its reputation as a Michelin-starred gastropub with understated elegance. Come to this seaside paradise and indulge in delicacies like "Rhubarb and Custard" and "Slip Sole Grilled in Seaweed Butter." We welcome you to explore the charms of The Sportsman in this piece, where the abundance of the sea meets the craft of cooking.
Simplicity elevated to perfection:
The sportsman's dedication to simplicity is among its most distinctive qualities. The restaurant creates honest, straightforward culinary creations using the best, locally sourced products. Here, enhancing the natural flavours of the foods is the main goal. The Sportsman's Michelin star is proof positive of its outstanding food. It represents a level of skill that has made this gastropub a popular choice for foodies looking for an excellent yet simple eating experience.
Unique dishes:
The meal "Slip Sole Grilled in Seaweed Butter" is exceptional and perfectly embodies The Sportsman. This dish highlights the simplicity and diversity of flavours found in the sea. This gastronomic adventure takes you around coastal England, where the kitchen and the sea work in perfect harmony. "Rhubarb and Custard" is a wonderful delicacy that honours the balance of sour and sweet flavours. It's a delightful way to round off a dinner that showcases the culinary creativity and simplicity of regional cuisine.
The Sportsman in Seasalter, England, is a culinary treasure that embodies everything great about living by the sea. It offers a Michelin-starred dining experience that is both outstanding and approachable, celebrating simplicity and locally produced foods. Meals like "Rhubarb and Custard" and "Slip Sole Grilled in Seaweed Butter" are perfect examples of the culinary wonders that can be found at The Sportsman. This restaurant offers a special connection to the sea and the art of food, whether you are a native looking for the essence of coastal flavours or a tourist searching for a hidden jewel by the sea.
14. Core by Clare Smyth: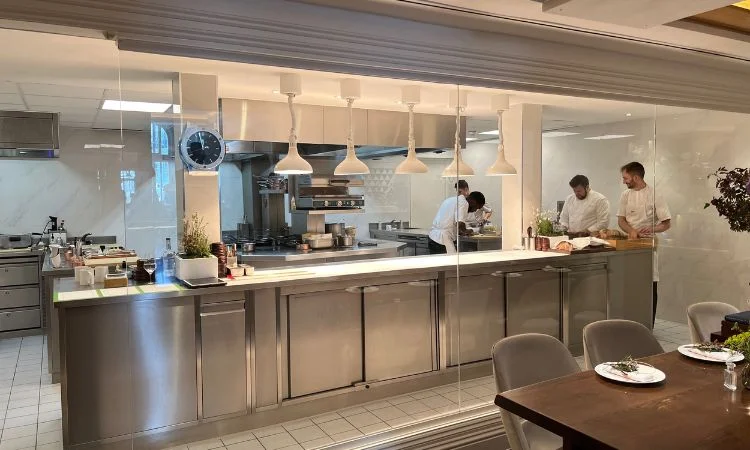 Clare Smyth's Core is a gastronomic haven of creativity and quality in the centre of London. Core, overseen by Clare Smyth, the first female chef to manage a three-Michelin-star establishment in the UK, has captured the attention of the culinary community with its refined, nature-inspired menu. Her culinary skill is on display in dishes like "Lemonade Set Cream" and "Potato and Roe". This piece takes us on a tour into the world of Core by Clare Smyth, where artistic inspiration drawn from nature coexists with Michelin stars.
A culinary trailblazer:
Situated in London's gastronomic epicentre, Core is a restaurant that has garnered recognition both domestically and internationally. Its prime position in Notting Hill draws a wide spectrum of customers, including locals and foodies from around the world. The creator of Core is Clare Smyth, who has a remarkable career and a pioneering attitude. She has broken down barriers in the culinary industry and introduced her skills to the centre of London as the first female chef to oversee a three-Michelin-star establishment in the United Kingdom. Her inventiveness and drive are what propel Core's growth.
Nature inspired menu:
"Potato and roe" is one of Core's signature meals. This recipe honours simplicity and demonstrates the rich flavour that only the best ingredients can provide. The dish is an example of Clare Smyth's culinary artistry. "Lemonade Set Cream" is a delicious delicacy that perfectly embodies the sweetness of nature. This dessert is the ideal way to cap off a dinner that showcases the grace and delicacy that characterise Core's cooking style.
The culinary masterwork Core by London's Clare Smyth honours the craft of great dining. Under the direction of culinary innovator Clare Smyth, it provides an elegant but organically inspired dining experience. "Lemonade Set Cream" and "Potato and Roe" are two dishes that perfectly capture the restaurant's signature culinary elegance. Art and nature come together in perfect harmony at Core by Clare Smyth, a Michelin-starred culinary voyage guided by a trailblazing chef that appeals to both local connoisseurs and tourists seeking an extraordinary dining experience.
15. Moor Hall: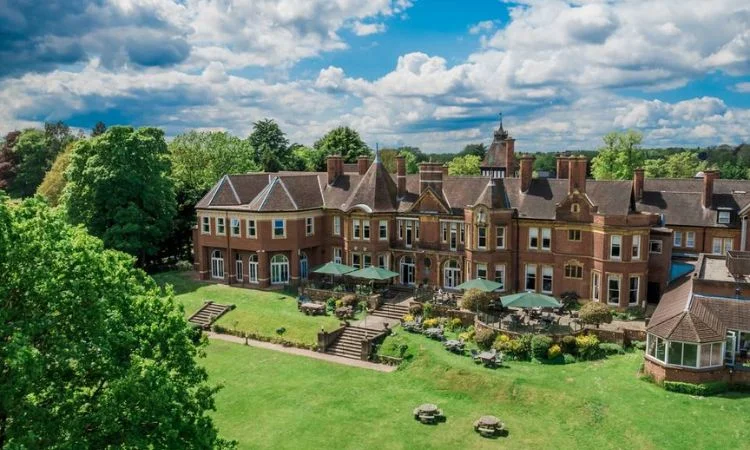 Moor Hall, a Michelin-starred restaurant in Aughton, England, is tucked away behind the mediaeval walls of a 16th-century manor house and epitomises terroir-driven, timeless food. The restaurant, which is run by Chef Mark Birchall, showcases the beauty of locally and seasonally obtained foods by incorporating them into elaborate dishes like "Wild Duck with Beetroot." We cordially welcome you to go into the fascinating realm of Moor Hall, where culinary arts and history converge in this piece.
A michelin star culinary experience:
Moor Hall's commitment to fine dining is demonstrated by its Michelin star. The restaurant is well-known for its terroir-driven philosophy, which highlights local flavours and crafts mouthwatering masterpieces out of them. The peaceful English town of Aughton provides the ideal setting for Moor Hall's gourmet haven. The restaurant's setting within a manor home from the 16th century adds even more charm and gives patrons a genuine sense of connection to the area's rich history and tradition.
Chef Mark Birchall:
Chef Mark Birchall, whose culinary adventures have won him praise and honours, is in charge of Moor Hall. His philosophy, which emphasises the value of seasonal and locally produced foods, is firmly based in the idea of terroir. Moor Hall's identity is rooted in Birchall's dedication to capturing the spirit of the country.
In Auguston, England, Moor Hall is more than just a dining establishment—it's a voyage through terroir and history. Located in a manor home from the 16th century, it provides a dining experience that is both ageless and incredibly rooted in the country. Meals such as "Wild Duck with Beetroot" perfectly capture the restaurant's signature culinary expertise. A Michelin-starred culinary adventure that celebrates the beauty of terroir-driven cuisine, Moor Hall is perfect for both local connoisseurs and tourists looking for a real flavour of the area.
Conclusion:
A bustling culinary industry with an astounding selection of restaurants, each with its own distinct personality and style, can be found throughout the United Kingdom. Whether you're looking for an immersive dining experience, traditional French cuisine, current British cuisine, or avant-garde cuisine, the top 15 restaurants in the UK provide a mouthwatering trip for foodies. These restaurants, which have Michelin stars, world-class chefs, and a dedication to culinary perfection, are proof of the dynamic and varied character of UK food.