The Union Cabinet has approved a third revival package for BSNL worth Rs 89,047 crore for BSNL, a debt-ridden telecom company in India. The package includes equity infusion for 4G/5G spectrum allotment, increasing BSNL's authorized capital. The government aims to transform BSNL into a stable telecom service provider focused on providing connectivity in remote parts of the country.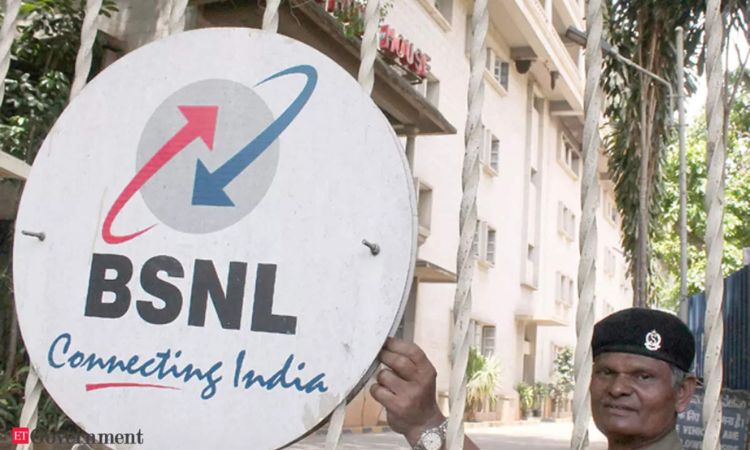 Image: ET Government
The Union Cabinet, on June 7, sanctioned a third revival package of Rs 89,047 crore for debt-ridden telecommunications company Bharat Sanchar Nigam Limited (BSNL) telecom company. The package includes the allocation of the 4G/5G spectrum through equity infusion. The authorized capital of BSNL will be increased from Rs 1.5 lakh crore to Rs 2.1 lakh crore, according to the government's statement.
During a press briefing, Union Minister Piyush Goyal stated that BSNL has achieved 4G coverage in many areas of the country and is on the verge of attaining near-nationwide coverage. As for 5G, the concerned minister will provide further details. This revival package aims to transform BSNL into a reliable telecom service provider focused on delivering connectivity in remote parts of India.
The government believes that a government-owned PSU in the telecom sector should thrive due to its strategic significance. The statement also highlights that with this revival package, BSNL will emerge as a stable telecom service provider with a primary focus on providing connectivity to remote areas. The first revival package for BSNL/MTNL was approved in 2019, amounting to Rs 69,000 crore, which brought stability to the telecom sector.
Furthermore, in 2022, the government approved the second revival package for BSNL/MTNL worth Rs 1.64 lakh crore. This package provided financial support for capital expenditure, viability gap funding for rural landlines, assistance in addressing the balance sheet's stress, settlement of adjusted gross revenue (AGR) dues, and the merger of Bharat Broadband Network Limited (BBNL) with BSNL, among other measures.
As a result of these two packages, Bharat Sanchar Nigam Limited (BSNL) has been generating operating profits since the fiscal year 2021-22. The company's total debt has decreased from Rs 32,944 crore to Rs 22,289 crore, as stated by the government. Meanwhile, the announcement of the revival package led to a surge in the share prices of TCS and ITI. TCS shares traded 1.23 percent higher at Rs 3,274 apiece, and ITI traded 5.07 percent higher at Rs 113.90 apiece during late trading hours on the Bombay Stock Exchange (BSE).
The shares of TCS and ITI witnessed an increase since May 23, when a consortium led by TCS and state-run telecom gear maker ITI secured a major advance purchase order worth over Rs 19,000 crore from BSNL for the development of a 4G network.