We all devote our lives to the objective for personal growth in some way or the other. It is the intensity of the purpose that keeps us alive and sane. Society is filled with different individuals with varied perspectives and out of those individuals, a few emerge as artists and creative personnel.
Keeping aside the science behind the cause of being creative, artistry comes from emotion and passion. Something you do not get to buy and far too precious to touch. Business Outreach Magazine recently met a personality, who has been defining her life through her skills for handcrafted home products.

Who is Nitisha Jha ?
Nitisha Jha is a solopreneur who started her journey to make handcrafted products for home decoration in the year 2017. Back then, she worked part-time but soon shifted to working full-time just before the COVID-19 pandemic hit the world.
Nitisha started 'Art Gilehri' with the goal to create quirky, sustainable, and unique home decor products that ooze a character and color conversation in a house. She says that all the products are made from stained glass and upcycled bottles. She also says that glass cannot biodegrade but makes for lovely, usable products when upcycled using creativity and techniques, which can be seen in all the stunning Art Gilehri products.

What inspired Nitisha to start Art Gilehri ?
There were a lot of bottles kept around the house and Nitisha embraced the Indian tradition and culture to reuse utensils for other purposes. This mindset pushed her to flair her creative pursuits by reshaping the glass and shaping it to be an exclusive decorative product.
She created bottle lamps, glasses, wind chimes, and anything her mind voiced her to produce. Nitisha studied BE and MSc Honors from BITS Pilani University.
Now on setting her course for art, she has set up her website to sell her offerings to a wide range of audiences, who appreciate modern and contemporary products to beautify their houses and offices. Currently, she has over 1,000 clients and her products start from as minimum as Rs. 500. Nitisha is also selected for the level-up program which is under the foundation of Google for startups and Springboard91.

What were the challenges Nitisha had to face?
Nitisha says to us that the times were tough when clients considered upcycled materials to be cheap and aligned her craftsmanship to be priced low. It took her some time till her website was created to make clients understand the efficacy and value of her skills.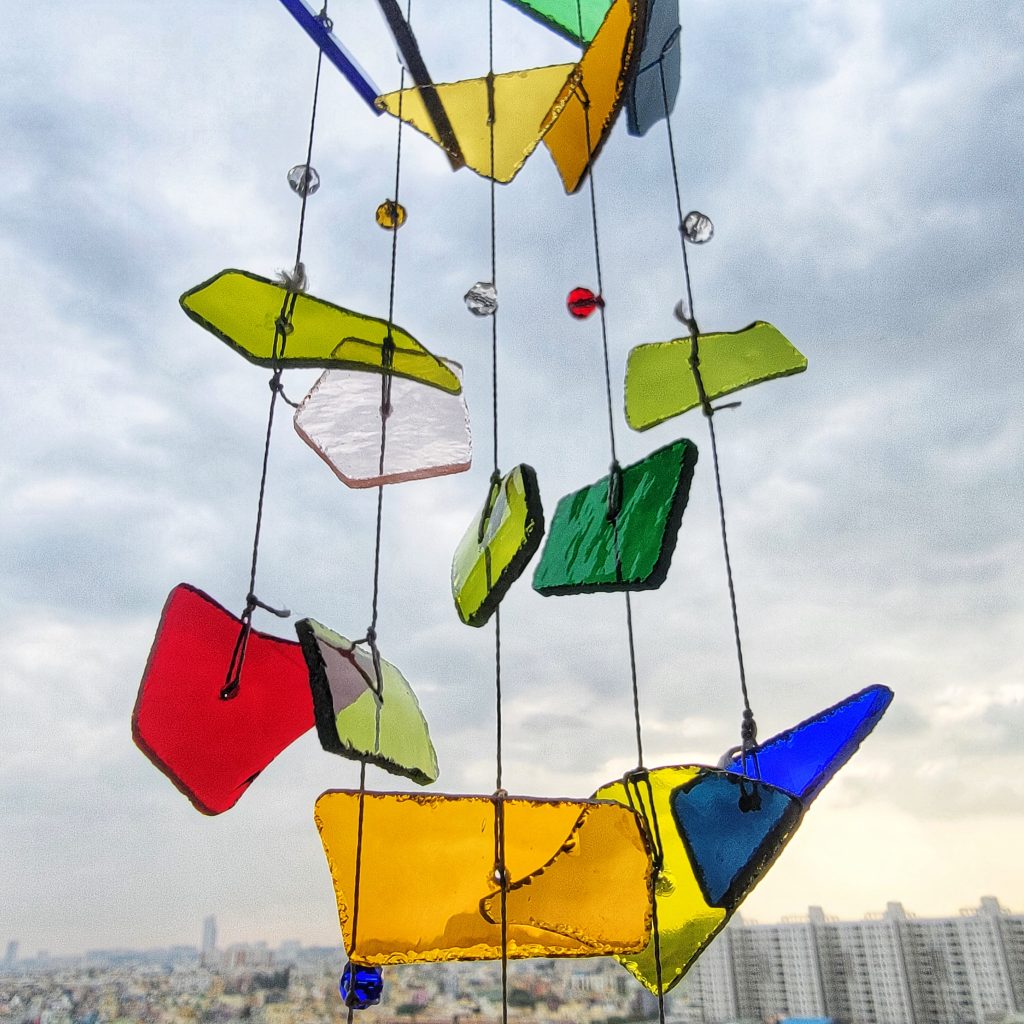 What are Nitisha's future goals?
Nitisha Jha wants to deep dive into corporate gifting and conduct more online and offline mentorship classes for professionals. Recently, she has successfully completed a project that involved setting interior lighting decorations for a pub located in Bangalore. And it seems that Nitisha is achieving more and more appreciation from her clients.
Nitisha lives by the saying "What you seek is seeking you" which is her mantra for motivation. Some of the testimonials from her clients like Janani who says "Nitisha is the best when it comes to stained glass! She totally understood what I wanted and made them so well. Not to forget, she got the art ready exactly on the promised time" validates Nitisha's diligence towards her craft. And we wish her all the very best.