Lionel Messi has chosen to join Inter Miami in Major League Soccer, turning down a lucrative $400 million deal from Saudi Arabia. The move strengthens partnerships with Apple and Adidas while dealing a blow to Saudi Arabia's sports ambitions. Miami prepares to host the World Cup as Messi ventures outside Europe for the first time.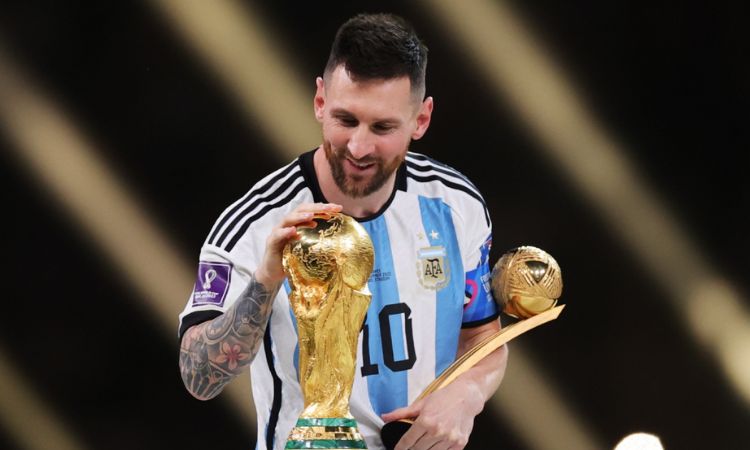 Image-: Daily Sabah
Lionel Messi has announced his intention to join Major League Soccer club Inter Miami, rejecting a tempting $400 million annual offer from Saudi Arabia. In an interview with Mundo Deportivo, the Argentine superstar stated, "I've made a decision to go to Miami. Although some details are yet to be finalized, we have decided to pursue this path."
Reports from The Athletic indicate that Messi is being offered profit-sharing agreements with Adidas and Apple as part of the transaction. Additionally, there is a possibility of him acquiring a stake in Inter Miami, joining current owners David Beckham and the Mas family. Speaking to ESPN, Messi, 35, expressed his desire to "experience the US League in a different way and enjoy day-to-day life much more."
Messi's potential move to Major League Soccer deals a significant blow to Saudi Arabia's sports ambitions, driven by Crown Prince Mohammed bin Salman. The Kingdom has been actively seeking to attract global sports icons to its domestic soccer league, with Cristiano Ronaldo already joining a team based in Riyadh. The country's Public Investment Fund has supported the LIV Golf League, which is merging with the PGA Tour. Furthermore, the sovereign wealth fund recently acquired Premier League club Newcastle United, transforming it into a formidable force in English soccer.
If Messi's transfer to the US materializes, it would have substantial implications for Miami and Major League Soccer, especially considering the city's preparations as a host for the 2026 World Cup. Moreover, it would mark the first time Messi has played club soccer outside of Europe throughout his illustrious career. The World Cup winner has been a star for Barcelona since his teenage years, securing numerous league titles and Champions League victories. In 2021, he left Barcelona to join Paris Saint-Germain and has now opted for Inter Miami over a potential return to the Catalan team.
For Apple, Messi's arrival would reinforce its soccer strategy. The company recently entered a $2.5 billion 10-year deal with Major League Soccer to stream games on its TV+ platform. Apple's popular TV series, "Ted Lasso," which revolves around a fictional Premier League team coached by an American, has garnered significant attention on the streaming service.
Adidas would also greatly benefit from Messi's move, as the German brand currently faces challenges after the collapse of its Yeezy franchise following the termination of its partnership with the rapper formerly known as Kanye West. Adidas has witnessed a decline in market share in the US, with Nike Inc. and smaller brands like Hoka gaining prominence. However, soccer remains a bright spot for Adidas in the US, which is the largest sports market globally.
Earlier this year, the German company extended its contract with the MLS, a move that CEO Bjorn Gulden deemed "very, very, very important." Adidas aims to combine soccer with fashion and music, creating a soccer "street culture" worldwide, similar to basketball's influence. During an analyst call last month, Gulden emphasized the need to maintain Adidas' leading position in soccer in significant markets.