Diversity of Indian culture needs to be spreaded all over the world.
Indian culture is one of the most ancient cultures that has been followed since ages. India is a nation of different people coming from different religions, linguistics, and fields of profession.
With more than 1.4 billion people in India, following different rituals, tradition and religion give birth to thousands of new faiths, beliefs and conventions.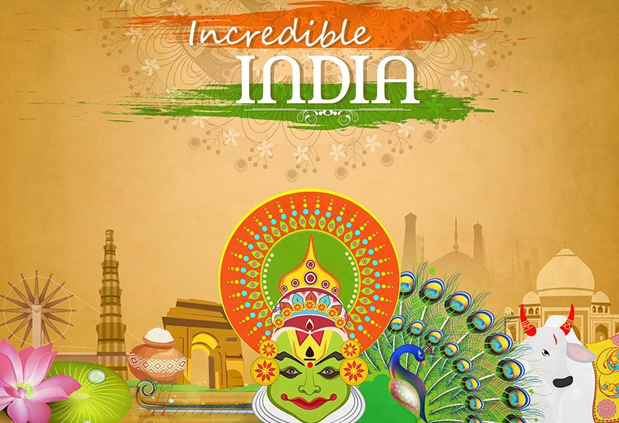 When it comes to Indian culture and its art, every monument speaks about its value and tradition.
Once the land of royalty, where kings and Emperors constructed incredible structures and monuments.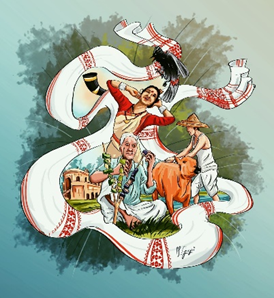 India is a place where every person is united with oneness and traditions.
A nation which celebrates more than fifty festivals in a year, that is known worldwide.
Every state has its known significance and importance in India.
With a great and ancient culture and diversity among the population, let's take a tour of Indian culture and understand the diversified tradition of the country!
Table Of Contents
· The Land Of Maharajas
· Agra
· Indian culture and Youth
· Why it is important to teach Indian culture to youth
· Importance of Indian Culture
· Sports in India
· Architecture in India
· Cuisine
· Clothing
· Music
Conclusion
Here are the some Examples:
THE LAND OF MAHARAJAS – RAJASTHAN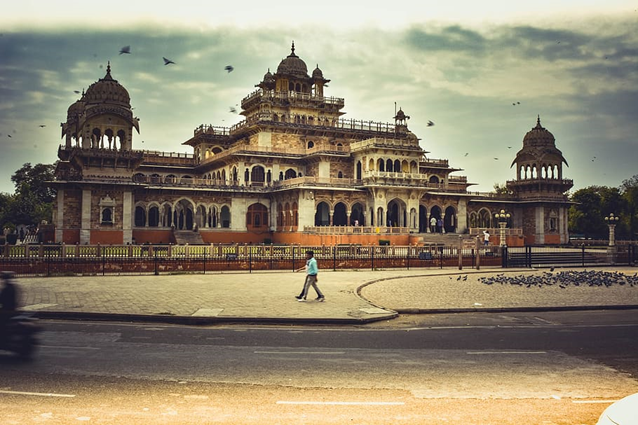 Rajasthan, meaning the "Land of Raja" or "Raja-ka-Sthan" was where warriors born and died for their king.
The land of wealth and royalty is known for its prestigious culture of traditions and rituals.
The term Rajput, originally "Rajputra" meant "Raja-ka-put" (son) came in early ages of Kshatriya tradition.
Legendary kshatriya kings like Prithviraj Chauhan once ruled the vast stretch of Rajasthan, who fought for their pride and people.
Folk music and dance are one of the most interesting things to enjoy in Rajasthan, internationally recognized "Ghoomar Dance" of Jodhpur and "kalbeliya Dance" of Jaisalmer are the dances for tourists specially visit Rajasthan.
The land is extremely popular for its handcrafts, textiles, and antiques.
Gems and jewelleries are even exported out of the nation.
Can't deny the fact, the state has many attractive tourist destinations
Eg. Grand Canyon of Rajasthan, Hawa Mahal, City Palace, Pink City Armory, etc.
AGRA- THE CITY OF MUGHALS
The City Of imperialism and fortune, Agra unlike other Mughal capitals was a domain less ordinary.
One of the 8th Wonders in the world, Agra holds its dignity with its marvelous monument, the Taj Mahal.
Built on the right bank of river Yamuna, the iconic structure holds its history back to 1632.
Commissioned by the Mughal Emperor Shah Jahan for his favorite wife's tomb, Mutaz Mahal.
The City on the other hand is the home of many different people of different cultures and traditions.
A variety of colorful festivals are celebrated throughout the year in Agra.
But the Id is one of the festivals that is celebrated and enjoyed with immense enthusiasm and energy.
No doubt, it is the city of Mughals which also celebrated the popular Tajmahotsav.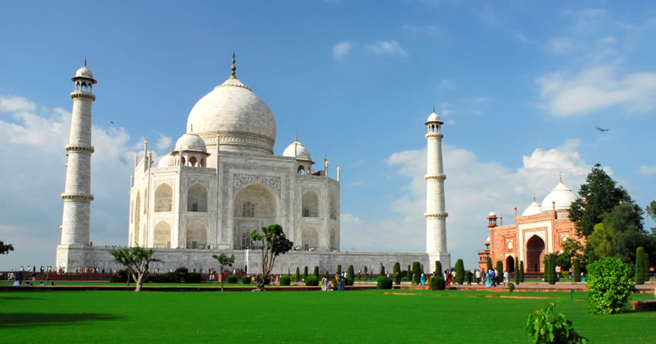 INDIAN CULTURE AND YOUTH
Indian culture is one of the strongest and most diverse cultures in the world and holds its significance through the ethics, norms, art, and traditions that have been passed down from generation to generations.
The culture and traditions of a nation change from time to time according to developments and growth that are happening in societies.
What important is preserving the prestige and ethics that are taught and have been passed down?
The Indian Youth is capable of preserving and taking our culture to the next upcoming generations.
It is the carrier of ethics and rituals which will impact future generations in both ways, it could be bad or it could be good.
WHY IT IS IMPORTANT TO TEACH INDIAN CULTURE TO YOUTH
The term westernization means the conversion or adoption of a western country's (mainly USA) norms, ethics, behavior, living style, and activities.
The effect of western culture has been seen greatly on the Indian culture and its people.
Whether it's youth or adults, people are now wanting to be more like people who are "Abroad"
The youth is the most that have been hit by this term, they want to live freely without any restrictions.
We can see that nowadays, there are more nuclear families than joint families.
That is affecting the qualities and behavior of children.
The youth is busy following up the western culture rather than learning about its own.
They're adopting western norms and lifestyle to make themselves superior.
Traditional clothing is somewhat disappearing from the lives of people living in India.
The idea of jeans has totally eliminated the use of "Dhoti" which was once the symbol of every Indian.
The Indian culture was packed with moral values and greater standards of ethics.
The culture teaches discipline, ethics, and moral values which need to be carried every time when you're exposed to the world.
One's personality describes the family background of a person and one's values and ethics showcase the whole nation.
Indian culture and its principles operate on truthfulness and discipline.
The youth must learn its own culture before adopting some other.
WESTERNIZATION AND ITS IMPACT ON INDIAN CULTURE
IMPORTANCE OF INDIAN CULTURE 
Western culture is not altogether bad but it does hinder with Indian ethics and moral values.
The Indian culture taught people to live in peace and harmony with minimal violence.
Our culture has been recognized in many countries, people are adopting Indian values and ethics to improve their life.
People from overseas are realizing the importance of Indian heritage and are adapting the goodness of Indian culture such as the practice of Yoga and meditation, wisdom and teachings passed by the ancient saint, etc.
The knowledge of Indian wisdom helps human being of any race to enrich their life.
Sports in India
Today, though many international sports have become popular and craze among the Indian youth, India still has a wide variety of traditional sports and games in the culture. Including Chess, Kho-kho, Kabaddi, hockey, archery, India is an origin land for some of the popular sports in the world.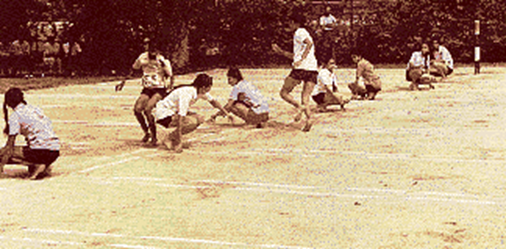 Architecture
India has a known history of incredible architecture and arts in the world. Being a country blessed with some of the world's famous monuments, India brings fine art and monuments to the world. Sun Temple, Ajanta and Ellora Caves, Taj Mahal, Ram Mandir, Statue of Unity, Rani ki Vav are examples of the famous and renowned monuments and architecture in India. Indian traditional art forms including pottery, painting, ornamental ,woodcrafting, handcrafted arts, metalworking makes India a well known artistic country. Indian art and craft, mainly the traditional form of art, is loved worldwide. People from around the world visit India and buy the beautifully crafted and handmade art forms.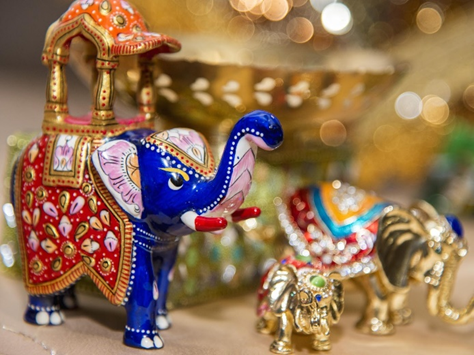 Cuisine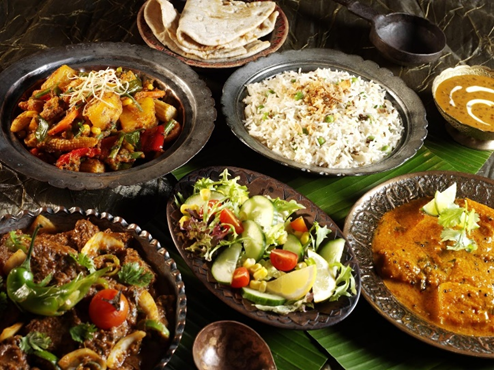 Indian culture shares varieties of cuisine from state to state and place to place. Every state has its own popularity and regional cuisine to offer. Even each state has different cuisine varying from city to city. Broadly Northeastern India has rice based cuisine. In the other western state covering Maharashtra, Gujarat has different taste and regional authentic food. India being a multi cultural and religious country has thousands of cuisines for the guests to offer.
Clothing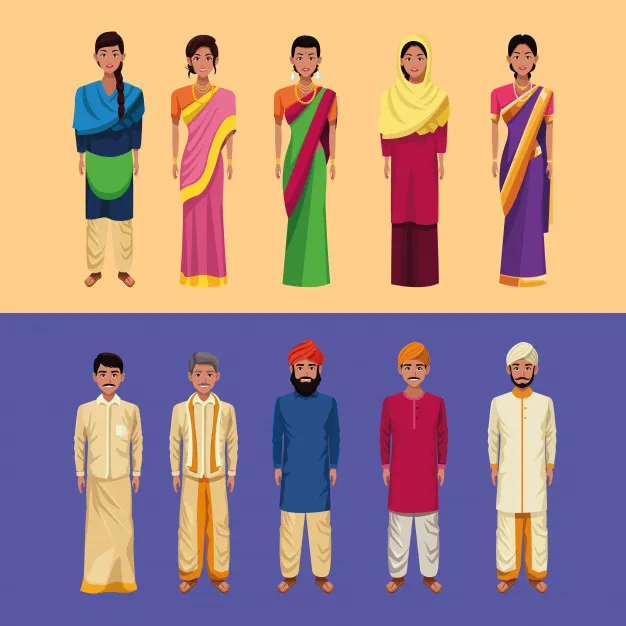 Indian culture has multiple clothing styles and dress up for different occasions. Though basically it is Dhoti Kurta for a man and Saree for a woman but in the niche sense, India follows a variety of clothing. The tailoring of each state is different with the following basic common outfits.
Apart from place, for each occasion Indians have different clothing sense. For each festival occasion, the style and dressing sense is different adding a colourful clothing taste to the diversified culture.
Music
With a diversified and ancient culture, India has a great history of music as well. With varieties of music style, dance varying from state to state
Music adds a unique touch to Indian Culture. Every direction has a unique classical dance form with a flavour of tradition of the state.
Some of the famous dance forms of India include Kathakali (a major dance form of Kerala), bhangra (Punjab), Natyashastra (Odisha).
Music also has a special soul of Indian culture. With some of the popular religious expression and music form for different festivals across the country, Music in India is divided into Hindustani, Carnatic, Classical. Though many other forms of dance , music is popular among the different parts of the country, highlighting the tradition and culture of the specific region.
CONCLUSION 
India is nation of variety of traditions with people belonging to different religions and backgrounds. They live with unity and pass down the same teachings to the coming generations. But we need to accept the fact that time is passing day by day and our culture is fading with generation. The concept of westernization is one of the major causes, though it's also the reason that the Indian Youth is now well aware of its rights and the advancement of technology. We cannot blame westernization fully for making its place in our youth. But we can teach our generations about ethics, behavior and moral values of our country.