New York City, renowned for its exhilarating ambiance and vibrant attractions, can be an invigorating yet demanding place for both residents and tourists. The exploration of the city's world-class museums, captivating streets, and bustling parks frequently results in physical fatigue and mental weariness among visitors. Simultaneously, local residents often contend with demanding schedules and extended working hours. In this article you will know about the best spas in New York city.
Fortunately, New York City is home to a selection of globally acclaimed spas that offer respite from the hustle and bustle of urban life. Presented below are five recently established establishments that we consider to be among the city's finest.
Top 5 Best Spas in New York
1. Aman New York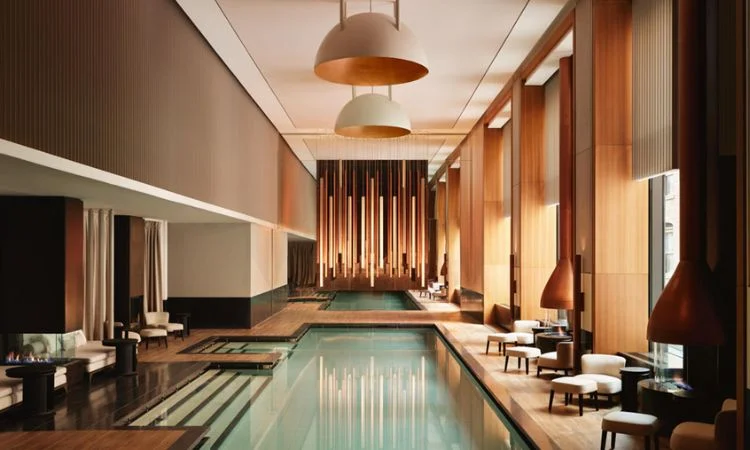 The Aman New York, which made its highly anticipated debut in 2022, has quickly established itself as a distinguished haven amidst the vibrant energy of Midtown Manhattan. This sophisticated property boasts a minimalist three-level spa, offering a tranquil respite for discerning guests.
Featuring a 20-meter indoor swimming pool, inviting fire pits, and luxurious daybeds, the spa provides an array of amenities designed for relaxation and rejuvenation. Notably, it offers a spacious steam and sauna room that can comfortably accommodate multiple visitors, ensuring an unhurried and serene experience.
Among the spa's standout offerings are the two private-use spa houses, each thoughtfully designed to provide an exceptional level of privacy and indulgence. These exclusive retreats feature a double treatment room, private banya and hammam rooms, as well as an outdoor terrace offering the opulence of hot and cold plunge pools.
For those seeking a holistic approach to wellness, the Aman New York includes a medical spa that features a cryotherapy chamber, seven treatment rooms, and a team of experienced health professionals. This esteemed roster includes a physician trained at Harvard and a traditional Chinese medicine practitioner, both readily available for consultations to cater to guests' individual needs and preferences.
In keeping with the grand tradition of New York's premier spas, the Aman New York offers an extensive menu of treatments. An excellent starting point for those seeking an immersive spa experience is the two-hour signature journey. This indulgent package encompasses meditative singing bowl therapy, an invigorating scrub and soothing oil application, therapeutic massage techniques, and precise pressure point stimulation.
2. The Ritz-Carlton Spa New York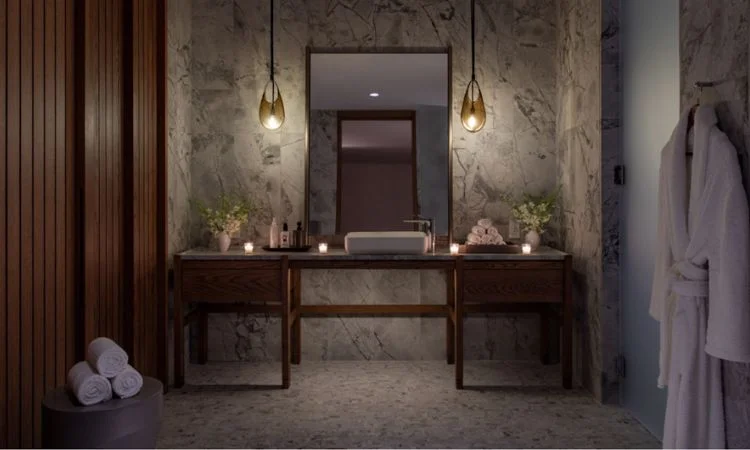 The latest establishment of the Ritz-Carlton brand, situated in the NoMad neighborhood, opened its doors to the public last summer. This sophisticated establishment boasts a 630-square-meter spa, providing an ideal sanctuary for those seeking respite from the bustling city.
The spa offers an array of amenities, including eight treatment rooms, opulent saunas, well-appointed men's and women's marble steam rooms, and a tranquil relaxation room. Following your treatment, guests are invited to savor a delightful cup of cocoa tea in this serene setting.
The spa's treatment menu is extensive, featuring renowned offerings such as Augustinus Bader facials and ESPA massages. However, our top recommendation is the signature Rose Quartz Remedy. This indulgent treatment commences with a thorough full-body exfoliation, followed by a deeply relaxing body and scalp massage. Utilizing a blend of frangipani, rose geranium, and palmerosa oils, this massage incorporates rose quartz, akin to heated stones, to provide a profoundly soothing experience.
3. Spa Diane Barrière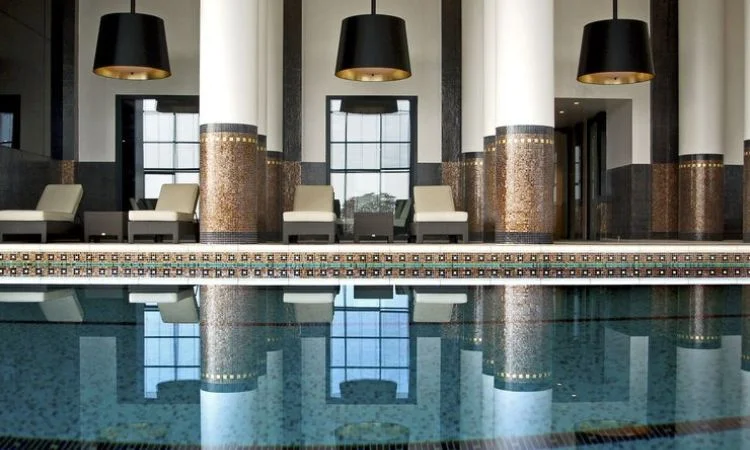 In October of the previous year, the Hotel Barrière Fouquet introduced a new establishment that seamlessly melds the opulence of Paris with the charm of Tribeca. Within this distinguished venue, discreetly nestled beneath the surface, lies the Spa Diane Barrière, a sanctuary which has quietly earned its reputation as one of New York's most esteemed wellness destinations.
The focal point of this marble-clad haven is an expansive wet room, featuring a comprehensive array of amenities including a sauna, steam room, and a generously sized heated hydrotherapy pool. Surrounding guests in a refined atmosphere, the spa further enchants with its five treatment rooms, each thoughtfully adorned with captivating works of art.
The spa's extensive menu boasts a selection of invigorating Biologique Recherche facials and body treatments, designed to elevate the well-being of its esteemed patrons. A particular favorite among our offerings is the Diane Barièrre Signature Body Massage, an experience that expertly combines lymphatic drainage, trigger point therapy, and Swedish techniques to produce exceptional results. This indulgent treatment culminates with a serving of Champagne, adding a touch of sophistication to a revitalizing escape.
4. Sisley-Paris Spa at the Dominick Hotel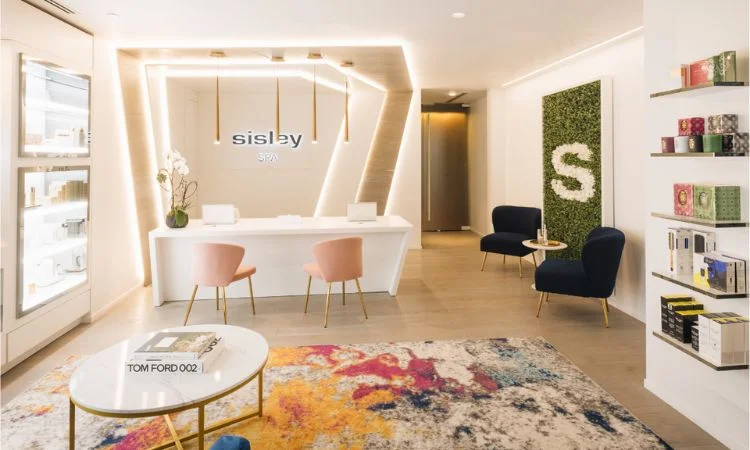 The Dominick Hotel is pleased to announce the recent completion of an extensive renovation and rebranding effort on its seventh-floor spa, which proudly welcomed Sisley-Paris as a distinguished partner in March. This revitalized space now showcases an opulent aesthetic with gilded walls and an abundance of lush greenery, elevating the overall ambiance. The spa offers an array of luxurious amenities, including a sauna, a steam room, and a salt chamber, which collectively contribute to a truly rejuvenating experience.
Among the notable enhancements is the introduction of a comprehensive menu featuring a wide range of skincare and massage services. Our guests can indulge in three distinct body rituals, each expertly designed to promote relaxation and wellness. Furthermore, we are delighted to offer a unique 90-minute Moroccan hammam experience, characterized by its extraordinary combination of traditional techniques and modern luxury.
The Moroccan hammam session unfolds as a multisensory journey, commencing with a comprehensive full-body exfoliation performed on a heated marble slab. This ancient ritual is followed by a traditional rinse, providing an authentic and invigorating cleansing experience. Subsequently, guests will be enveloped in a soothing clay wrap, further enhancing the revitalization of body and spirit. The experience culminates with a luxurious olive oil soap bubble massage, ensuring an unparalleled sense of relaxation and pampering.
At The Dominick Hotel, we are dedicated to offering our guests an exceptional spa experience that combines the epitome of luxury with ancient wellness traditions. We invite you to immerse yourself in a world of tranquility and rejuvenation at our reimagined seventh-floor spa.
Skin Care Services
PHYTO-AROMATIC FACIAL I 60 MIN $220
Indulge in a truly unique experience with remarkable beauty results. Our Phyto-Aromatic Facials take you on a sensorial journey of pure pleasure, leaving your skin luminous and revitalized. This luxurious skin treatment is designed with a targeted approach, tailored to your specific needs through a comprehensive analysis. We carefully select the perfect phyto-aromatic variation to unveil refreshed and refined skin.
BLACK ROSE FACIAL I 90 MIN $350
Embark on a timeless and exceptional beauty experience that delivers an unparalleled sense of well-being. The Black Rose Facial, graced with a natural rose fragrance, offers a gentle journey that soothes your facial features and reveals the radiance of your skin. Your complexion will appear fresher, your skin deeply hydrated, and any signs of fatigue and aging gracefully smoothed away.
SISLEY YOUTH ENERGIZING FACIAL I 90 MIN $320
Our Sisley Youth Energizing Facial has been thoughtfully crafted for young adults, addressing the initial signs of skin aging. This rejuvenating treatment ensures that your skin is moisturized, revitalized, and energized, preserving its youthful vitality.
GENTLEMAN'S FACIAL I 60 MIN $220
Exclusively designed for the modern man, our Phyto-Aromatic Facial for Men seamlessly combines efficiency and well-being, leaving you with hydrated and toned skin. This tailored experience is aimed at fulfilling the unique skincare needs of today's discerning gentlemen.
SISLEŸA FACIAL I 90 MIN $370
In just 90 unforgettable minutes, the Phyto-Aromatic Sisleÿa Facial offers a comprehensive treatment featuring sophisticated procedures and in-depth massage techniques. The result is a more youthful-looking skin, with fine lines and wrinkles visibly diminished. Your skin will feel toned, firmer, and remarkably resilient.
5. Dr. Barbara Sturm Madison Spa & Boutique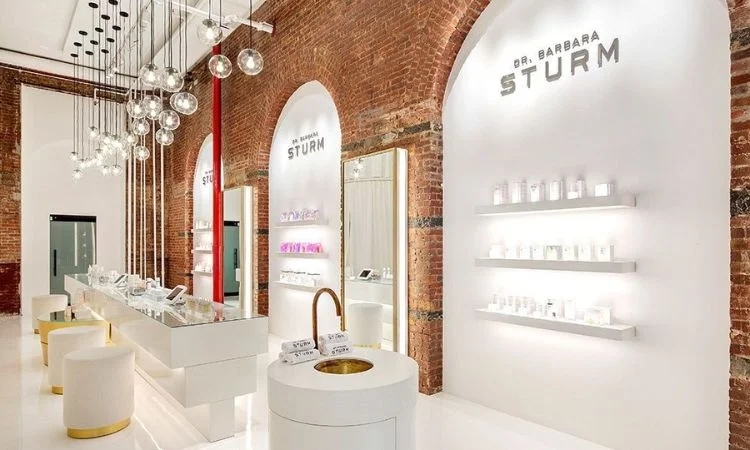 New York was graced with the consecutive launch of two Dr. Barbara Sturm spa facilities in the preceding year, strategically positioned in two distinct neighborhoods – one in the trendy SoHo district and the other nestled on the prestigious Upper East Side.
The latter, in particular, garners favor for its exquisite location within a classic townhouse. This exceptional establishment seamlessly melds Sturm's renowned anti-aging breakthroughs with a range of specialized services, including intravenous therapies via drip hydration, micro-needling, and micro-current treatments.
Notably, the treatment rooms exude a stylish ambiance, adorned with vibrant and boldly patterned wallpapers, a striking departure from the minimalist design ethos of its counterpart in SoHo. To enhance the overall experience, the spa offers a double treatment room, providing couples with a remarkable and unforgettable pampering session.
Rejuvenating Solutions for Pollution-Weary New Yorkers
The quest for pollution-countering treatments holds a special significance for the residents of New York, transcending gender and echoing the concerns of metropolitan dwellers worldwide. Pollution's detrimental effects on the skin are profound, promoting inflammation and accelerating the unwelcome signs of "photo aging" due to the pervasive presence of toxins in our environment.
Dr. Barbara Sturm, renowned for her cutting-edge dermatological offerings, has curated a range of treatments tailored to the unique needs of city dwellers.
Among her clinic's diverse services, Dr. Sturm frequently prescribes scalp massages, tension release therapies, and light therapy sessions as indispensable remedies. These treatments not only soothe the skin but also uplift the spirit, while simultaneously acting as a shield against environmental aggressors and reinforcing the skin's resilience.
While indulging in these rejuvenating therapies, one might also consider stocking up on the Anti-Pollution Drops, an essential addition to your skincare regimen, designed to combat the signs of atmospheric skin aging. As Dr. Sturm astutely points out, "New York is famously known as the 'city that never sleeps.' Stress, sleep deprivation, and nutritional deficiencies are inevitable byproducts of this dynamic city, all of which exert a profound influence on the facial and scalp skin's quality."
In the relentless urban hustle and bustle, Dr. Sturm's pollution-countering treatments offer an oasis of relief and rejuvenation, a testament to her commitment to enhancing the well-being of her patients.