Zoological institutions have played an enduring role in human culture spanning centuries, providing a distinctive avenue for the observation and study of wildlife from diverse global ecosystems. This article delves into the multifaceted contributions of contemporary zoos within the framework of today's society. You will read about top 5 Zoo in UK in this article.
 These establishments, once primarily oriented towards public entertainment, have significantly transformed over time to assume pivotal functions in the realms of wildlife conservation, education, and scientific research.
Here are the Top 5 Zoo in the UK:
1. Regent's Park Zoo – London Zoo, London
Regent's Park Zoo, commonly referred to as the London Zoo, holds the distinction of being one of the United Kingdom's most venerable zoological establishments. Its rich history dates back to its establishment in 1828, making it one of the oldest zoos in the nation. Furthermore, this prestigious institution is internationally recognized for its status as the world's oldest scientific zoo, a testament to its enduring commitment to the advancement of zoological knowledge.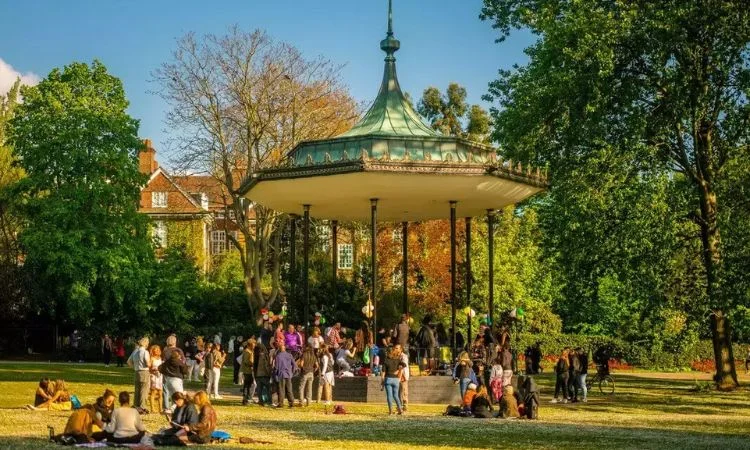 | | | |
| --- | --- | --- |
| Area | Species & Animals | location |
| 36 Acres | 673 Species & 19289 Animals | Regent's park London , NW1United Kingdom |
Located within the iconic Regent's Park in the heart of London, the London Zoo has played a pivotal role in the field of zoology for nearly two centuries. As a testament to its longevity and dedication to scientific research, this institution continues to provide valuable insights into the animal kingdom.
Its steadfast commitment to the care and conservation of a diverse range of species has earned it a well-deserved reputation as a global leader in the study and preservation of wildlife.
With a storied history, a prominent presence in the heart of London, and a relentless pursuit of scientific understanding, Regent's Park Zoo, or the London Zoo, remains a prominent and enduring institution in the world of zoology. Its contributions to the field and dedication to animal welfare are a source of pride not only for the United Kingdom but for the global community as a whole.
Initially, the London Zoo served as a prominent center for scientific research, facilitating the study of animals and the natural world by esteemed scientists. In the subsequent years, precisely around 1874, the London Zoo transitioned into a public institution, welcoming visitors and tourists to marvel at the splendors of the natural world.
2. Chester zoo
Chester Zoo, situated in Cheshire, is widely acclaimed as the preeminent zoological institution in England and across the United Kingdom. It garners international recognition and holds a prominent position among the world's top-ranking zoological establishments. Notably, it stands as one of the largest and most prominent zoos in the United Kingdom.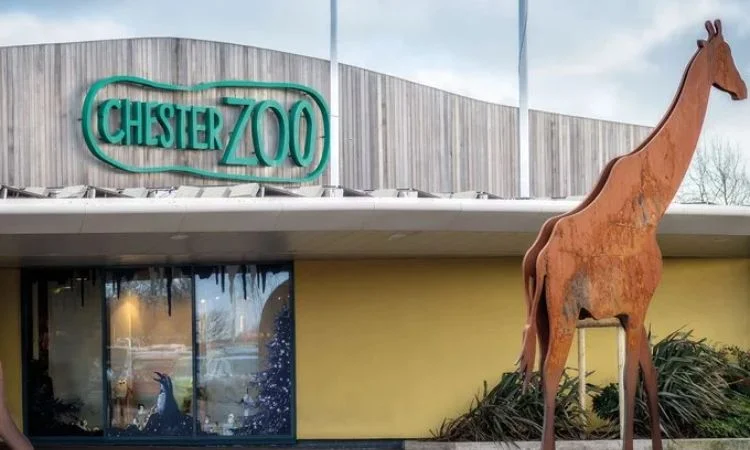 | | | |
| --- | --- | --- |
| Location | Area | Species & Animals |
| Upton-by- Chester, Cheshire, England | 130 Acres | 82 Species & 1000+ Animals |
In conjunction with this development, an additional 60 lodges and an exquisite restaurant are slated for construction within the enchanting Grasslands zone, situated alongside a picturesque artificial lake. This innovative enhancement offers the unique opportunity for visitors to enjoy an overnight stay at Chester Zoo, allowing them to awaken to the captivating spectacle of giraffes in close proximity.
Situated in the picturesque landscape of Cheshire, Chester Zoo boasts an expansive 125-acre expanse of land, offering a remarkable habitat for a diverse collection of over 400 animal species. With an impressive count of 12,000 individual animals, a visit to Chester Zoo necessitates dedicating a full day in order to fully immerse oneself in the extensive array of enriching experiences it has to offer.
One of the unique features that set Chester Zoo apart is the opportunity for visitors to embark on boat trips along the serene river, allowing for a closer observation of the animals engaged in their natural activities. This distinctive offering elevates Chester Zoo to a level of excellence, deserving of recognition among the top day-out destinations in the various counties of England.
In anticipation of the forthcoming spring season, Chester Zoo is set to introduce a distinguished addition to its renowned wildlife sanctuary. The organization is proudly unveiling a 380-capacity wedding venue, an integral component of an extension project intricately integrated into the historical Grade II listed stable block. In tandem with this expansion, the Grasslands zone will witness the development of over 60 lodges, accompanied by a novel culinary destination alongside a tranquil artificial lake.
What truly sets Chester Zoo apart is the unique opportunity it affords its patrons. With the addition of these lodges, visitors can now experience an unparalleled overnight stay amidst the enchanting surroundings of the zoo. Imagine awakening to the captivating presence of giraffes in close proximity, rendering your sojourn an unforgettable and immersive wildlife encounter.
For aficionados of the animal kingdom, the most anticipated highlight awaits. Chester Zoo is on the verge of introducing a state-of-the-art snow leopard habitat. This upcoming attraction promises to solidify the zoo's position as a preeminent global leader in animal conservation efforts, further enhancing its reputation as one of the finest establishments dedicated to the preservation and celebration of Earth's diverse wildlife.
3. Whipsnade Zoo : Dunstable, Bedfordshire in England
Whipsnade Zoo, located in Dunstable, Bedfordshire, stands as the largest and most expansive zoo in England, sprawling across an impressive 600 acres of meticulously maintained land.
This renowned establishment is celebrated for housing the most extensive and diverse collection of wildlife amongst all zoological institutions in England.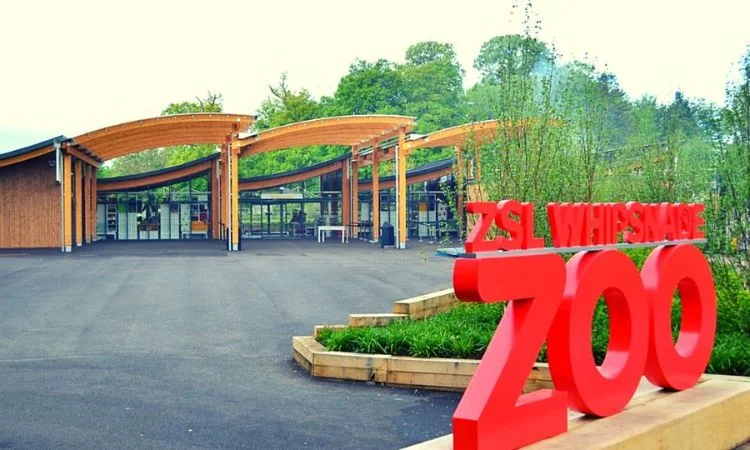 | | | |
| --- | --- | --- |
| Location | Area | Species & Animals |
| Whipsnade, Near Dunstable, England | 600, Acres | 209 Species & 3626 Animals |
Whipsnade Zoo, known for its vast expanse, offers several convenient modes of transportation for its visitors, ensuring a seamless and immersive wildlife experience. Guests have the option to explore the zoo via a designated bus service or a train, allowing for a comprehensive tour of its remarkable offerings. Alternatively, those seeking a more adventurous experience can choose to navigate the zoo's expansive grounds in their personal vehicles, akin to a safari adventure.
The zoo's commitment to wildlife conservation is evident through its diverse collection of endangered species. Among the captivating animals residing at Whipsnade, you will encounter a magnificent herd of elephants, a charming waddle of penguins, and an elegant tower of giraffes. The conservation efforts extend to the resident cheetahs and lemurs, offering visitors the opportunity to witness these fascinating creatures up close. Furthermore, the butterfly house stands as a captivating and mesmerizing attraction not to be missed.
For a unique experience of nature, the Chinese water deer, Muntjac deer, wallabies, and Mara roam freely within the zoo's extensive grounds, creating a harmonious and immersive environment. Additionally, the striking presence of peacocks further enhances the allure of this exceptional wildlife sanctuary.
4. The Bristol Zoo, Bristol
Bristol Zoo, situated in the vibrant city of Bristol, encompasses a more intimate 12-acre expanse, setting it apart from its larger counterparts. However, its comparatively compact size belies the sheer splendor that can be found within this space.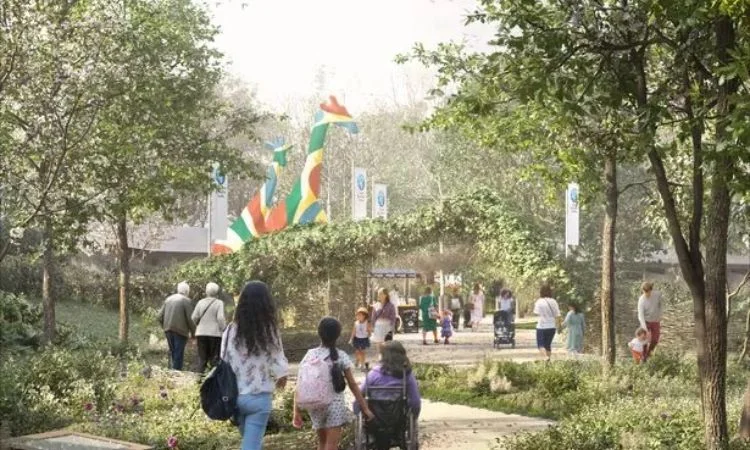 | | | |
| --- | --- | --- |
| Location | Area | Species & Animals |
| Clifton, Bristol, England | 12 Acres | 419 Species & 7155 Animals |
Bristol Zoo boasts a remarkable assembly of wildlife, encompassing approximately 7,000 animals representing a diverse array of 450 individual species. This impressive collection includes an extraordinary assembly of 50 mammalian species, featuring captivating creatures such as red pandas, gorillas, and Asiatic lions.
It is no exaggeration to assert that Bristol Zoo emerges as a leading candidate for the prestigious title of the finest city zoo in England.
The facility encompasses several distinct sections, comprising a reptile house, an insect house, a well-appointed aquarium, and a spacious outdoor enclosure specially designed to accommodate penguins and seals.
The Bristol aquarium, in particular, merits recognition as one of the premier aquatic institutions in England, setting the stage for an educational and immersive experience.
Furthermore, Bristol Zoo offers a fascinating array of arachnids and gibbons, contributing to the rich tapestry of life housed within its confines.
A visit to Bristol Zoo promises to be a gratifying and enriching afternoon, enhancing the quality of a day out in Bristol. We cordially invite you to explore and appreciate the diverse wonders of the animal kingdom within this exceptional institution.
5. Marwell Zoo
Marwell Zoo, situated in Hampshire, encompasses an expansive 140 acres of meticulously designed natural habitats. This renowned institution is home to a diverse collection of wildlife, boasting approximately 270 endangered and exotic species, with a total population of around 1,200 animals. Visitors to Marwell Zoo can anticipate encountering a captivating array of species, including frilled lizards, majestic giraffes, and charming ring-tailed coatis, in addition to immersive exhibits showcasing the fascinating diversity of African wildlife.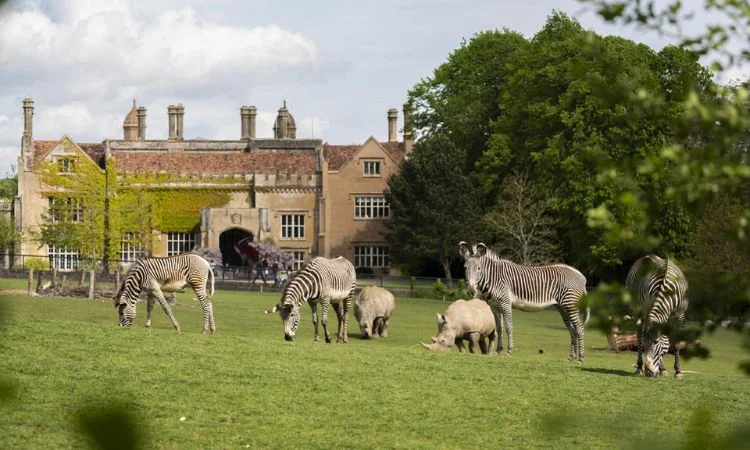 | | | |
| --- | --- | --- |
| Location | Area | Species & Animals |
| Owslebury, Hampshire, England, United Kingdom | 140 Acres | 149 Species & 1208+ Animals |
Marwell Zoo stands as Hampshire's preeminent zoological institution, boasting an extensive collection of hundreds of diverse animal species, including majestic tigers and charming penguins. The facility caters to visitors of all ages by providing four well-designed adventure playgrounds, rendering it a comprehensive and enjoyable destination for families and individuals alike.
Visitors to Marwell Zoo also have the opportunity to indulge in culinary delights at its onsite café and explore a curated selection of souvenirs at the gift shop, offering a memorable and immersive experience.
For those residing in close proximity, Marwell Zoo serves as a particularly convenient and accessible option, making it an ideal choice for those looking to engage with the fascinating world of wildlife right on their doorstep.
Conclusion :
In conclusion , the United Kingdom boasts a plethora of distinguished zoological institutions that have undergone significant evolution, thereby assuming pivotal roles in the realms of wildlife conservation, education, and scientific research.