Since the 2000's, the stock market has been booming. Imagine a player entering the market and removing the trade barriers. Absolutely! Founders Nikhil and Nithin Kamath have been doing that since Zerodha launched in 2010.
Introduction to the company
Zerodha, located in Bengaluru, is a registered financial services business with the Securities and Exchange Board of India (SEBI) and a member of the NSE, BSE, MCX, MCX-SX, NCDEX, and MCX, which was established to provide brokerage services to stock market traders. Overall, Zerodha is an online discount brokerage service that tries to save costs for its clients, which is important in deciding the long-term profitability of traders trading in the country's stock markets.
The company is founded on the principle of discount broking, which means that it charges a low commission or brokerage on transactions to persuade investors to use this platform. This makes Zerodha well-known among traders and is the key cause behind Zerodha's client count of over one million, making it the largest brokerage by client base.
Zerodha has a first-mover advantage as the country's first bargain broker. "Zerodha was founded to remove barriers to trading, hence the name Zerodha, which means 'No Obstructions,'" Nithin Kamath explains.
Another important reason for Zerodha's quick growth is because it is continually working on new and innovative ideas and processes, all of which have helped Zerodha achieve a competitive edge.
Meet the founders of Zerodha
Nithin Kamath and Nikhil Kamath are the founders of Zerodha.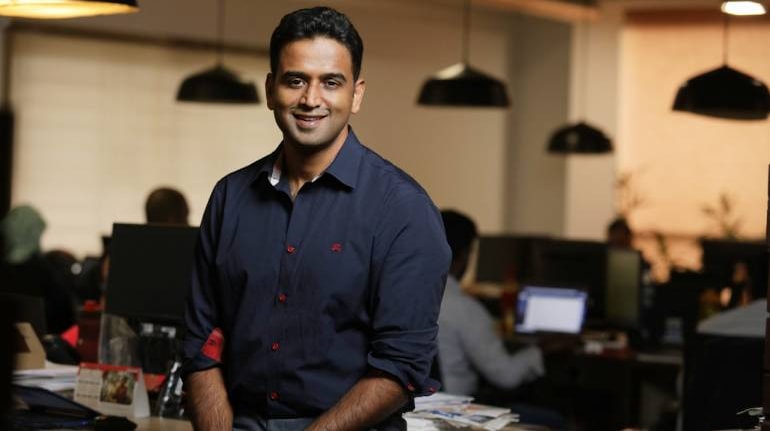 Nithin Kamath
Nithin Kamath is the eldest of Zerodha's two founding brothers and the creator and CEO of the Rainmatter Foundation, a non-profit organisation created by Zerodha with the goal of improving environmental sustainability. Nithin attended the Bangalore Institute of Technology. After finishing his schooling, he worked as a Proprietary Trader before becoming a Senior Telesales Executive at Manipal Infocom and a Partner at Kamath Associates. Nithin finally joined forces with his younger brother Nikhil Kamath to establish Zerodha.
Nikhil Kamath
Nikhil Kamath is the younger Kamath brother and co-founder of Zerodha as well as True Beacon, an asset management business committed to serving the ultra-rich. Nikhil dropped out of school after Class 10 when he was only 16 years old. Nikhil, who has always been interested in trade, began with the used cell phone company in the 10th grade, when he began selling outdated smartphones. After dropping out of school at the age of 17, he quickly joined a contact centre and began stock trading in his spare time. Nikhil ultimately began handling the money of his friends and coworkers, which allowed him to obtain his first experience in asset management.
He subsequently resigned his contact centre job and began auto trading with his brother, with whom he later co-founded Zerodha. Nikhil is well-known for being a good trader. He oversees the prop trading desk, risk management, and all aspects of trading at Zerodha.
How was Zerodha born?
Nithin, the Zerodha founder and CEO, has been trading in the Indian stock market since he was 17 years old. Nithin studied engineering before becoming an entrepreneur. He spent a large amount of time trading in the stock market throughout his college years. As a result of this, he was forced to work at a call centre. As a result, he worked in the call centre at night and traded throughout the day. "I did this for almost 3 years, working-trading, during 2004-5, after which I quit my job when I got my first client who asked me to manage money for him after seeing the positive returns on my trading account," Nithin Kamath continues.
Nithin gained a fortune through stock trading, but he lost a lot of money during the 2001-02 stock market crash. However, he eventually obtained a payment from a foreign HNI to manage his money, which he did in addition to earning a position as a sub-broker at Reliance Money.
In a relatively short amount of time, Nitin was able to gain a big number of high-profile clients for Reliance Money. Nitin was one of Reliance Money's most successful sub-brokers, crushing quantities of over 1000 sub-brokers at once.
Nithin lost a significant amount of money in the 2008-09 global financial crisis due to a market crash. Following this, he resolved to modify his methods and began to create a concept for a firm that would provide online stockbroking services for all of the country's traders that would be simple to use and economical.
Current revenue of zerodha
Zerodha's primary brokerage division generated INR 1093 crore in revenue in FY2020. Zerodha Broking Limited had a profit of INR 592 Cr in FY2020, according to its financials. According to sources, the company's revenue more than doubled to Rs 2,729 crores in FY21. The company's earnings have risen to Rs 1,000 crores as of November 2021. The company's earnings are estimated to exceed Rs 1,122 crore in FY21.
Zerodha's overall expenditures increased in lockstep with its operating revenue. In FY20, it was Rs 517.70 crore, while in FY21, it grew to Rs 1260.20 crore. In terms of profit and loss margins, Zerodha started with a profit of Rs 423.95 crore and increased to Rs 1122 crore.
FAQs
Who are the top competitors of Zerodha?
Zerodha's top competitors are :
Upstox
SAS Online
IIFL
Finvasia
Angel Broking
Beeline Broking
TradingBells
Karvy Stock Broking
Sharekhan
Motilal Oswal
HDFC Securities
ICICIdirect
What is discount broking?
Zerodha works on the principle of discount brokerage, which involves charging a reduced commission or low brokerage on the transactions in order to attract investors.
If zerodha makes trading affordable, then how does it earn profit?
It's true that the main aim of the company is to make trading convenient and cost effective.
Zerodha charges its traders a very minimal amount. As a result, the volume of trades is generally high. Due to this fee collection of smaller amounts from a larger number of clients, Zerodha is able to generate good revenue.