Virat Kohli is an Indian cricketer who represents the Indian national cricket team in international matches, the Royal Challengers Bangalore in the prestigious Indian Premier League (IPL), and the Delhi team in domestic cricket. Regarded as one of the preeminent contemporary cricketers, Kohli is acclaimed as one of the finest batsmen in the annals of the sport.
Virat Kohli's cricketing journey commenced at the age of nine in 1998 when he joined the West Delhi Cricket Academy (WCDA), under the expert tutelage of Rajkumar Sharma. Having honed his skills through age-level cricket, he made his debut for the senior Delhi team in 2006. His first appearance for Delhi came in a List A match against Services on February 18, 2006, and he marked his entry into First-Class cricket in November 2006, representing Delhi against Tamil Nadu.
In July 2006, Kohli earned recognition when he was chosen to be part of the India Under-19 squad during its tour of England. His exemplary growth in the sport was further validated in 2008 when he was entrusted with the captaincy of the India Under-19 team for the Under-19 World Cup. Under his astute leadership, India emerged victorious in the tournament, with Kohli contributing significantly by amassing 235 runs in six matches at an impressive average of 47.
Car Collections
Audi Q7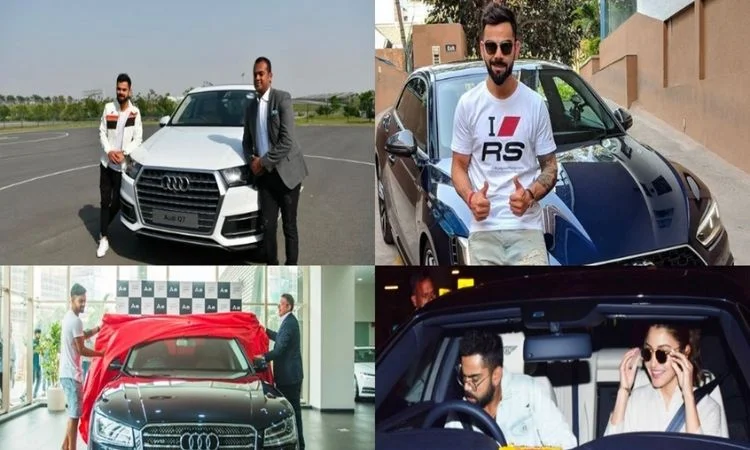 In 2023, the Audi Q7 constitutes a noteworthy addition to the esteemed car collection of Virat Kohli. Renowned as a brand ambassador for Audi, Mr. Kohli boasts a remarkable assortment of luxury vehicles within the Audi marque, with the Audi Q7 prominently featured among them.
The Audi Q7, a full-size luxury SUV, made its debut on the market in 2006 and has remained a symbol of Audi's commitment to excellence in the automobile industry. It is worth noting that the Q7 formerly served as Audi's flagship SUV until the introduction of the Q6 in 2022, which exceeded it in size. The Audi Q7 offers versatility in terms of powertrain, with options for both gasoline and diesel models, and can be configured to accommodate either two or three rows of seats, accommodating a total of seven passengers comfortably.
When examining its trim options, the Audi Q7 is available in two distinct variants: Premium Plus and Technology. The heart of this luxurious SUV is a potent 3-liter turbo-petrol engine, generating 340PS and 500Nm of torque, artfully mated to an 8-speed automatic transmission.
This combination ensures a powerful and refined driving experience, aligning with the high standards of both Audi and Mr. Virat Kohli's discerning automotive preferences.
The SUV boasts a range of notable features, encompassing a panoramic sunroof, a four-zone climate control system, a cutting-edge touchscreen infotainment interface, and a sophisticated digital driver's display.
In terms of pricing, this exceptional vehicle is available within the ex-showroom range of Rs 82.49 lakh to Rs 89.90 lakh, catering to consumers across the nation.
Bentley Continental GT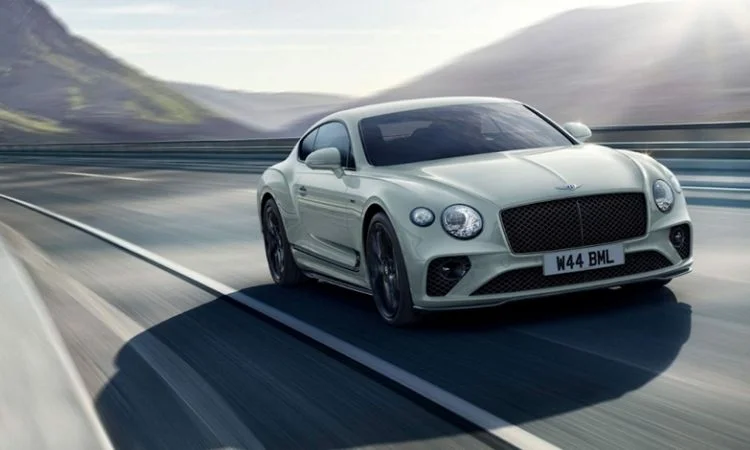 The Bentley Continental GT, proudly showcased in Mr. Kohli's prestigious automotive collection, stands as a testament to opulence and refinement with a price tag exceeding INR 4.04 crore.
This latest iteration boasts an exquisite Double Diamond front grille and introduces a fresh Mulliner design for its 22-inch wheels. Bentley's commitment to the pursuit of perfection is evident in the creation of the Continental GT Mulliner, tailored to cater to the discerning clientele desiring an enhanced emphasis on intricate and aesthetic details.
A production-ready prototype of the forthcoming Bentley Continental GT, representing the next generation of this esteemed automobile, was recently observed conducting test maneuvers in the Netherlands.
Bentley is poised to introduce this vehicle to the market in the coming year. Online sightings of the clandestinely tested prototype reveal a profoundly redesigned body shell, distinct from the earlier versions that surfaced in November of the previous year, which exhibited a significant departure from the Porsche Panamera body.
In terms of its aesthetics, the new Continental GT exhibits a notably more streamlined and contemporary design when juxtaposed with its predecessor.
The distinctive headlamp cluster serves as a prominent indicator that the upcoming GT model draws heavy inspiration from the EXP 10 Speed 6 concept. Regrettably, in-depth examination of further details was hindered by the comprehensive camouflage adorned with faux black panels that concealed the vehicle's features.
Bentley Flying Spur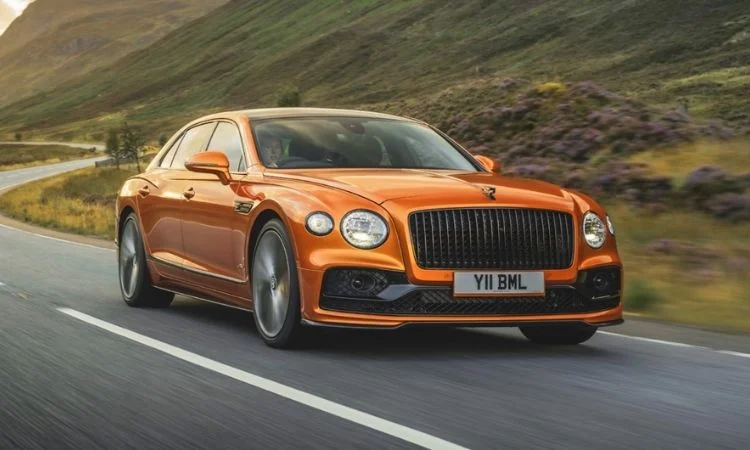 Mr. Kohli also possesses a second Bentley model, namely the Bentley Flying Spur, which boasts a formidable 6.0-liter turbocharged W12 engine delivering an impressive 626 brake horsepower and a substantial torque of 900 Newton-meters.
This exceptional power is effectively harnessed through an 8-speed dual-clutch gearbox, akin to that found in the Bentley Continental GT. The Bentley Flying Spur, a superlative example of automotive engineering, commands a significant market value of approximately INR 3.41 crore.
Audi R8 LMX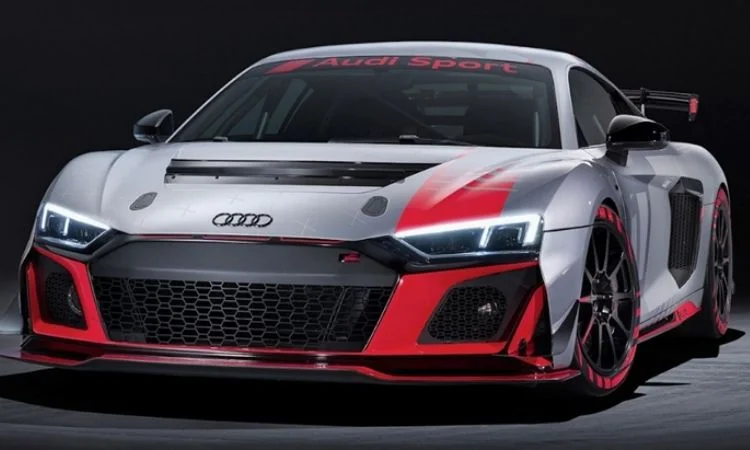 Virat Kohli possesses two Audi R8 vehicles, one of which is a limited edition model distinguished by its enhanced performance capabilities. In addition to the standard V10 R8, he has acquired the Audi R8 LMX variant, sharing the same 5.2-liter V10 engine, albeit specifically tuned to generate 570 brake horsepower, complemented by a torque output of 540 Newton-meters.
Audi A8L W12 Quattro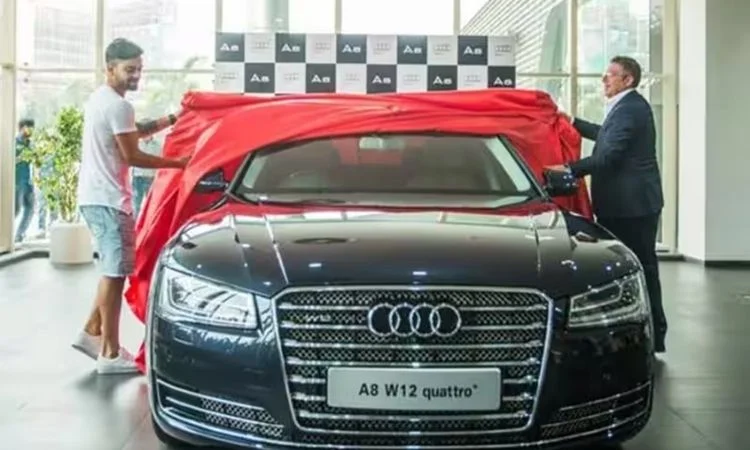 Among the notable additions to Mr. Virat Kohli's automotive collection is the Audi A8L W12 Quattro, bearing a price tag of INR 1.87 crore.
The A8L represents the long-wheelbase variant of the renowned Audi A8, boasting a formidable 6.3-liter engine that generates 494 horsepower and an impressive 625 Nm of torque.
Audi RS5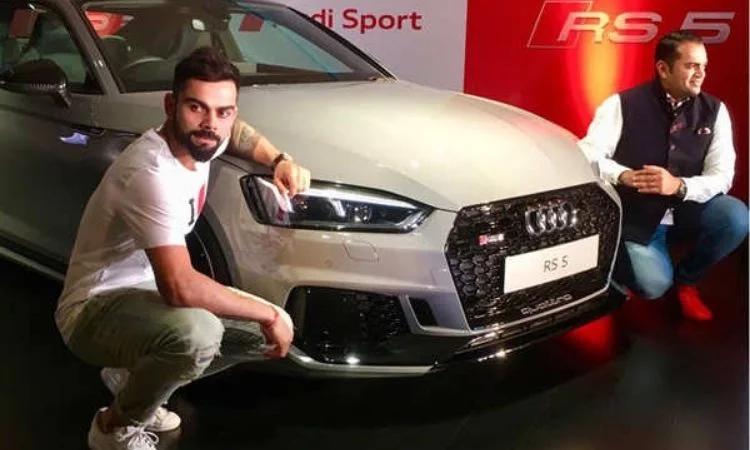 Following Virat Kohli's appointment as the brand ambassador for Audi, it was widely anticipated that he would expand his already impressive collection of automobiles. Affiliated with this prestigious luxury brand, the esteemed captain of Team India proudly acquired the distinction of being the first owner of an Audi RS5 in the nation.
This resplendent, crimson-hued vehicle serves as a captivating addition to his ensemble of vehicles, valued at a noteworthy sum of ₹1.1 crore.
The Audi RS5 performance sedan has undergone a price adjustment of Rs 4 lakh, resulting in a revised ex-showroom price of Rs 1.13 crore. This modification is attributed to escalating input costs and custom duties, as stated by Audi. The RS5 represents a more uncompromising, performance-centric iteration of the S5 Sportback sedan, which has also experienced a price increment.
Audi has equipped the facelifted RS5 Sportback with a robust 2.9-litre bi-turbo V6 engine, delivering 450PS and 600Nm of torque, consistent with its previous specifications.
This formidable powerplant is coupled with an 8-speed automatic transmission and features an all-wheel drivetrain.
The RS5 Sportback exhibits remarkable performance capabilities, accelerating from 0 to 100kmph in just 3.9 seconds before reaching its electronically restricted maximum speed of 250kmph. In terms of dimensions, the facelifted RS5 Sportback measures 4,783mm in length, 2,029mm in width, 1,387mm in height, and boasts a 2,826mm wheelbase.
For consumers interested in the facelifted Audi RS5 Sportback, it is important to note that it is available in a single variant.
Furthermore, Audi offers a diverse range of eight color options, including Nardo Grey, Turbo Blue, Tango Red, Mythos Black, Glacier White, Navarra Blue, Sonoma Green, and Daytona Grey to cater to various aesthetic preferences.
Range Rover Vogue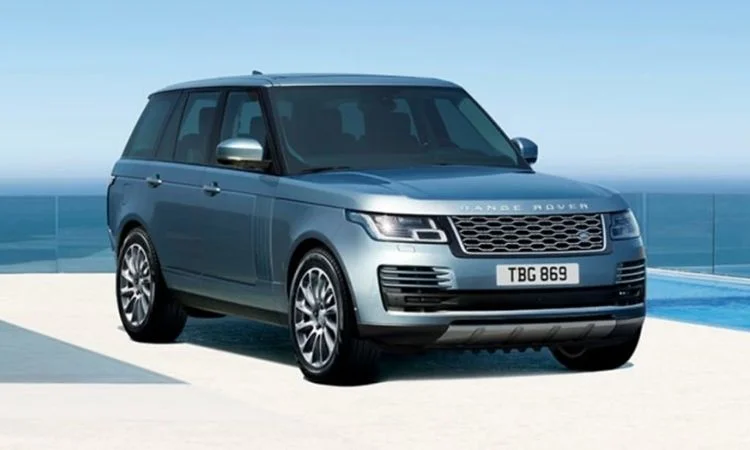 Virat Kohli's notable automotive acquisition includes the Range Rover Vogue SE, a vehicle he has frequently been seen in alongside his spouse, Anushka Sharma. His ownership extends to the top-tier diesel variant, featuring a robust 4.4-liter SDV8 engine, which delivers an impressive 335 brake horsepower and 740 Newton-meters of torque. This powertrain is coupled with an efficient 8-speed automatic transmission, enabling the SUV to accelerate from 0 to 100 kilometers per hour in a mere 6.9 seconds.
Notably, the Range Rover Vogue SE is a luxury vehicle with a substantial price tag, retailing at approximately INR 2.27 crore (ex-showroom).
Audi S6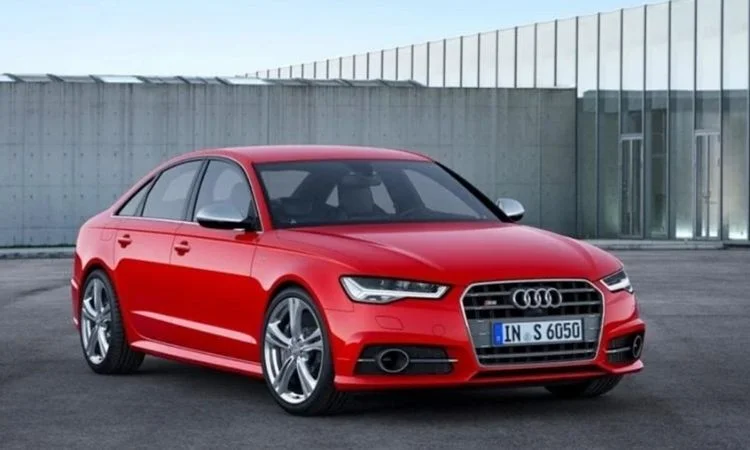 The Audi S6 represents the pinnacle of high-performance within the A6 sedan lineup. Under the hood of this premium vehicle lies a formidable 4.0-liter V8 Petrol engine, thoughtfully equipped with a twin-turbocharging system. This potent powerplant boasts an impressive output, delivering a maximum power of 420 brake horsepower (BHP) and a substantial 550 Newton-meters (Nm) of peak torque. The engine seamlessly interfaces with a sophisticated 7-speed transmission, effectively distributing power to all four wheels through Audi's renowned Quattro all-wheel-drive system.
As a reflection of its uncompromising performance and luxury, the Audi S6 commands a price of Rs 95.25 lakh per unit.
Toyota Fortuner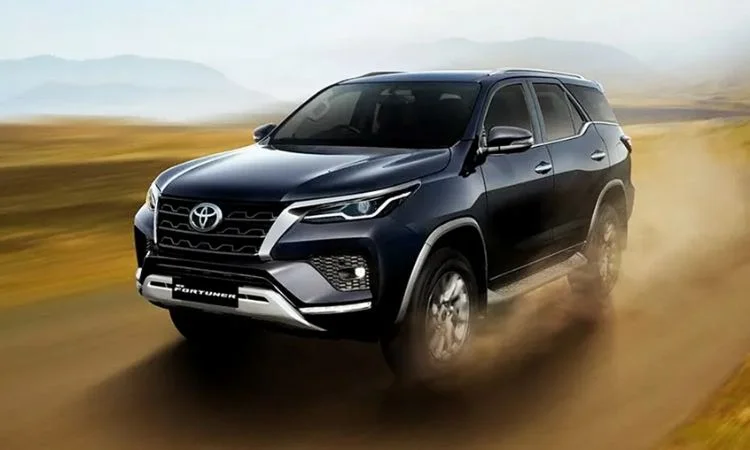 In addition to possessing an extensive collection of Audi vehicles within his personal car collection, Mr. Virat Kohli also maintains ownership of the previous generation Toyota Fortuner. This particular Toyota Fortuner was presented to Mr. Kohli by Toyota Kirloskar India as a component of their collaborative endorsement agreement, solidifying the Indian cricket icon's association with the renowned Japanese automotive manufacturer.
The Toyota Fortuner, alternatively recognized as the Toyota SW4, constitutes a mid-size SUV within the product portfolio of the esteemed Japanese automaker Toyota, a marque with a tradition of excellence in automotive engineering. Debuting in 2004, the Fortuner distinguishes itself as a robust and versatile vehicle. This mid-sized SUV is underpinned by the reliable Hilux pickup truck platform, signifying a harmonious fusion of utility and comfort.
The Fortuner accommodates the diverse needs of its clientele through the availability of two to three rows of seating, assuring a flexible and accommodating interior configuration. Moreover, it offers consumers the choice between rear-wheel drive and four-wheel drive systems, catering to a broad spectrum of driving preferences and requirements.
This vehicle occupies a pivotal role within Toyota's global strategy, particularly within the framework of the Innovative International Multi-purpose Vehicle (IMV) project. The IMV project is a testament to Toyota's commitment to emerging markets, exemplified by the Fortuner, Hilux, and Innova models. These vehicles embody the company's dedication to delivering reliable, durable, and innovative solutions that resonate with the needs and aspirations of customers worldwide.