If you are looking for your first home, investment property, or commercial property, you have come to the right place. We are sure you must be confused like many others, as the Real Estate industry is bigger than it ever was. This research will help you shortlist the best Real Estate Developer in North India. Our detailed study below will help you clear up all your dilemmas, and we are sure you will find a real estate developer here whom you can trust.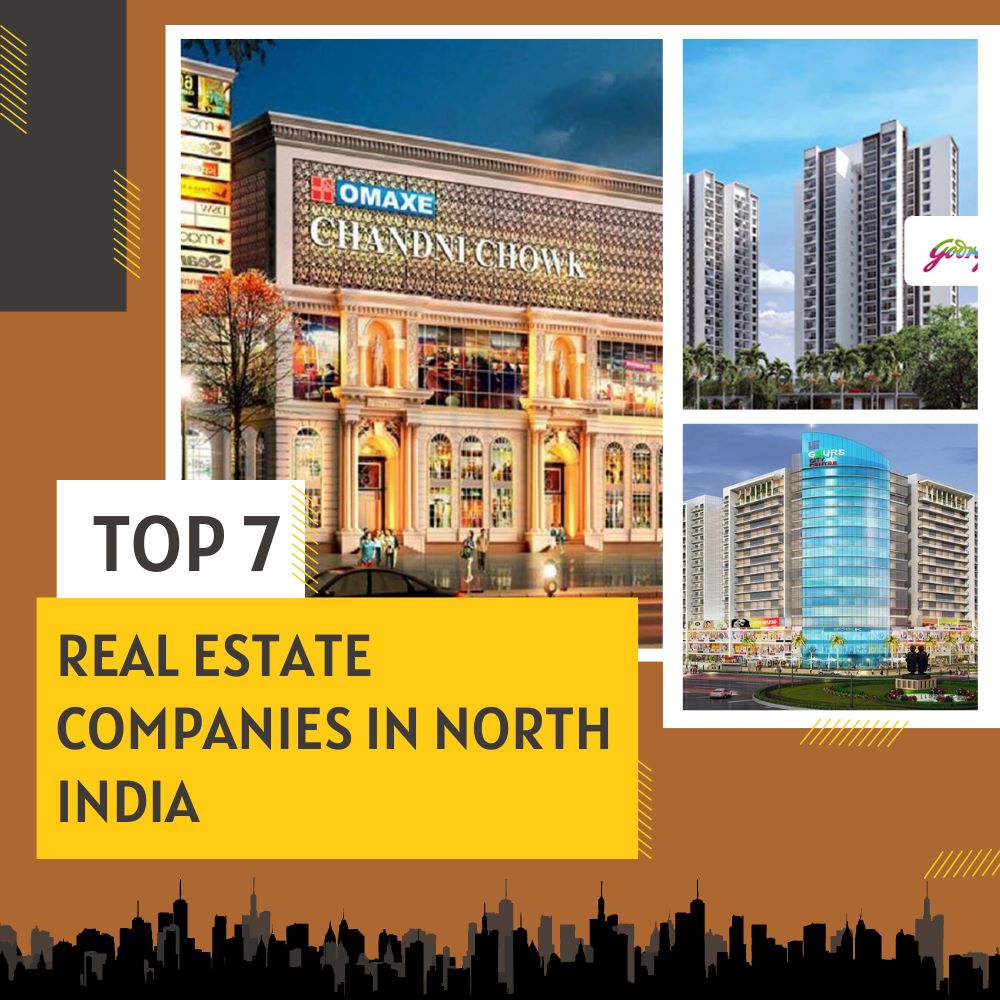 Let us give you an overview of the Top 7 Real Estate Companies in North India:
1. Omaxe
Omaxe is considered one of the most reputed Real Estate Developers in India, especially when we look at the Northern region of India. "Period." Why is Omaxe called the best Real Estate Developer in India? Omaxe has a brand legacy that is not a decade or two strong, but it is a 35+ year-old company that has been helping customers, both residential and commercial, achieve their dreams in the real estate space. Omaxe today is one of India's leading and most trusted real estate companies in Northern India. The legacy 'Omaxe' was started in 1987 by "Mr. Rohtas Goel," who needs no introduction. He is a first-generation visionary entrepreneur and civil engineer who took on the construction and contracting business. The big moment for Omaxe arrived in 2007 when the company got listed on both the BSE and NSE, which made them one of the pioneers in the construction business.
With 12.01 million sq. mtr. (129.25 million sq. ft.) of delivered space in real estate and construction contracting, Omaxe is today one of India's leading and trusted real estate companies. The two most prestigious projects of Omaxe of all time that is going on in the capital of India, Delhi, are Omaxe Chowk and Omaxe Square. Some of the best residential projects Omaxe has developed are The Lake in New Chandigarh, Omaxe Royal Residency in Ludhiana, Grand Omaxe in Noida, and The Forest Spa in Surajkund to name a few…
Omaxe is continuously evolving and diversifying its portfolio. Today, the company is present in 28 cities across 8 states, namely Uttar Pradesh, Madhya Pradesh, Punjab, Haryana, Uttarakhand, Rajasthan, Delhi, and Himachal Pradesh, and possesses a diversified product portfolio that includes townships, integrated townships, group housing, shopping malls, office spaces, etc. Omaxe, through Omaxe Foundation, takes up many social projects too, in the fields of community welfare, health, education, etc.
Trust Omaxe when you are looking for any real estate property.
2. DLF Limited
DLF is a name that needs no introduction. It is one of the top real estate companies in India that is almost 75 years old. It was founded in 1946 by Chaudhary Raghvendra Singh. It has its registered office in Gurgaon, India, and is led by Chairman Rajiv Singh. The company recorded a net revenue of INR 4,429.47 cr for the year ended March 2021 and you can imagine the scale on which DLF Limited is operating.
DLF has been changing Indian infrastructure for 75 years by constructing world-class buildings and adhering to best practices in construction. Some of the most prestigious projects that DLF has developed are DLF New Town Height in Sector 91, Gurugram, which is a ready-to-move project; DLF The Crest in Sector 54, Gurugram; independent floors, which are rare in today's cramped spaces, like DLF The Grove; and many more.
DLF is present in 15 states and 24 cities, which is not a small number by any means. A significant amount of that presence can be seen in Haryana and Delhi. DLF Limited has developed around 27.96 million sq m of residential land, has completed 132 projects, and has the potential to develop 17.84 million sq m of land.
3. Godrej Properties
Godrej Properties was founded in 1990 and has since never looked back. It made its name in real estate and is now one of the leading real estate companies in India and Northern India too. Godrej Properties has a diversified portfolio and has developed many residential and commercial projects so far.
Godrej Properties has a strong presence in India and in all major cities of India like Mumbai, Chennai, Bangalore, Pune, Kolkata, and Hyderabad. It has completed over 100 projects so far and developed over 200 million square feet, which is not a small number by any means.
Godrej is developing many projects like Godrej Prima, Okhla, etc., which are some of its most prestigious projects. Other projects include Godrej Woods Plumeria in sec 43, Noida and Godrej Nurture in sec 150, Noida.
4. Tata Housing
Tata Group came into existence in 1868 by Jamsetji Tata and Tata Housing is one of its core companies which got established in 1984. It is a public limited company and a subsidiary of TATA Sons Private Limited. Another subsidiary they have under their belt is TATA Housing Development Company Limited.
TATA Housing started its full-fledged operations in 2006 and ever since has evolved into one of the fastest-growing real estate development companies in India. It has a diversified portfolio in the residential, commercial, and retail sectors and the company's operations span across various aspects of real estate development. From land identification to project execution to estate management, they do it all.
The company has its presence in Maharashtra, Ahmedabad, Goa, Gurgaon, Bengaluru, Chandigarh, Chennai, Bhubaneswar, and Kolkata, to name a few. The company is now in the process of expanding its footprint to other parts of India too. They are trying to establish their presence in the Maldives, Sri Lanka, and some other South Asian countries too.
5. Raheja Developers
Raheja Developers was founded in 1990 by Mr. Navin M. Raheja. It is now one of the largest Real Estate companies in India, established and progressing well. The company has always tried to do something out of the ordinary and is a pioneer of various firsts in India. From trend-setting luxury housing to providing homes for the poorest section of Indian society, from India's tallest skyscrapers to one of the biggest plotted townships. They have achieved it all.
The most prestigious projects of Raheja Developers that are ongoing are The Leela Sky Villas, New Delhi; Revanta, Gurugram; Tapas Townhouse, Gurugram; and many more.
Raheja Developers has diversified its portfolio into residential, retail, multiplex, hospitality, commercial, etc. Currently, there is approximately 27 million sq. ft. of land under execution and the total land under their belt is 400 acres.
6. Ashiana Housing
Ashiana Housing & Finance was incorporated in 1986 by Late Shri Om Prakash Gupta. He truly focussed on the middle class and helped in providing retirement housing. Another milestone that Ashiana Housing reached is when it got listed on BSE in 1993. Another big moment came when they got listed on NSE in 2011.
The total area developed so far is 19.82 lakhs sq.ft. Some of the premium projects that Ashiana Housing has to offer are Ashiana Tarang, Bhiwadi (NCR); Gulmohar Gardens, Jaipur; Ashiana Dwarka, Jodhpur.
As we talked about earlier, Ashiana Housing works aggressively on senior living. Some of the senior living homes Ashiana Housing is developing are Ashiana Advik and Ashiana Nirmay, both in Bhiwadi.
7. Parsvnath Developers Limited
Parsvnath needs no introduction as it is a prominent name in the real estate industry for over 30 years. They are committed to their goal of building a better world by transforming barren lands into beautiful green belts housing world-class residential, commercial, and even recreational properties.
One of the most prestigious projects of Parsvnath Developers Limited is in the capital of India, Delhi, Parsvnath Tropicana, the most luxurious homes in civil lines. The other important project is Parsvnath Paramount. It is also the first real estate company that integrated with ISO and OHSAS.
With a pan-India presence in over 13 states and 37 cities, Parsvnath are growing steadily and are focused on creating and building dreamscapes that transform lives for us-be it through beautiful residential spaces, state-of-the-art commercial complexes, budget housing schemes if you have a right budget, luxurious shopping malls and hypermarkets, etc. You name it, and Parsvnath is doing it all. They have their presence in Delhi, Haryana, Jammu & Kashmir, Uttar Pradesh, etc.
The Bottom Line
We are sure by now you have some clarity in your mind about who the best Real Estate Developers in North India are that are shaping the landscape of North India for decades. It is easier for you to make up your mind now, and we wish you good luck in finding your dream destination after reaching the end of this detailed study.