"Government data reveals that Jan Aushadhi, the affordable medicine store in India, experiences significant sales from diabetes and cardiovascular drugs. With over 33% of total sales attributed to these conditions, the scheme aims to provide quality medications at affordable prices while expanding the range of available drugs."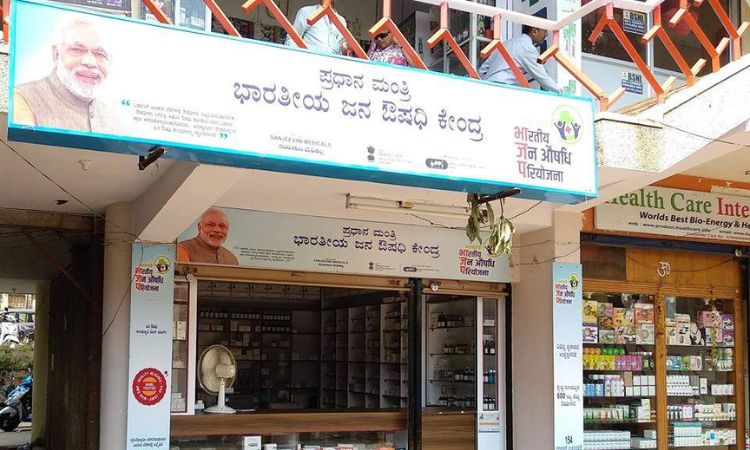 Image-: Justdial
The government data from Jan Aushadhi medicine stores have revealed an astonishing fact: a staggering 33 percent of total sales are attributed to diabetes and cardiovascular disease. Ravi Dadhich, the CEO of the Pharmaceuticals and Medical Devices Bureau of India (PMBI), disclosed that over the past year, diabetes accounted for 17.31 percent of total generic drug sales, while cardiovascular diseases made up 16.42 percent.
In the Pradhan Mantri Bhartiya Jan Aushadhi Pariyojana (PMBJP) generic medical outlets established nationwide, several top-selling drugs have emerged, including Telmisartan, Amlodipine, and Metformin. Telmisartan, priced at Rs 12 for a unit of 10 tablets, has witnessed an average monthly sale of more than 930,000 units. Similarly, Amlodipine (Rs 5.50 for 10 tablets) and Metformin Hydrochloride 500 mg (extended-release) (Rs 17.60 for 10 tablets) boast average monthly sales of 800,000 units each.
Dadhich emphasized that the cornerstone of the scheme is ensuring the availability of high-quality medicines at affordable prices. The government procures drugs exclusively from firms with WHO good manufacturing practice certifications. For instance, complex diabetes medications are sourced from reputable companies such as Wockhardt and Biocon Biologics. Additionally, the medicines procured and stored at four warehouses located in Gurugram, Surat, Chennai, and Guwahati undergo rigorous analytical testing in NABL-accredited labs to ensure their quality. These tests examine important analytical parameters like dissolution and sterility.
Out of the 9,208 batches of drugs tested in the NABL labs last year, only 12 were found to be not of standard quality (NSQ), amounting to a mere 0.34 percent of PMBI products. In comparison, the NSQ percentage for medicines available on the open market was 3.70 percent according to CDSCO data.
To further enhance medicine availability, Jan Aushadhi is actively exploring the addition of more drugs. Dadhich revealed that an expert committee is currently engaged in consultations, with around 200 drugs under consideration for inclusion. In the previous fiscal year, Jan Aushadhi stores recorded sales worth 1,236 crores, with 30 percent of the total coming from southern states.
With 9,484 stores presently operating across India, Jan Aushadhi aims to reach the ten thousand mark by the end of the year. Dadhich clarified that PMJY has no plans to provide generic medicine availability through online channels, despite the expansion of e-pharmacies in the country.