Dubai would be a serious contender if there were a prize for the finest shopping destinations. In Dubai, you may get everything you want. From electronics to fashion, from jewelry to home décor, Dubai offers something for everyone. You only have to choose from the various stores and diverse selection of goods available in Dubai, or you may try a little bit of everything. Let's explore the ultimate shopping guide: 20 Best Things To Buy in Dubai. Discover the treasures of Dubai's retail paradise.
Although there is no shortage of items to buy in Dubai, we have chosen our top 20, so you may or should bring them home as keepsakes. You can choose the greatest item to bring home from Dubai with the aid of our list of items to purchase there.
1. Aladdin Lamps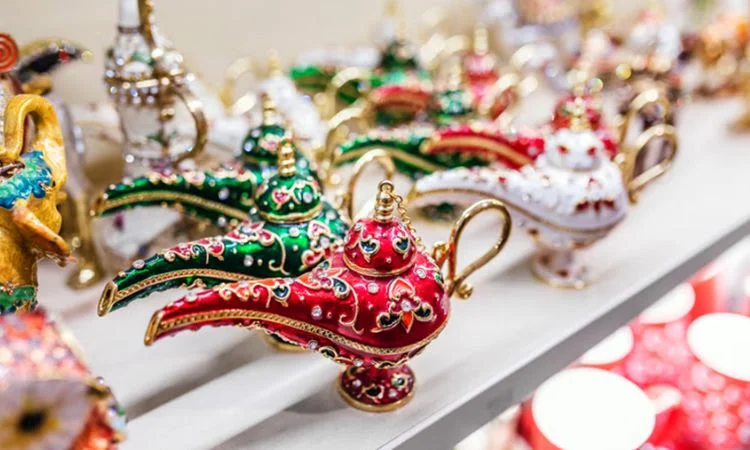 The story and mystery of Aladdin find a home in lovely brass lamps decorated with gems or intricate carving. These come in smaller sizes that may be packed in luggage and used as unusual presents for family and friends back home. A leisurely walk along the street will discover a few of these priceless gems, despite the Karama Souk not being a traditional market.
The Al-karama market in Bur Dubai, which is next to the fish market, is another reliable option. A well-carved lamp or one with several stones or inlay work might cost you several hundred Dirhams, but you may practice negotiating here.
2. Camel Milk Chocolate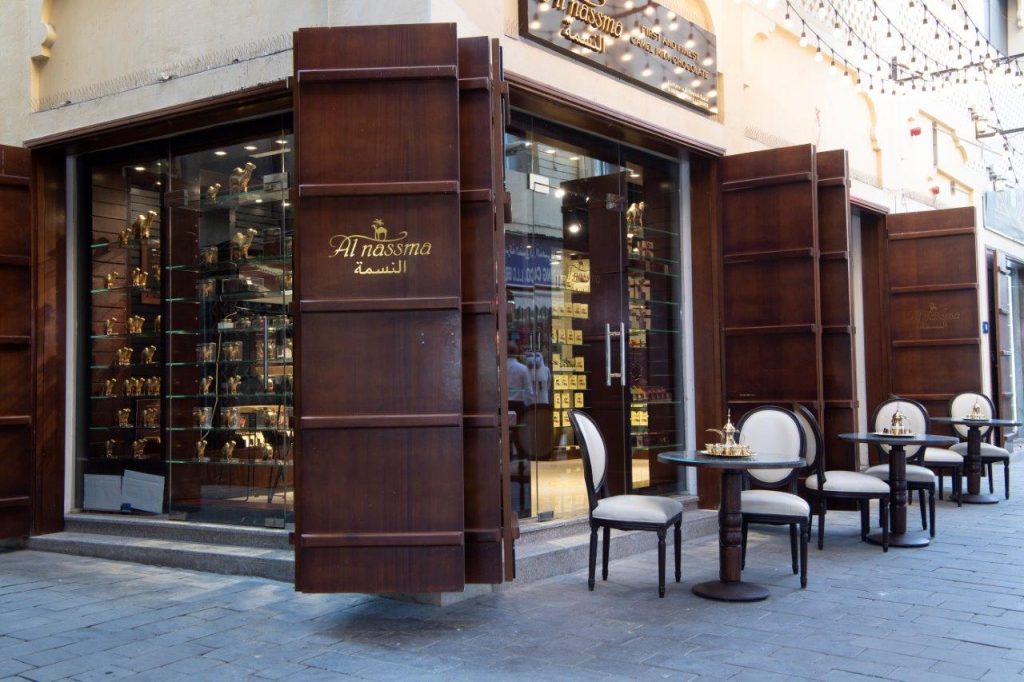 Products crafted from camel milk, a distinctive offering synonymous with Dubai, represent a truly exceptional indulgence. Among the exclusive array of items to acquire in Dubai, camel milk-based products have garnered significant acclaim, owing largely to their exquisite taste. Notably, Al Nassma stands as the sole manufacturer of camel milk chocolates due to their rarity and uniqueness within the confectionery industry.
Al Nassma's camel milk chocolate assortment comprises five distinct flavors: whole milk, dates, 70% cocoa, macadamia, and spicy variants, each meticulously crafted to appeal to discerning palates. Of particular note are the chocolates artfully designed in the likeness of camels, an embodiment of local culture and heritage.
This refined selection of camel milk chocolates embodies the fusion of tradition and innovation, making them an exceptional choice for those seeking a truly distinctive and memorable culinary experience in Dubai.
3. Dubai Dates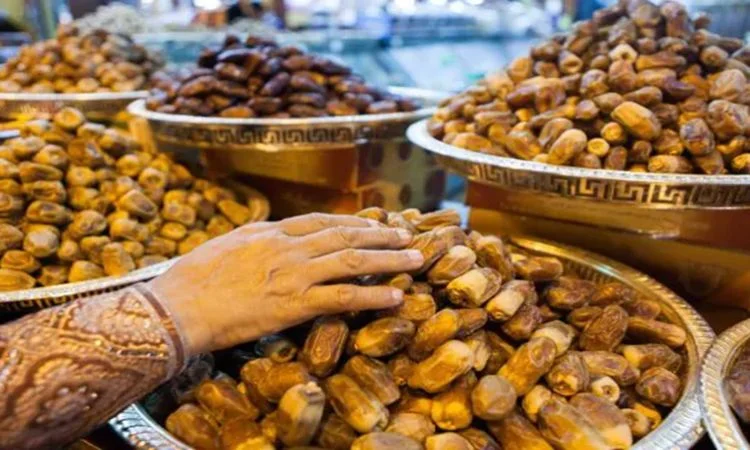 Dried fruits are a popular snack among Dubai residents. Because of the high quality of the dates grown in this region, they have become a tourist favorite. They can be eaten raw, baked into pastries, served with coffee, brewed into non-alcoholic beverages, and given as Ramadan gifts. Furthermore, some well-known dates include Kholas, Sokari, and Madjool.
4. Arabic Attar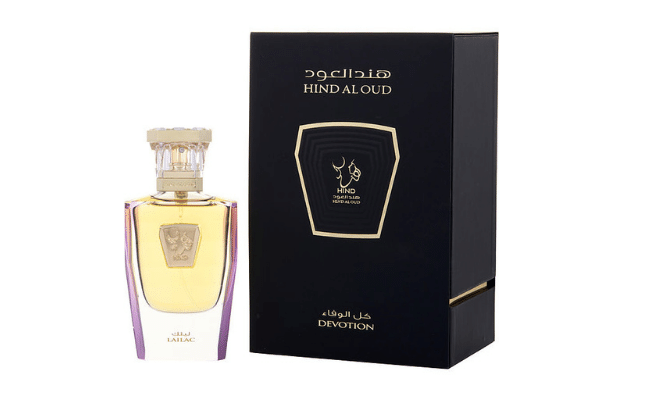 By using pressure and low heat to distill flower petals in water, attar or perfume oils are created. Every time you pass an Arab woman, you will catch a whiff of her exotic fragrance emanating from these potent oils. Sometimes oils and spices are also included, and mild sandalwood oil is used to finish. If you're unsure, consider purchasing branded items from well-known retailers like Hind Al Oud and Amouage. They include some of Dubai's top shopping destinations.
5. Lanterns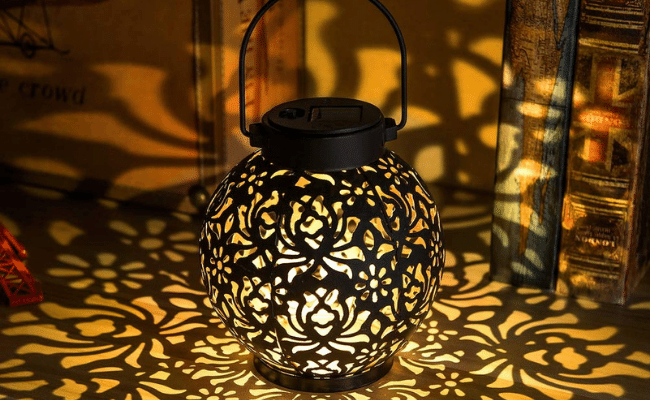 Lanterns are a great option to think about if you're trying to decide what to buy in Dubai. These lanterns are made with excellent craftsmanship and labor, making them excellent choices for gifts. Anybody would be delighted to receive a lantern that has tiny pieces of glass woven onto it; such a gift would make them feel special.
Where to Buy: Karama Souq, Street No. 18b, Dubai UAE; Dragon Mart, Al Awir Road, Dubai 7567, United Arab Emirates
6. Lucky Stones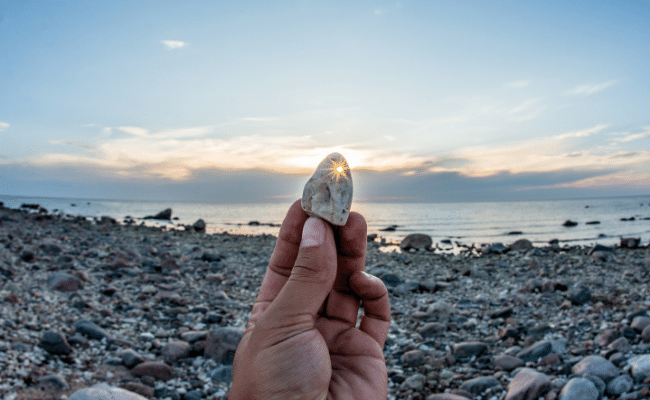 The best thing about buying this as a souvenir is that it is customizable and comes in many designs, luring everyone into buying it. Lucky stones are typically placed in gold, silver, or platinum rings or pendants based on your birth month and are believed to bring in good luck. The ones with Arabian patterns are special and exquisite. They are extremely well-liked throughout the Dubai Shopping Festival as well.
Where to Buy: Gold & Diamond Park, Office No. 213, Building No. 4, 4th Interchange, Sheik Zayed Road, United Arab Emirates; Pearlicious in Covent Garden, Dubai Marina.
From INR 2,000 to INR 10,000
7.Pashmina Shawls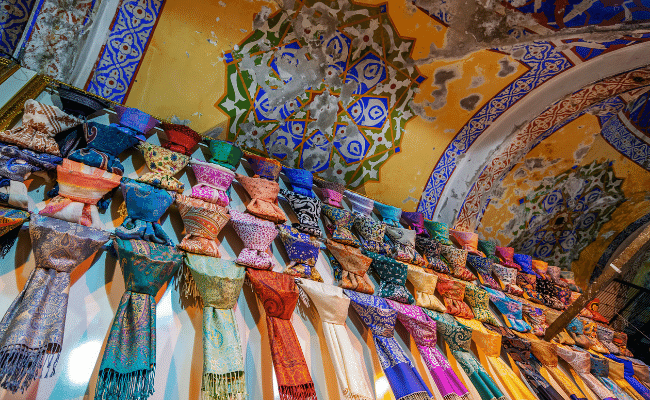 After looking through all the options, if you're still unsure, perhaps this is what you were looking for. One of the most expensive and well-known items to purchase in Dubai is a pashmina shawl. Although real Pashmina shawls are quite pricey, they make the ideal gift. You can try the silk or viscose versions of the product if your budget is tight.
Where to Buy: Karama, Textile Souk, and Pashmina House Price range on the market: INR 8,000 to 25,000
Specialty: Unique ethnic designs from the UAE can make for interesting presents.
How to Get There: Taxi, Metro, Bus, Trams
8. Persian Rugs & Carpets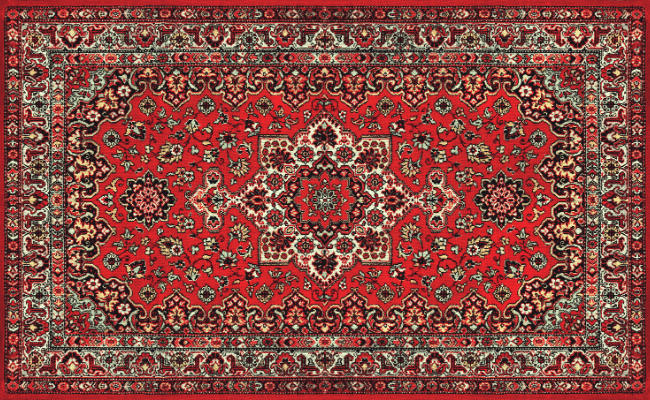 Persian rugs and carpets are the best options if you don't have a strict spending limit and want to invest in something lovely and opulent at the same time. These rugs and carpets are among the best home decor items and very alluring with their intricate designs and fine detailing. They are among the most well-known items to purchase in Dubai. Rugs and carpets can be found in Dubai souks for a reasonable price.
Where to Buy: Persian Carpet House, Dubai Mall, Mirdif City Center, and Souq al Bahar Price Range: INR 5,000 to 10,000 Where to Buy: National Iranian Carpets at Souq Madinat Jumeirah
Specialty: These handmade rugs are excellent winter insulators.
9. Oudh & Bakhoor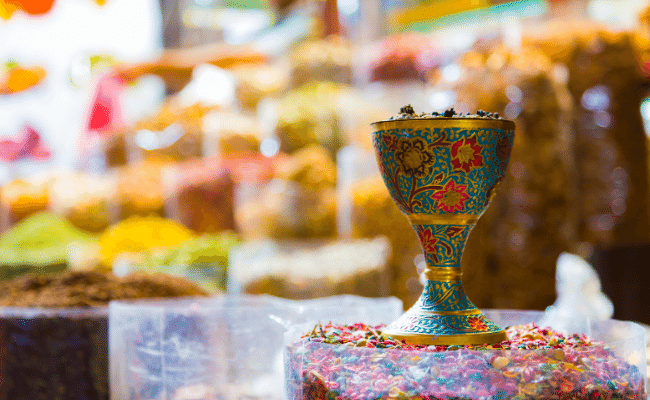 There is no more exquisite fragrance to consider as a gift than Oudh or Bakhoor. These traditional scents possess a unique and remarkably distinctive character. Among the most captivating olfactory experiences one can encounter is Oudh, crafted from the resin of agarwood and known for its premium price point. Bakhoor, on the other hand, refers to agarwood chips that, when ignited, emit a wonderfully aromatic essence that rapidly permeates the surroundings.
For those seeking to acquire these fragrances, Dubai offers exceptional shopping destinations. The Spice Souk in Deira is an ideal location for procuring Bakhoor, while the Deira Perfume Souk is the preferred destination for Oudh scents and oils.
Price-wise, Oudh and Bakhoor can range from 5,000 to 20,000 Indian Rupees, reflecting their quality and rarity in the market.
10. Hookahs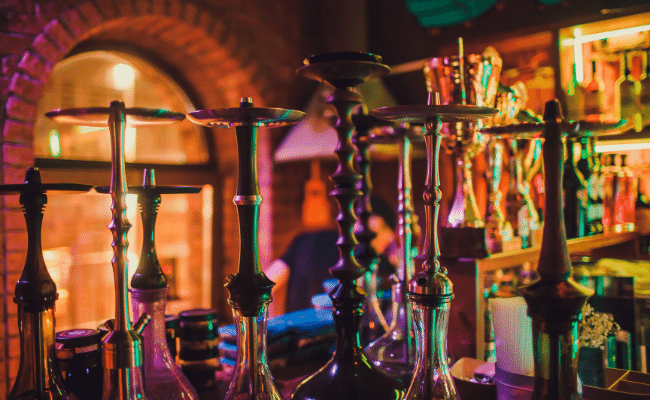 In virtually every Arab household, the presence of a hookah is both prominent and emblematic. These meticulously crafted apparatuses offer a means to unwind and seek relaxation. Dubai, in particular, boasts an array of establishments where one can procure exceptionally luxurious and high-end hookahs, which make for exquisite and distinctive gifts. The acquisition of such items is recommended not only for their quality but also for their affordability when compared to other commodities in Dubai.
Where to Make Your Purchase: You can explore a selection of establishments that cater to hookah enthusiasts, including those operated by Smokers' Center, as well as Carrefour Hypermarket and the vibrant souks that are scattered throughout Dubai.
Price Range: These hookahs typically fall within the price range of 4,000 to 10,000 Indian Rupees, offering an accessible option for those seeking a meaningful memento of their visit to Dubai.
Unique Selling Point: What sets these hookahs apart is the availability of UAE-exclusive flavors and an array of special Arabic spices, providing a distinctive sensory experience that is truly unique to the region.
11. Kava Pots & Coffee Sets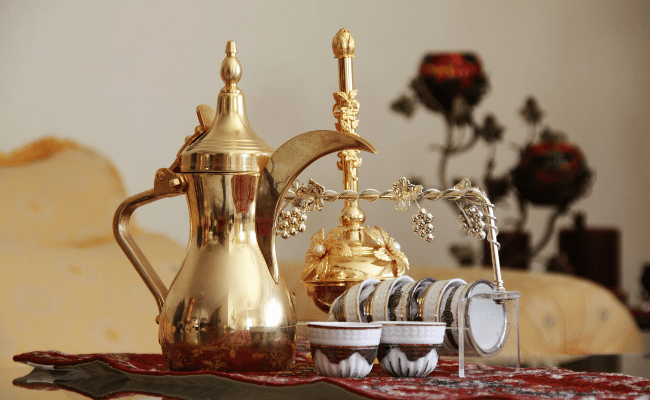 A cup of kava is as amazing as it gets because it is nothing more than 100 percent pure coffee. It's the way the locals like their coffee—strong and black. This coffee has a unique place in Arabic culture and is typically served in upscale pots and designer cups. The most expensive kava coffee pots have semi-precious stones on their gold or silver interior linings. These are wonderful items to bring home from Dubai as gifts and mementos. One of the best things to purchase in Dubai is this.
Where to Buy: Mall of the Emirates, Al Barsha 1 in Dubai, United Arab Emirates; Dubai Mall, Financial Center Road, Downtown Dubai, close to the Burj Khalifa, United Arab Emirates
Price: 800 to 3,000 Indian Rupees
They are a must-have in conventional Arab homes.
12. Gold & Diamond Jewellery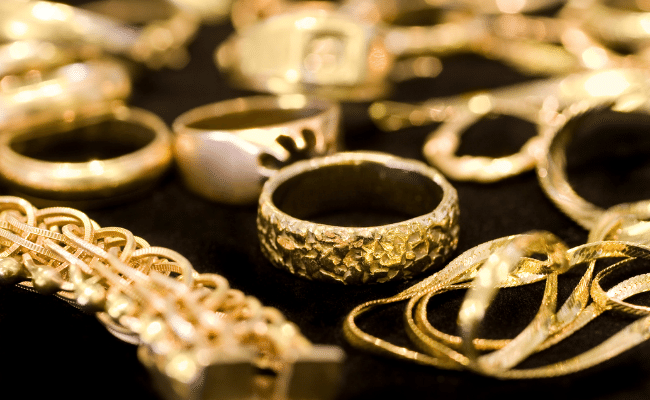 In the "city of gold," make sure to purchase gold. Although it may seem strange, Dubai is renowned for its gold and diamond jewelry, so you must not miss out on finding a fantastic present for your loved ones! In comparison to other places of the world, you can purchase wonderfully crafted gold jewelry here for a lot less money.
Where to Buy: Jewelers' shops, the Gold and Diamond Park in Dubai, and Joyalukkas outlets
13. Electronic Items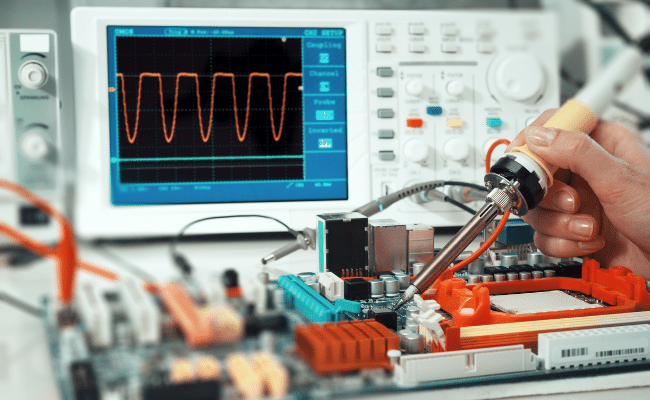 You are aware that Dubai sells your preferred electrical item at a reduced cost, right? Don't forget to browse their incredible collections of your favorite equipment or electronics before returning home. You may definitely take advantage of some offers if you plan to visit during the festival season!
Al-Fahidi Street in the Bur Dubai neighborhood, the Sharaf DG shop, or other electronics retailers
Price: 2,000 to 50,000 Indian Rupees
14. Arabian Coffee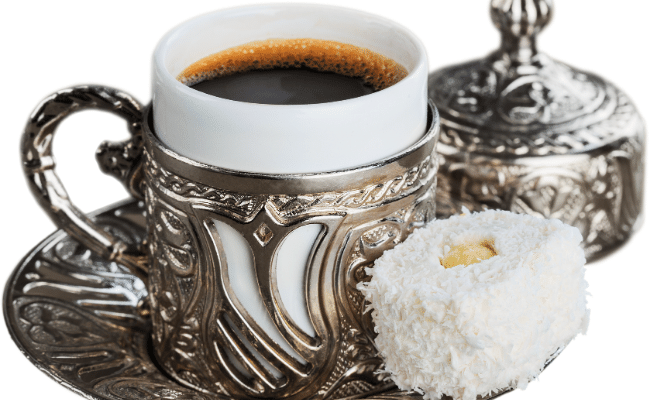 Are you a coffee enthusiast who enjoys collecting uncommon coffee at home? If so, you should definitely go to the nearest coffee shop in Dubai and get your best coffee there. Arabian coffee is recognized for its robust flavor, and the marketplaces in Dubai are ideal places to purchase it. Don't overlook these adoring coffee products to purchase in Dubai. If you haven't experienced Arabian coffee, your experience of Dubai street cuisine is incomplete.
Dubai Coffee Museum, Dubai Souks, and big supermarkets are all good places to shop.
Price range: 500 to 2,000 INR
Specialty: The Middle East has particular brewing procedures, giving it a distinctive flavor.
15. Dubai Spices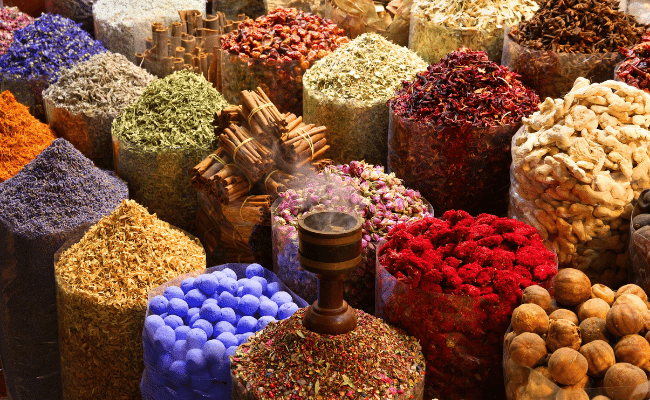 Bringing the famed Dubai spices with you is the ideal way to bring the taste of Dubai into your house. These spices are rich of flavor and are reasonably priced in local stores. So, spice up your curries and other dishes by bringing these delicious Dubai spices home with you!
Spice Souks and Supermarkets
INR 200 to 5,000
Arab spices offer richer tastes and aromatic combinations that may provide a unique flavor to your dishes.
16. Traditional Arab Shoes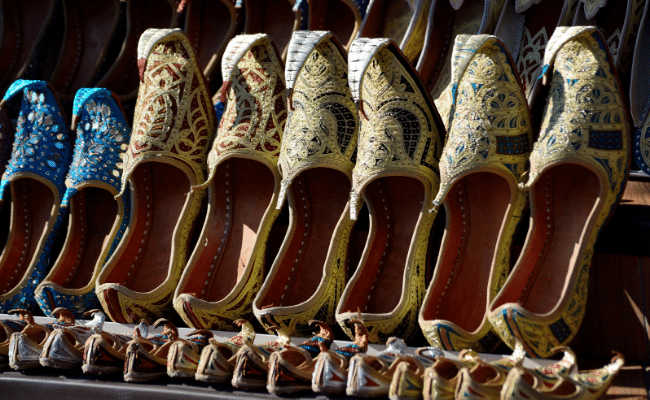 You just need to take a glance at the classic Arab shoes to be reminded of Aladdin, a fictitious figure who formerly wore similar footwear. There are many different colors available for these shoes, which often have a narrow fit and taper at the toes. These shoes come in a variety of designs to go with your clothing and your tastes, including those with threadwork, beads, ornaments, and fabric balls. Depending on your preference, these classic shoes may be totally covered or slip-on. Among the things to purchase in Dubai, this is one of the better choices.
Where to Buy: Dubai's Bur Dubai and The Cloth Souk
Price range: 800-3,000 Indian Rupees
They have a distinctive handmade design that is just local.
How to Get There: Taxi, Bus, Tram, Metro
17. Khanjar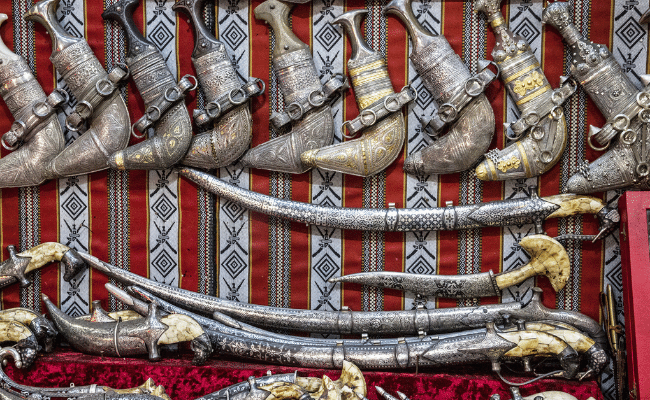 Khanjar, one of the most essential components of Emirati men's traditional dress, is one of the nicest items to purchase in Dubai. These have a curved form with silver and gold engraved on them and are often worn over men's dishdashas. They were originally constructed of rhino horns, but currently they are mostly made of wood. Some of them have handles made of marble, silver, or sandalwood. Typically, silver-threaded weaving is used to adorn the dagger's sheath.
Yemen Pavilion and Global Village are places to shop
Price: 800 to 2,500 Indian Rupees
Their specialty is handmade patterns incorporating Arabic symbols.
18. Incense Holders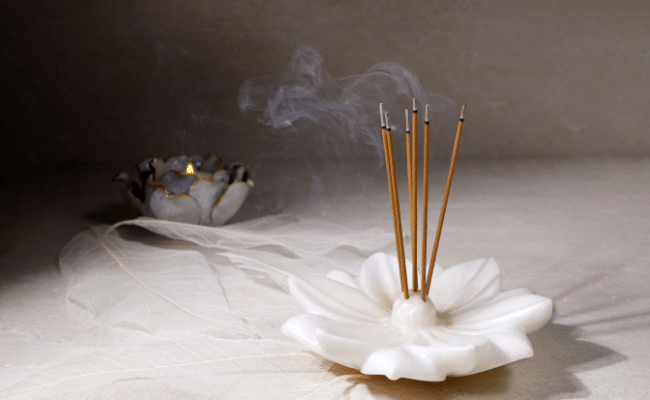 Purchasing incense holders in Dubai is a rich and culturally insightful experience. These are an integral aspect of hospitality and culture and they give out a warm, comforting scent that will make your visitors feel at home. Although the incense holders are offered in malls all around Dubai, the Spice Souq in Old Deira is the ideal location to get these lovely presents. There are several places to buy electric incense burners as well.
Where to Buy: Sikkat Al Khail Road, Al Ras, Dubai; Spice Souq.
Price: 1,000 to 5,000 Indian Rupees
19. Quran Stands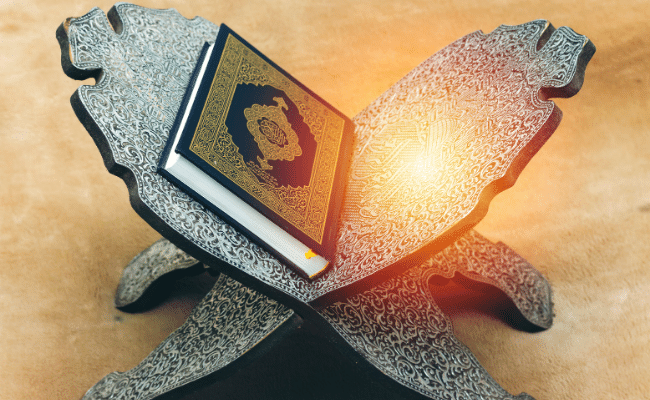 You may purchase a variety of religious products in Dubai since it is both an Islamic city and a major shopping destination. The Quran stand is one of the most cherished items. Select one of several exquisite stands from which to set the sacred book. These stands are designed with a variety of elaborate motifs and are mostly made of wood with marble inlays. They come with adjustable collapsible stands or basic stands for reading while seated. Many have passages from the Quran engraved on them.
Where to Buy: Makkah Islamic Book Center, Sarah, or Al Abbes Islamic Book Shop
Price: 500 to 5,000 Indian Rupees
They specialize in a broad range of woods and styles.
20. Jewel Chest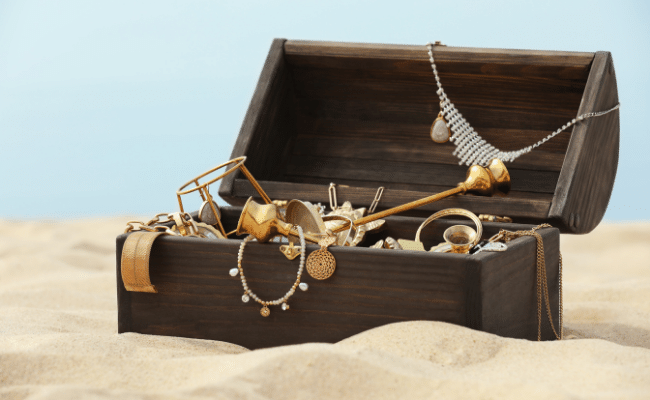 A jewel box is something you may purchase to go with jewelry as a complement. These wooden chests, which are often constructed of sandalwood, are available in a variety of hues, patterns, and sizes. These are roomy and provide the best jewelry organization option. They often have brass, silver, and semi-precious or precious stone decorations. These Jewel boxes are wonderful for giving as gifts or for keeping as mementos.
Dubai Gold Souq, Dubai, United Arab Emirates Price: INR 3,000 to 5,000